Being Weird as an Act of Resistance: Shrekfest Comes to Milwaukee
When 3GI Industries announced that the 2022 Shrekfest would be at Humboldt Park—a mere minutes walk from my Milwaukee apartment in the neighborhood of Bay View—I had no intention of attending the bizarre celebration. 
In our epoch of memes, I've grown accustomed to the digital ever-presence of Shrek fanaticism. The franchise has brought life to countless memes, 4chan posts, and social media lore that is often deeply depraved but always highly weird. 
This digital zealotry is brought to physical embodiment through Shrekfest—the world's one and only festival completely dedicated to celebrating the cultish pop culture classic and everything its fiendish fanbase craves.
Despite my defiant protests to attending Shrekfest, Commonstate CEO Joseph Salvatori had other ideas. Joe was hellbent on sending my brother Drake and me on assignment to Shrekfest.
After the success of my work venturing into the depths of rural Wisconsin madness, Joe was insistent in his hunt for the bizarre and occult. 
He would launch into odd diatribes.
On one occasion, Joe castigated me: "It's my job to give the people what they want, and they want FREAKS! FIND ME FREAKS AT SHREKFEST!"
In another instance, he nearly frothed at the mouth, yelling, "STOP BEING A DONKAH AND MAKE ME MONEY!" After this harangue, I wondered if business interests motivated Joe or if some strange devotion he harbored was his true impetus.
In his less manic hours, Joe would insist, "This is the hard-hitting, grimy media coverage people want!"
Ah, the impeccable intransigence of the American capitalist. 
Despite our vociferous protests against attendance, I knew that if I were to continue writing for Commonstate, I would have to give into Joe's demands and go to Shrekfest.
A Celebration of Love in the Kingdom of Milwaukee
On the surface, Shrekfest is about what you would think it would be. According to its organizers, 3GI Industries:
"Shrekfest is 3GI's annual celebration of love and life featuring the main ogre himself, Shrek. We offer a variety of experiences, from games to live music to a movie screening at the end of the night. Our location will be Humboldt Park in the Kingdom of Milwaukee in the Land of Wisconsin."
Living in the Kingdom of Milwaukee does have a certain charm. I ponder if this means Mayor Cavalier Johnson is my Lord Farquad. 
According to 3GI, the Shrekfest has been described as "Triumphant" by the New York Times, "Bizarre" by Insider, "The Death of Irony" by the A.V. Club, and an "Imperfect Harmony" by Syfy. As to what any of that means, I found it vague and unsettling. 
I was beginning to understand why Joe was tirelessly obsessed; an event described as "The Death of Irony" would no doubt be teeming with the weirdest of the weird. He also had been referring to himself as "Death, the destroyer of irony" as of late. Were we falling for some sort of bizarre prank by Joe? Were the tectonic plates of the cosmos colliding to form a jumbled-up confluence of uncanny coincidences? I had little idea, but the wheel of fate had already been spun, and I felt there was little choice but to dive in and see what the universe had in store.
When the Shreks Come Marching In
Today, September 23rd, is my baptism into the world of Shrek. What to expect, I have little idea. What to fear, only the darkest recesses of my mind can imagine. 
I decide the best course of action is to try to embrace the strange world of Shrek fanaticism.
I walk to the gas station near my apartment and buy some Red Bull. Naturally, I select "The Green Edition." I rarely drink energy drinks and have little idea what the "Green Edition" of Red Bull entails, but drinking a green Shrekfest pregame feels important. Naturally, I drink it in the Shrek cup I received as a wedding gift (I have looked like an idiot forgetfully drinking from it in a few Zoom calls during work).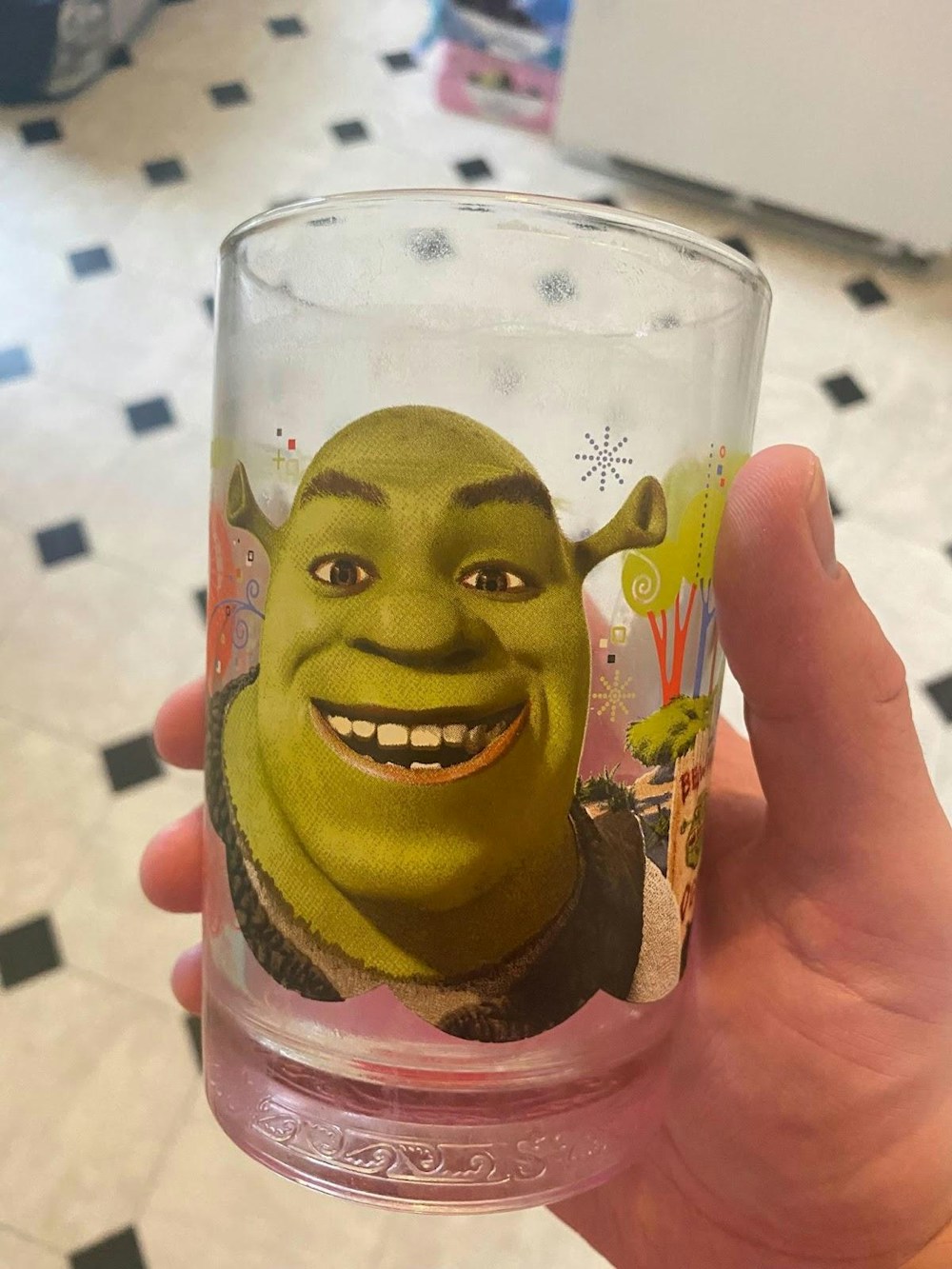 Around three, my friend Sma (referred to interchangeably as Sam or most typically by his friends as Sma due to his name comically being misspelled on his birth certificate as Smamuel) and Drake meet up with me to walk over to Shrekfest. Drake and I invited Sma on our journalistic adventure, as we knew we needed someone who could understand the festival goers from the inside. Sma fancies himself to be a local "Shrekspert," so I feel heartened by his presence. 
However, I have to admit that I am oddly nervous about the occasion. Despite being someone who is most comfortable when things are a bit strange, I am wondering if Shrekfest may be a little too much, even for me. This wasn't just some wacky Bay View neighborhood street fest. We had heard rumors that Shrekfest is more akin to a fundamentalist pilgrimage of people praising their beloved green god.
Sma and I are wearing "Check Yourself Before You Shrek Yourself" sweatshirts that he made to blend in while walking among the Cult of Shrek. As soon as we arrive, I see that we are horrifically underdressed for the occasion. People around us are wearing various iterations of Shrek masks, donkey costumes, and other bizarre non-Shrek-related sartorial fashionings, from furries to turtlemen, all in a sea of Lord Farquads. We are mere tourists among the highest clerics in the unholy land. 
I feel like I am wearing a tuxedo t-shirt to a black tie affair. And while that is something I would love to do, I want it to be of my own volition—not from a lack of preparation.
The Great Reproduction
A large portion of the growing crowd is wearing Shrek Slut shirts. It does not take a Shrekspert to recognize that the Cult of Shrek is highly cognizant of their need to reproduce to strengthen their numbers. Those of you who are familiar with the Quiverfull Movement understand this concept all too well.
"Children are a heritage from [Shrek], offspring a reward from him. Like arrows in the hands of a warrior are children born in one's youth. Blessed is the man whose quiver is full of them. They will not be put to shame when they contend with their opponents in court." - Psalm 27 (Biblical Shrek Edition)
Christian fundamentalists—such as the Duggar family—are participants in the Quiverfull movement, a patriarchal breeding ritual to raise as many children as possible to promote the cause of Christianity.
We assume that any carnal natalism would likely not occur until sundown; we are still uneasy at the premise.
The cultish energy was something that we had come at least partially prepared for. Sma had spent countless hours researching the ways of the Followers of Shrek. He had carefully combed through the tomes of The Holy Book of Shrek. His research revealed passages, such as their Tenth Commandment: "Thou shalt accept the Almighty Shrek as The Lord & Savior" and (from "Shrek's Concise Teachings") "Not following the Way of Shrek, or defiling His Holy Name, will result in punishment." 
I fear that we had unwittingly walked into a swampy Jonestown. For one thing, I knew that I would not be drinking any Green Kool-Aid nor taking any of the green Jell-o shots on offer.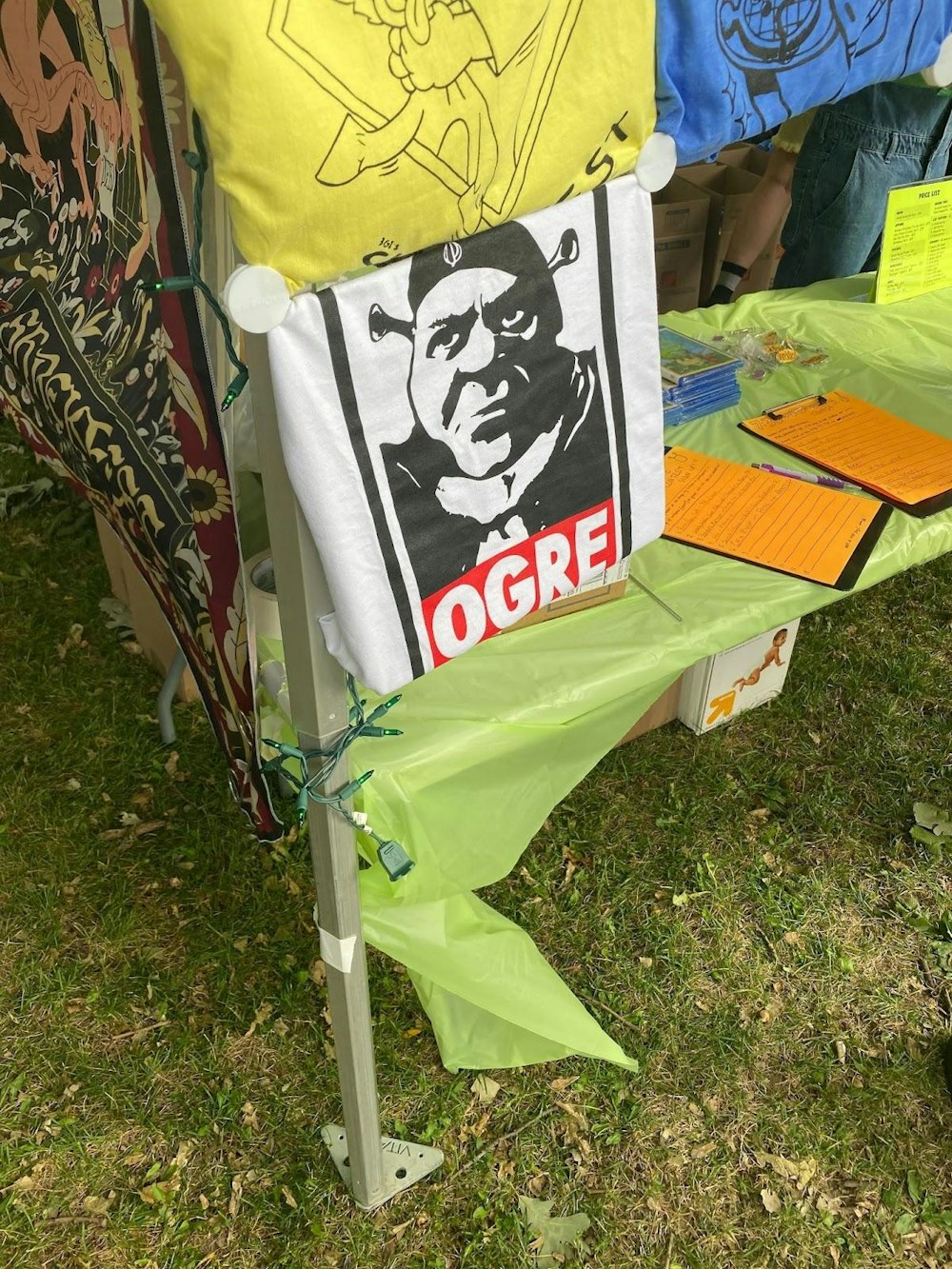 The Spirit of Revolution
Although the atmosphere is relatively benign, I feel the energy percolating. A mysterious chaotic force boils just below the surface.
Humboldt Park is littered with revolutionary propaganda and murmurs of a New Green Order. Throughout the park, there are various examples of Shrek portrayed as some sort of Marxist guerilla fighter. Even more explicit are allusions to punishment and torture of anyone who dares to criticize the Holy Green Regime.
We decide that the situation is becoming too weird. We snap a few pictures showing proof of our attendance to appease Joe's intransigence and consider an escape.
An Unpleasant Interloper
We are getting hungry and decide to grab some food from the Twisted Plants food truck. Twisted Plants is a delicious vegan staple in the area, so despite our strange circumstances, we decide it's worth a pitstop. 
The line for the food truck crawls at a glacial pace. As we wait, an annoying couple who appear to be Youtubers films us ordering our food.
I initially decided not to make fun of this man, as his coverage of Shrekfest is not too dissimilar to my own for Commonstate. However, I would later watch some of their channel, Coffee With Pips, which features copaganda about how Starbucks is closing stores in democratically run cities because they "foolishly voted to defund the police … you know take out the police and have social workers go in and talk about crime," rather than the closures being blatant union-busting attempts. So if you want Tucker Carlson-style fearmongering with the production value of your dad's family videos, you'll love Coffee With Pips!
After getting our food, we venture over to The Vine Humboldt. The Vine is the beer garden located within Humboldt park. We figure this is a good place to observe Shrekfest without being wholly consumed by its madness.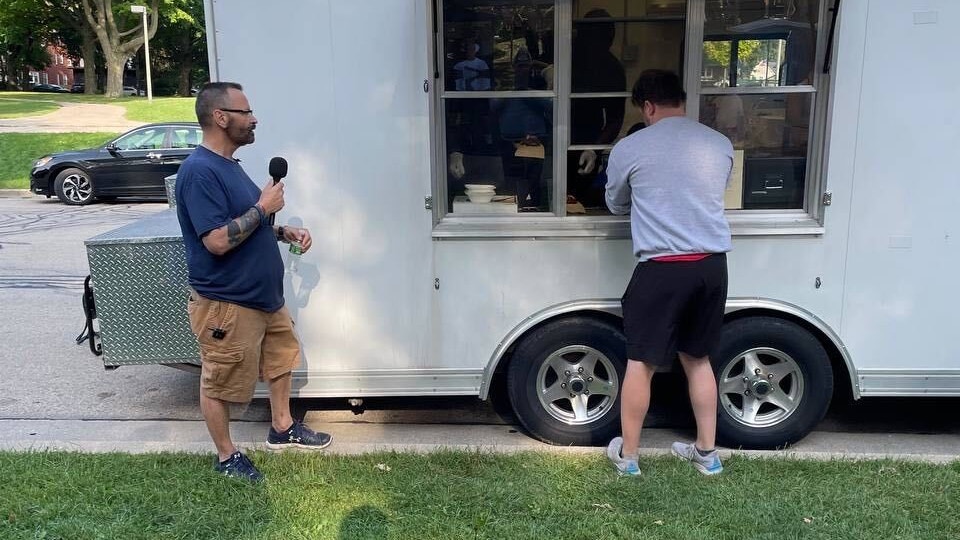 No Escape
After fleeing the banality of Coffee With Pips, we realize that there is no safe haven. We walk by the porta potties as green men stumble in and out. Costumed goons are flooding into the park at an exponential rate.
As we make our way to the beer garden, Sma snaps a picture of a pigman trailing close behind him. It's like a scene from some sort of bizarre horror movie. It's Shrek's world, and we're just living in it.
We quickly realize that despite our best attempts at observing the madness from a safe distance, Shrekfest is spilling into The Vine in search of libations.
In the distance, we can see that the festival beer tent has been overwhelmed by the insatiable demand for beer. 
The beer garden is teaming with dragons, more Shrek Sluts, couples wearing green lingerie, Farquads, people with Gru masks painted green, Pokemon fanatics, and beyond.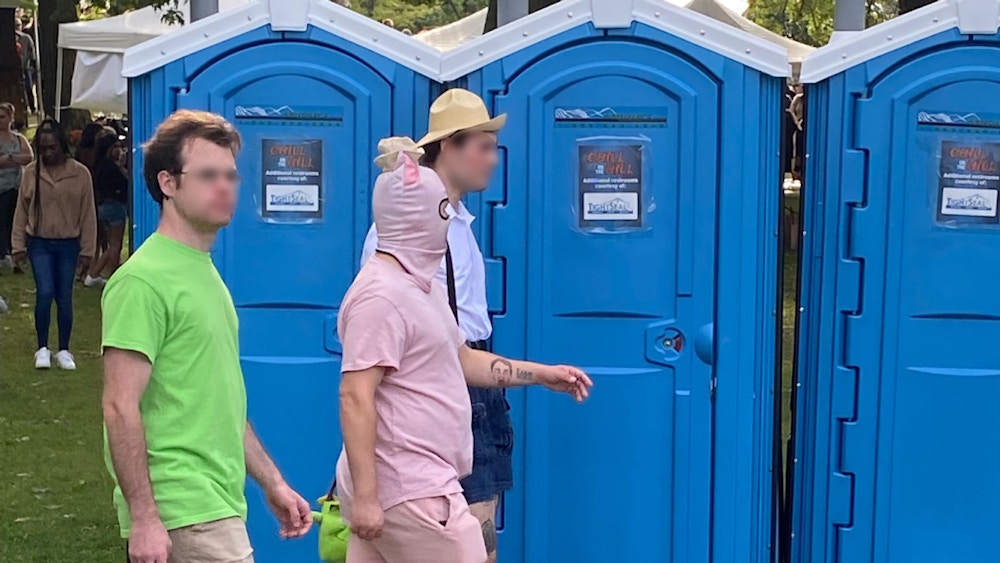 They Call Me Mr. Minions
Of most concern is a man decked in denim overalls, painted green from head to toe, with a Minions cap on. But, beyond the outlandish sartorial choices, most unsettling is his manic behavior. 
He patrols the beer garden with a jilting pace—pausing to do what appears to be whippets. For those less versed in the habits of ne'er do well adolescents and the comers and goers of the underworld, a whippet is essentially the practice of inhaling nitrous oxide from an aerosol container. Surely, witnessing a whippet in day-to-day life is enough to raise an eyebrow, but seeing a hyped-up Minion of Shrek doing them in broad daylight unnerved me more than slightly. 
Intermittently, he pauses his frantic pacing to yell, "They call me Mr. Minions!"
Meanwhile, thundering cheers erupt from the epicenter of Shrekfest. We have little to no idea of what is whipping the crowd into the frenzy, but acquiescing to the fact that there will be no passive observation, we decide we might as well head back into the epicenter.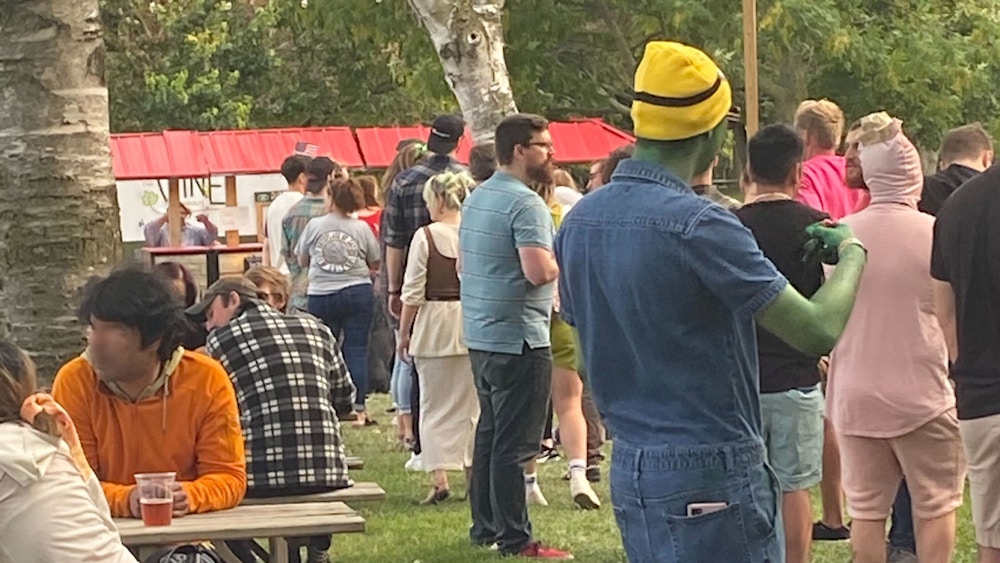 Star 67 and the Unbecoming of Sma
Back at the bandshell, a Shrek-themed costume contest is wrapping up—one of the event organizers exclaims, "All fours, baby!" at a donkey-clad contestant. We fear that our presuppositions about carnal activities occurring after sun fall were erroneous, and we are at the precipice of a freakish orgy.
As the costume contest concludes, Sma becomes increasingly enraptured with the debauchery. Licking his lips, he starts to murmur himself—with a glassy-eyed stare into the crowd. I am growing concerned that he may be having some sort of medical event. 
The costume contest ends, and the penultimate event of Shrekfest begins—a performance by the band Star 67.
The band walks on stage to raucous applause. Star 67 frolics around—without instruments—for a full five minutes with walkout hype techno-style music blasting. We speculate that they are a performance art-style band that brings out instruments but then never bothers to play them, blasting piped-in music instead. 
Finally, the band picks up their instruments—the crowd reaches a fever pitch. The crowd is increasingly enlivened by covers of the 90s and early 2000s pop hits such as "Sk8r Boi," "Let's Get it Started," and "Wake Me Up Inside." We are pretty sure these songs have no connection to Shrek, but the crowd seems unconcerned. 
Drake and I posit that a Monkey's Paw wish was granted for Star 67. Fulfilling their craving for crowds of endearing followers, moshing, crowd surfing, hooting, and hollering, but in exchange, devotees would exclusively be at annual Shrekfests.
Sma is completely uncommunicative at this point.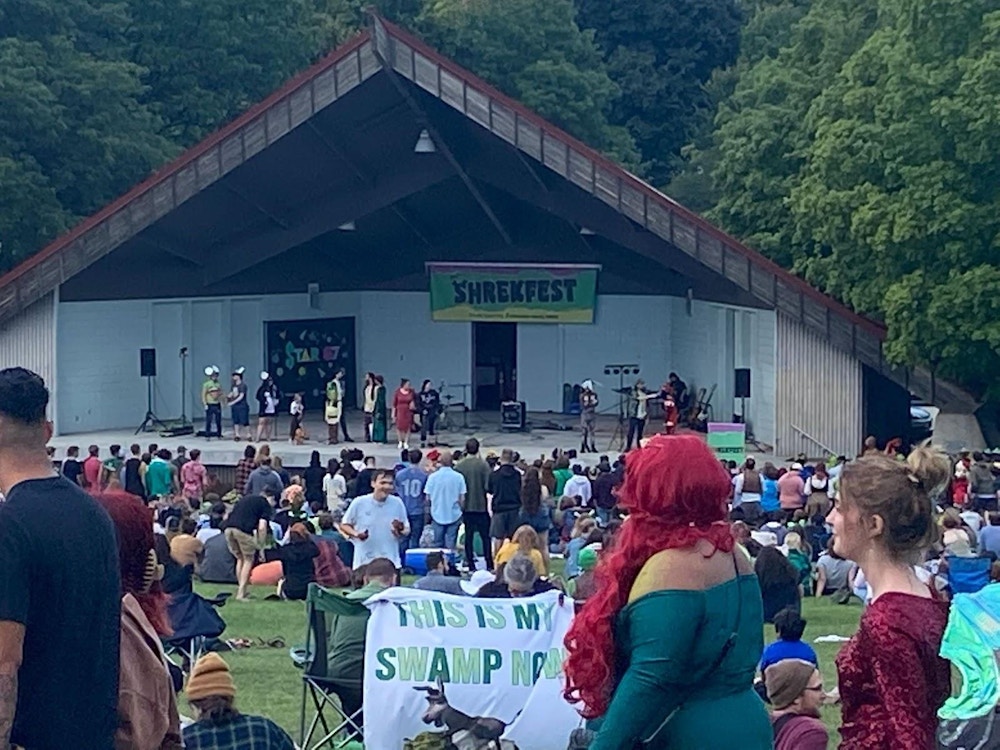 Star 67 begins playing "Shut Up and Dance" by Walk the Moon. For some reason, this is a catalyst for the crowd completely losing their onion-loving minds. The most extensive conga line that I have ever seen forms. 
Sma begins to chant, "Shrek is love, Shrek is life!" and runs to join the conga line. The writhing throng swallows him. This, coincidentally, is the last time we have heard from Sma. 
It turns out that Sma is not simply a Shrekspert for academic purposes, but rather he had Drake and I fooled as to the depths of his fanaticism for the Holy Bible of Shrek. I hope he is enjoying his new life—wherever he is lurking in devotion.
Star 67 follows with a cover of "1985" by Bowling for Soup. 
Events take a menacing turn. The moshing escalates—the most raucous of the mosh pit is catapulting an inflatable Shrek to higher and higher heights. The inflatable effigy is sporadically thrust upwards by costumed people standing on each other's shoulders or launched by a rainbow parachute.
Drake and I can no longer bear witness to this preternatural frenzy. We have seen too many documentaries—Fyre Fest, Woodstock 99, and the like—to recognize that there was a complete loss of control by festival organizers. Except, instead of capitalistic corner-cutting for cost saving leading to disastrous consequences—this was a feature rather than a bug. It was time to go. 
While we missed the final event of Shrekfest—a live screening of Shrek the movie—we could imagine that it would only be more profound levels of debauchery, rapture, and chaos.
A Step Back Into Reality (But Only a Small One)
Perhaps Commonstate's CEO Joe Salvatori didn't actually froth at the mouth for weeks demanding that Drake and I visit Shrekfest. More accurately, Drake, Sma, and I had wanted to go since the event's inception in Madison. Its occurrence at Humboldt was the excuse that we needed to attend for the first time. 
Admittedly, it was a little too weird for us when we showed up. However, part of me did love it the whole time.
Was Shrekfest a bizarre unhinged event? Absolutely, that is undeniable. Did the organizers and attendees want an untamed hullabaloo? This is also undeniable. Shrekfest was a genuine spectacle of people unfurling their freak flags and letting them soar in the winds. 
We live in a society that screams its love of freedom from the rafters, yet what that freedom means is rarely explored nor lived—often by design. Instead, people who depart from so-called traditional familial, religious, cultural, and sexual norms are castigated for their departure from social boundaries to label them as not normal—they are weird … something to cast out.
An all too topical example is that reactionary fervor declaiming the trans community as abnormal, immoral, and devious. These cultural forces have painted any out-group as deviant and immoral, whether it be Black and brown communities, the LGBTQIA community, or any other out-group. 
If we genuinely embodied freedom as a society, we would empower people to embrace their truest selves.
Drake and I didn't flee Shrekfest out of fear. In reality, we had a long-anticipated concert seeing the band IDLES, an English post-punk band.
The band is unabashedly proud of its leftist foundations. Their Joy as an Act of Resistance features songs decrying the evils of toxic masculinity and right-wing reactionary sentiment and praising the importance of self-love, immigration, and community (a fancy way of saying fuck bigots). The band uplifts that love and joy are essential to resisting the evils of modern social structures.
I'm like Stone Cold Steve Austin
I put homophobes in coffins
I'm like Fred Astaire
I dance like I don't care
- IDLES, Colossus
Dare I say, Shrekfest was a small act of rebellion where people came together to stick a thumb in the eye of social norms and societal expectations and had the weirdest damn time that they could. Being weird should also be praised as an act of resistance.
I'm grateful to have experienced an event that may have been a little weird for me. People coming together as a community and enjoying themselves in the weirdest, most genuine forms possible is an act of humanity that should always be praised. 
Long live Shrek–and be weird—our future may very well depend on it.
More Articles by Alexander Nikolai
Jul. 18, 2023
•
8 min read
Apr. 17, 2023
•
12 min read
Aug. 25, 2022
•
10 min read
About the author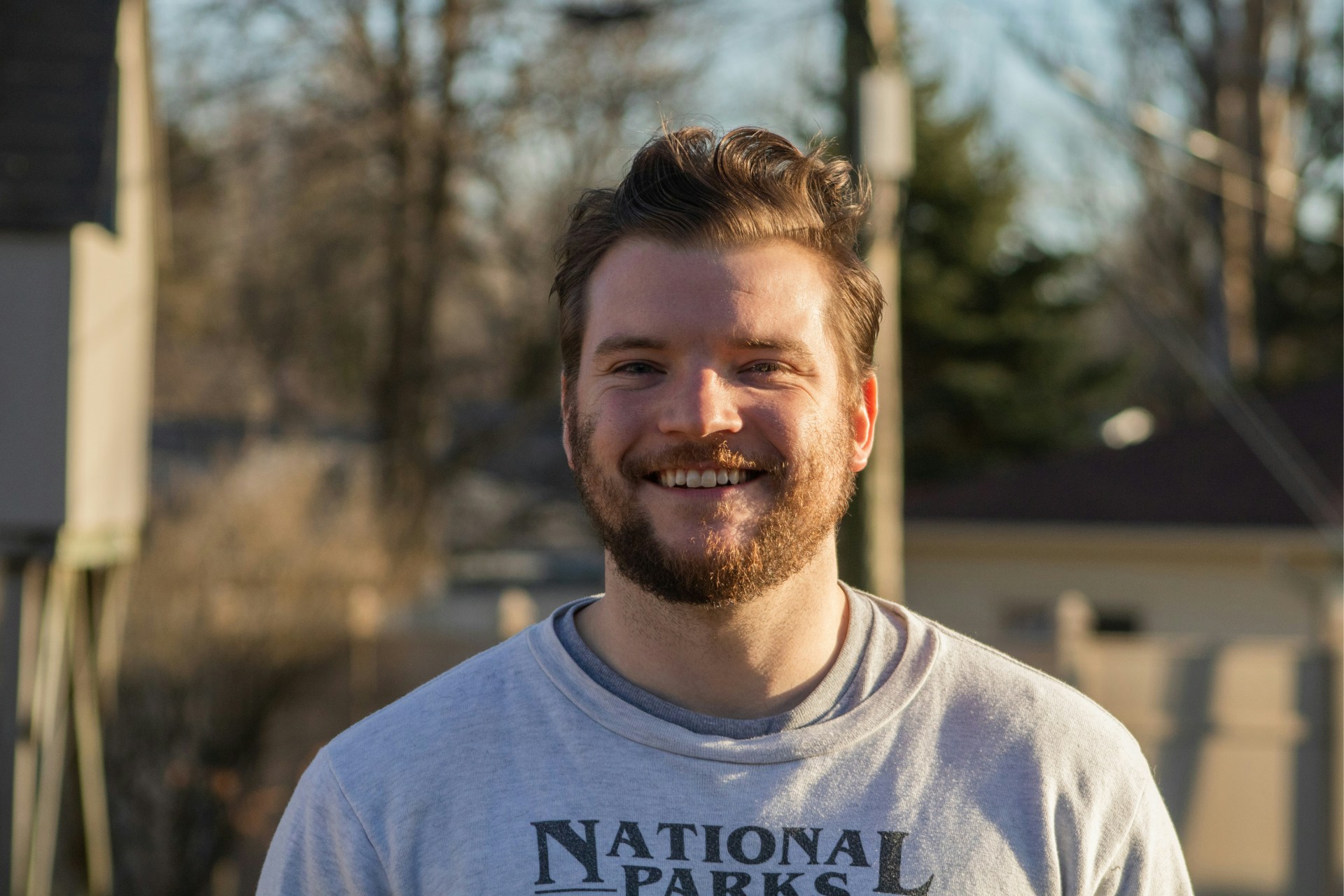 Making Milwaukee weirder one day at a time.