How "Cooler by the lake" became an actual cooler by the lake
On a random Saturday in late-September, I got a text from a good friend saying "come down to Veteran's Park!" I probably replied with mentioning how I had to head to yoga and carried on my day. Little did I know what he had up his sleeve. 
It was a quintessential Fall-in-Milwaukee day, when Fox6's Ted Perry set up a cooler... by the lake. A play on the coined phrase, this cooler was filled with local libations that could help people tell their story – any story – to a man they've probably seen on television, once or twice. Or so he hoped.
Lately, we watch local news and learn of the negative events in our community, while rarely focusing on the positive, even less so, the person on the other side of the television set. He was hell-bent on learning more of the people that truly make Milwaukee.
One of the most personable men I've gotten to know over the years, it's impossible not to open up to the guy. He "wanted to test the old cliche that everyone has a story and it turns out they do." "Every person we interviewed had something good to say. Only one interview didn't make the piece... and that was for time."
Lured by the familiar face (or maybe the free beer? Sorry, Ted.) he first met a widow who found love again online. She was a retired minister whose new love made her realize the world doesn't have to be a painful place.
He then met an Israeli immigrant who came to America "to woo a girl" and, with his daughter to speak of his work ethic, learned he embraced the American way – working a blue-collar job while raising his kids.
A cancer survivor told him of the short haircut she chooses to rock now. Weeks after her 17th birthday, she started chemo and lost her long locks. Keeping it short, she says, "helps her tell her story."
A beaming single mother talked of her son's success in being accepted to Marquette, thinking she couldn't begin to think of paying the $50,000 yearly tuition, but she raised a smart one who landed "a $41,000 scholarship," she stated.
And finally, Ted talked to a Sherman Park native who mentioned, as a boy, his loving parents were welcoming to anyone who needed some semblance of family. Mentioning this city needs to open their minds wider to see the Milwaukee we want to make it.
Months later, I watched this, as a friend, as a Milwaukeean and as someone who learned could relate to nearly every interviewee. And I didn't think the latter would happen. We're often so hung up in our own lives, unaware we have so much to be proud of; so many stories we could tell if someone were to only listen. It restored a little bit of faith in humanity and got me thinking, how do we tell the stories of the humble? How do we let them know that they have dignity? Ted says, "we're just so conditioned to think we don't."
I really hope Ted does this again. I won't miss it this time.
To watch the full story, visit Fox6Now.
More Articles by Kaitlyn Herzog
Oct. 3, 2023
•
8 min read
Sep. 19, 2023
•
9 min read
Sep. 5, 2023
•
23 min read
About the author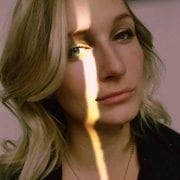 Going about life the unconventional way. Writer, UWM Journalism student, budding yogi and too competitive for her own good.