Love is Love
Editor's Note: In a world where love is in short supply (or so it seems these days) my daughter wrote this terrific piece exploring the types of love, their nuances, and their intricacies. It also calls out the film "Call Me By Your Name" which on Sunday evening won the Oscar for best adapted screenplay. From time to time Commonstate hopes to share quality writing from around the web. If you have a piece you'd like to submit, e-mail me at npipitone@commonstate.com.
In the absence of heat, there is cold. In the absence of light, there is darkness. In the absence of love, there is hate.
To love is a spectrum. I've recently started visualizing this spectrum in the grade school science class way—the electromagnetic spectrum way. A visible light, shining rainbow. A crystal hung in a classroom window that classmates would ogle at when spring light would finally be shown through it.
The way in which I grew up, a way I'm sure many others did too, was in a household that accepted all different kinds of love—love at any point of the spectrum. Still, there were lots of labels: lesbian, gay, straight, bisexual, etc. It was never just "love," plain and simple. If I'd grown up in an accepting home yet lacked an explanation to the most vital concept of the spectrum, was the home I grew up in actually as accepting as I had thought? Or, at a young age, had I just missed the point?
Take the novel-turned-film, Call Me By Your Name. As a captivating story that portrays two male characters falling for each other in scenic Northern Italy, Call Me By Your Name defines how I understand the spectrum. Watching the movie, you don't see gay—you just see love. A stunning fluidity ensues in the film, like a consistent flow of caring and thoughtfulness and intelligence. All aspects of exactly what love should be. There are absolutely no boundaries, no questions. Love lives contently between them.
Or consider artist Chella Man and his girlfriend MaryV Benoit. Their relationship is the purest they come—so pure it almost makes me weep. Chella is currently transitioning, recently undergoing top surgery, and MaryV is there for every testosterone shot, doctors appointment, happy morning in bed, and walk in the park. At the birth of their relationship, MaryV had understood herself as straight, yet being with Chella felt so right there was hardly a question. Again, it was just love.
Where do we look for love? Possibly, in all the wrong places. Seeking a significant other isn't the same thing as seeking love. This may be the biggest flaw in how we're taught about the concept altogether. Love comes in every form: a hobby, an animal, a great book or movie, and, yes, a person. Sometimes, the spectrum has no limit.
Have we been mislabeling our peers because of the way they love? Have we been putting hate into the universe over the people who are trying their hardest to love in the way that's right for them? By no means is it wrong to be straight, but there is a possibility that its mainstream values have turned the idea of love into something it isn't. A big wedding, a white dress, a picket fence, two children. Have we been checking all the wrong boxes?
Lin-Manuel Miranda said it best: Love is love is love is love. Whatever form you find it in, grab it. Keep it safe. Cherish it. Care for it. Don't turn away because it didn't come in the form you imagined or expected. Embrace it for what it is it. Don't be disappointed. If you don't take it, there will be an absence of love. And I don't know one person who wants to continue in this world of hate.
This article was originally published by Clover Letter.
More Articles by Sophie Pipitone
Oct. 3, 2023
•
8 min read
Sep. 19, 2023
•
9 min read
Sep. 5, 2023
•
23 min read
About the author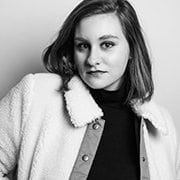 Casting Assistant, writer, film-lover, former fangirl