The Best Movies of 2018: Spoiler Alert - A Star is Born doesn't cut it
This last year was a great year for film. From directorial debuts, to Indies making it big, to documentaries catching the spotlight, to critically acclaimed flicks being released directly via streaming services - it was a unique and exciting year for cinema. I carefully thought about and selected a handful of my favorite movies that were released last year, minus a few films that were lumped into the 2017 award season. Here are my top 10 favorite movies of 2018.
1. The Rider
"The Rider" was my favorite movie of 2018. I generally base my appreciation or love of particular movies from how much I think about them and the impact they leave after I see them. This movie remained in my thoughts and on my mind for a very long while after I first saw it. The plot is simple, and writing straightforward - yet the greater themes of identity, self-worth and family that were discussed in "The Rider" will remain in your head for weeks, if not months after you see it (if you have a soul). "The Rider" is a contemporary western set in the Dakota's. The entire cast, which was filled with first-time actors who in many cases played the characters that the film was based on (the movie is mainly based on a true story), all did an amazing job - especially "the rider," Brady Jandreau. Although camerawork wasn't the strongest characteristic, there were some absolutely stunning panoramic and wide shots scattered throughout. You can say the same about the score as well, as there are only a few memorable moments where music was used - but when it was used, the impact was lasting. The story does move slowly throughout the course of the movie, but writer and director Chloé Zhao does a great job of keeping the viewer enthralled through the authenticity and rawness of this story, truly dropping you in the middle of a young man's life in the Dakota's who is chasing his dreams. One of the best scenes of the movie is a nearly 10-minute scene with only Jandreau and a horse, shot in between a fence. It is these simple scenes and moments that, compiled together, make a complex, fascinating and heartbreaking story come to life.
2. You Were Never Really Here
Often times, violence in movies is depicted as glorious or magnificent. And while many movie viewers often enjoy that (I'm talking to you, Tarantino fans), I don't always see the benefit. However, "You Were Never Really Here," attempts to depict violence as realistically as possible - showing the mental and emotional side effects of aggression and anger. Much of the violence in this film is implied, or only lasts a short time, which I thought was a bold move. This movie follows a PTSD-ridden veteran as he fights his way through the underbelly of New York's human trafficking ring. 90 minutes later and Joaquin Phoenix gives his best performance of 2018, even as his character says little throughout the course of the film as he attempts to save a child, and consequently himself, throughout director Lynne Ramsay's ninth movie. The cinematography throughout the film is stunning, as a wide array of close-ups, and some extraordinary wide shots combine with an amazingly scripted screenplay in order to create a hauntingly beautiful movie, despite a less than beautiful subject matter. "You Were Never Really Here" goes beyond words, and accomplishes the hard task of relaying the deep emotional toll that violence can have on a person.
3. The Sisters Brothers
I truly believe westerns made a "comeback" in 2018, as four of my top ten movies this last year were westerns. "The Sisters Brothers," a twist and turn tale of two brothers making their way through the newly settled frontier of the Upper Northwest, was my second favorite western in 2018. This movie features some prestigious and seasoned actors, including Joaquin Phoenix, Jake Gyllenhaal, and John C. Reilly - yes, you read that right - John C. Reilly. And it was Reilly that truly stole the show for me and many others with his performance. Reilly plays one of the Sisters brothers, and although he is usually used in comedy roles, his acting in "The Sisters Brothers" truly deserves to be near the top of Oscar lists this upcoming season (fingers crossed). But Reilly's performance alone wasn't enough to make me love this film. It was rather the tremendous screenplay of Jacques Audiard, who brilliantly weaves in and out of two separate storylines, combining them with great ease near the end of the film. Although this western does include a high amount of violence, the genre's keystone mark, it does a great job of not falling for pitfalls of previous westerns, i.e. inauthentic "fight scenes" that leave that leave the viewer unsatisfied. This film is also flat out hilarious at times, but the humor, although used more often at the beginning of the film than at the end, comes in the perfect dosage and does not subtract from the main story. 
4. First Reformed
The writing and screenplay of "First Reformed," written and directed by Paul Schrader, is near perfect… plain and simple. This movie follows around a pastor, played by Ethan Hawke, of a quiet and historic church in upstate New York. However, this is just the backdrop of this wonderfully told story of faith and action, as Hawkes narration tells the rest. The film follows around Hawke's character as he deals with a disgruntled church-member, journaling his thoughts as he faces questions of life and death in an isolated setting. The writing, clearly reminiscent at times of Schrader's masterpiece "Taxi Driver," captures the hard task of perfectly capturing the character's thoughts. I believe this role was perfect for Hawke as well - and co-stars Amanda Seyfried and Cedric Kyles also deliver great performances. Also of note - there is not one "over the shoulder" shot in the entire movie, as much of the movie features wider shots, forcing the viewer to focus on the story alone. "First Reformed" also focuses on themes of environmental sustainability but does so without shoving political views or stances down your throat - a task that many filmmakers today could learn from Schrader. 
5. The Ballad of Buster Scruggs
The Coen Brothers have done it again. In "The Ballad of Buster Scruggs" the dynamic duo have created a unique 6-part Western that quickly shifts tones seamlessly from action, to drama, to romance, to comedy - all under the umbrella of "western," taking an interesting and fresh look at the genre in only a way that the Coen brothers can do. Featuring performances from Liam Neeson, Tom Waits, James Franco, Tim Blake Nelson, Zoe Kazan and Brendan Gleeson, "Buster Scruggs" has surprises around every turn. From a story about a lonely cowboy making his way up to cowboy heaven, to a mesmerizing stagecoach travel tale, to a tale about greed and a wonderful frontier romance - this movie truly has it all. Although all of the stories were told wonderfully, the tale featuring Zoe Kazan and Bill Heck was far and away my favorite 30 minutes of the movie. I have been a huge fan of the Coen Brothers work ever since I saw their remake of "True Grit" years ago (I got a late start), and I believe this film rivals the strengths and qualities of "True Grit," and "No Country for Old Men," and "A Serious Man." There is almost too much to unwrap here for a short review, but this movie had all the signature Coen Brothers trademarks - humor, comedy and everything in between. 
6. Leave No Trace
"Leave no Trace," the latest from director Debra Granik ("Winters Bone"), does everything right. A heartbreaking father and daughter story, this film features some amazing performances, most notably from the young Thomasin McKenzie and unrecognized Ben Foster, and tackles the hard subject of PTSD with ease. Although the screenplay features little dialogue, when words are said, they hit their mark. Not only does Gronik do a wonderful job of carrying out an efficient and considerate screenplay, but she does so without leaving the viewer uninterested or bored – a hard task to accomplish consider the subject matter and setting. Be on the lookout for McKenzie this award season – her performance was stunning and I am excited to see her in more movies soon.
7. Suspiria (2018)
Having never seen the original, I still knew a little about the 1970's cult classic horror film that is "Suspiria." However, this remake was a surprisingly well-crafted suspense/horror film, even delving into the psychological thriller genre at times. If you're wanting more of what director Luca Guadagnino did with his 2017 hit "Call Me By Your Name," do not see this movie (just kidding, still see it). The blood and gore of a more traditional horror film is there at times, however, the screenplay of Suspiria does not use too many of these traditional calling cards, but rather spaces out long, dramatic and suspenseful scenes, elegantly shot dancing routines and an ending that rivals the last 30 minutes of "Hereditary." The suspense of the scenes that Guadagnino choreographs is spectacular, as certain scenes in "Suspiria" leave the viewer breathless. And the performances from Dakota Johnson and Tilda Swinton are amazing.
8. The Old Man and The Gun
This movie has one major element going for it throughout - simplicity. "The Old Man and The Gun" is a movie that is exciting, fun and dramatic - but the word that jumps out to me throughout is simplicity. Quite possibly Robert Redford's last role, this movie is a simple tale of an old man who robs banks. Director David Lowery, who directed 2017's "A Ghost Story," made a movie that could go up alongside any crime movie of the '60s or '70s, and he does so with splendid tact. Redford gives a great performance, alongside Casey Affleck and Sissy Spacek. This movie is just a good, fun watch.
9. Shoplifters
"Shoplifters" was my favorite foreign film of the year. Directed by Hirokazu Kore-eda, this movie tells the story of a family in Japan who is barely making ends meet. Through the course of the films 2 hours, we learn about every aspect of this shoplifting families (which is apparently the direct translation of the title) life, and learn to love them. The screenplay was the strong suit in this film, as at times, you feel like you are a literally a fly on the wall during longer, single-shot scenes. The acting in "Shoplifters" was also extraordinary, as lead's Lily Franky and Sakura Andô truly stole the show.
10. Annihilation
"Annihilation," made by director Alex Garland, the director of one of my favorite films from 2014, "Ex Machina," is a science fiction tour-de-force. Although the beginning of the film is slow, the story keeps you strapped in - ending with what is I believe the most shocking 30 minutes of film this year. "Annihilation" creates a world that is just so strange, it must be real - and the viewer truly feels as such because of the beautiful cinematography throughout. Natalie Portman leads the cast, with Oscar Isaac appearing in a few scenes as well. Although the acting wasn't the strong suit of this film, it didn't need to be - the screenplay and cinematography are perfect enough.
The Other 10: My Honorable Mentions
Hereditary: Good, just not great (sue me).
Although Hereditary truly was one of the scarier movies I have seen in a long time, the last 20 minutes and "that one scene" were not enough to make it to my top 10 list.
At Eternity's Gate: That dude from Spiderman killed it.
William Dafoe delivers an amazing performance, while the beautiful scenery in this film make it worth your while.
The Death of Stalin: Needs more Buscemi.
Really interesting comedy, but some jokes took longer to develop than others.
Isle of Dogs: Cause Wes Anderson.
Not my favorite Wes Anderson flick, but I still enjoyed this lighthearted watch.
Eighth Grade: Still not a Bo Burnham fan.
This film is a dramatic coming of age tale, about, you guessed it - an eighth grader.
Overlord: Fricking sick movie.
Really unique film that, if some more money and a stronger cast was added, could have easily been one of the best movies of the year.
Spider-Man: Into the Spider-Verse: The best animated movie of the year.
Amazing narration and animation throughout. I loved everything about this movie.   
First Man: Ryan Gosling cries.
Although parts of this movie were dry and boring, it still tells an amazing tale and features a better than average cast.
Sicario: Day of the Soldado: Aint nothing like the real thing
An okay sequel to "Sicario." Still worth seeing, but if you've seen "Sicario" you'll know what I'm talking about.
Blockers: How I learned to stop worrying and love John Cena
One comedy to rule them all, one comedy to find them, One comedy to bring them all and in the darkness bind them.
Featured Image: Brady Jandreau as Brady Blackburn Courtesy of Sony Pictures Classics
More Articles by Evan Casey
Aug. 22, 2023
•
11 min read
Aug. 8, 2023
•
11 min read
Jul. 18, 2023
•
8 min read
About the author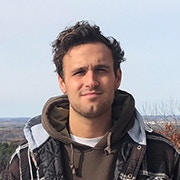 Evan Casey is a freelance journalist who has been covering the Greater Milwaukee Area since early 2018. He writes for the Racine Journal Times, Shepherd Express, Milwaukee Courier and Bay View Compass and covers city hall and local issues across Milwaukee and the region. He loves to travel and attend local concerts in his free time. He is also a diehard fan of the Milwaukee Brewers and runs a hardcore/punk zine titled "Zing Zine."