A Bookstore Where Everything is Written by One Guy: Darick Spears
I'll be honest, when my editor suggested doing a story about a local bookstore, where everything in it is written by one guy, I rolled my eyes. I thought he sounded kinda, well, nuts.
Darick Books is on 2877 N 76th St in Milwaukee, next to Comb 'n Shear Barber Shop, a couple of blocks west of Enderis Park. I walk in and see albums, shirts, hoodies, videos, documentaries, greeting cards, and lots and lots of books. All written, created and produced by Darick Spears. By his estimate, he's published around 150 books and made nearly 500 songs. Not all of them are available in the store, but there's still plenty to choose from. As he shows me around I get a better sense of what's happening here, and who this is all really for. Others.
Spears assumes people will see a bookstore full of books, videos, music, and t-shirts—all made by Spears—and think, "This is so self-absorbed," but he doesn't do it for himself. "No, these are really gifts I want to give to the world."
Whatever you are interested in, curious about, or whatever you may be going through, he's got something for that. There's a comic book for kids called Bookworm about a superhero with the power of creativity; a book on growing up weird; on confidence; a guide to eating well; three volumes of poetry (so far); even a book called Sex Tales about a guy who trades the streets for church only to find out the people there may be more dangerous.
Spears hopes every one of these stories can help someone get through something. "I feel like a lot of people are scared to be who they are, or they are nervous to start a creative endeavor for fear of being judged or laughed at." He says he wants his work to be inspirational. He wants to reach people, to tell the stories that people may need, or are scared to tell, or maybe even scared to hear.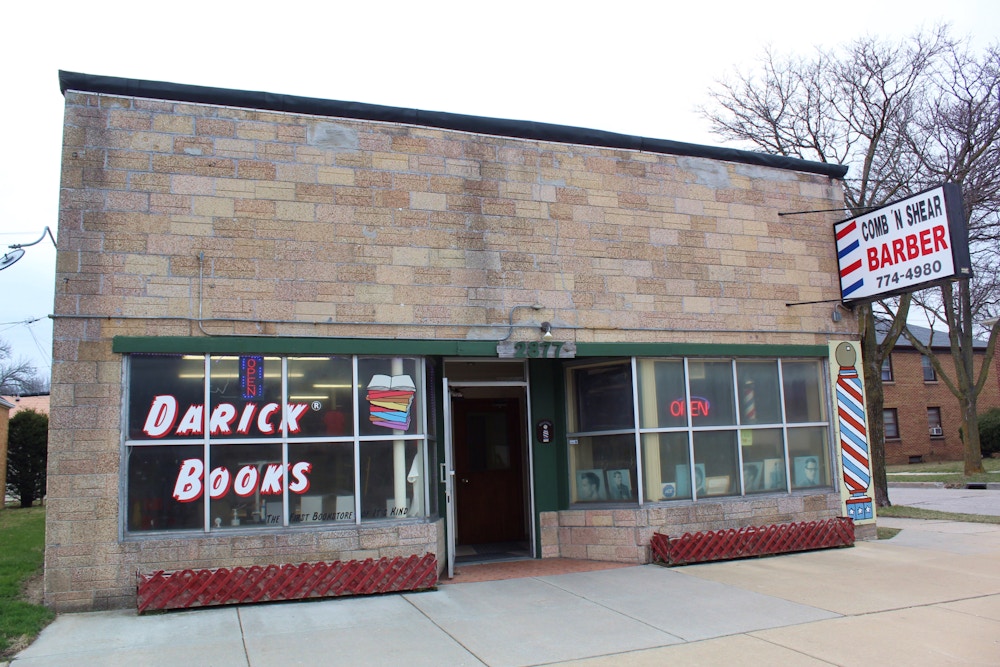 Spears grew up on the Northside of Milwaukee—attending school in the predominantly white suburb of Mequon—and always felt different around his peers. In his community, he was surrounded by the mantra, "If you feel this way, don't say it." He was raised to act tough, be stoic, and not show emotion. But that wasn't him.
At school, if Spears saw someone having a bad day, he would engage. "I would always see people's facial expressions. I'll go in there, just write something—like write a poem, and give it to them—and then they were smiling, walking down the hall. I'm like, man that's affecting people." This gave Spears purpose—got his creativity flowing—and he hasn't stopped creating since.
Spear's work is a dichotomy, half for himself, half for others. He writes because he needs to take the pain, and chaos in his life, and turn them into something positive. He needs to process what he's going through—flaws and imperfections—to create his truth. "The truth is going to last forever," Spears reminds me. He also needs to inspire others—to help others get through their pain, and their chaos, and realize their truths. He is purging himself while speaking up for someone else. "I write for the voiceless," he says.
I ask him if he ever gets writer's block. "Of course," he says, "I have times where it just dries up, but never dries up that long, like for maybe two hours, three hours. Then it's right back to creating."
Most artists spend their entire lives honing one form of their craft. I ask why he creates so much, across so many mediums.
Spears explains that somebody might want to just read something short on a train, or maybe he can catch their mind more with pictures, or they don't like to read, so he puts it in a song.  "If someone else is going through this right now, I just put it out because they may get something out of it."
And if he hasn't written it yet, he will.  "I don't think there's anything I can't create."
"People call the store all the time and say 'Hey, can you help me create a business plan?' But sometimes they couldn't make it to the appointment." So he wrote a business plan book so they could just take it home and fill it out. "When you're done you have a business plan!"
Currently, Spears is in the middle of writing about three books that he will probably turn into screenplays, writing songs, making more t-shirts, while also ghostwriting books for others. "I tell God all the time, 'Do not turn it off.'"
Ten years ago Spears was a stay-at-home dad with three degrees, a master's in music and recording; an associate's degree as an audio engineer; and he got his undergrad in communication studies and interdisciplinary business. And he still couldn't get a job. "I felt like a loser." Then one day, God spoke to him.
Create a bookstore that's all you.
He thought it was crazy and he laughed at the idea. At first. But he had always been writing, maybe this could just be a home for it. A playground for his creativity. And something nobody else was doing that might make enough of a statement to separate himself from other businesses.
It might be crazy, but it worked.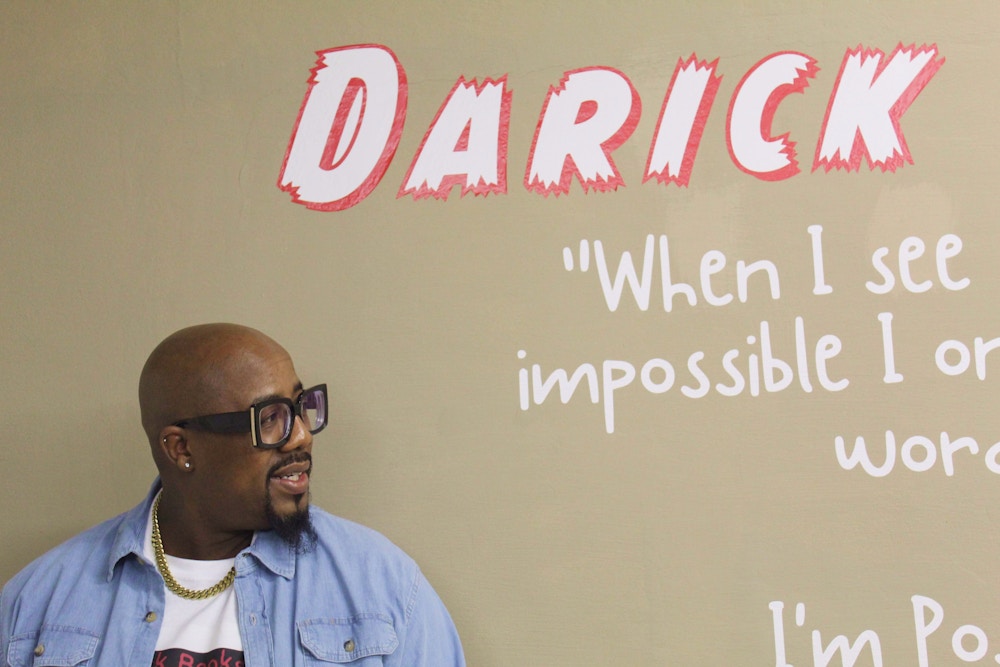 Spears is magnetic, and I don't just mean in his personality. He seems to attract what he wants. He's like a walking version of "The Secret." During the interview, I asked if he ever got down, or if it was hard for him. He says, "So the crazy part is I tell people to look from signs from the universe because … every time I get to the point where I'm low and I was gonna give up somebody comes in or somebody … Hey, Tom!"
Right at that moment, as if God was listening, in walks Tom. The man who helped Spears' dream come true. Tom, the building owner who rented Spears the space. Tom tells me how a lot of people had come to see the space, and they had all offered him more money than Spears. Spears assumed he and Tom wouldn't hit it off. Tom is an older white guy in his 80s who has run a barbershop in the building since 1990.  Spears is Black, with earrings, covered in tattoos, and a self-proclaimed "weirdo." But it was meant to be. Tom said to Spears, "Sometimes you have to take a leap of faith." He believed in Spears and thought he had something special. As Tom told me, "It had to be the right person, and he was it." Tom even held the space for Spears for a couple of months until he was able to get everything in order, even helping him with the paperwork.
Then, of course, right as he was about to open, Covid hit.
"Don't show me if I just have to wait," Spears said to God. But then he took it back, "I'm like, I'm sorry, I have to learn how to be patient." While he was waiting Spears had a dream that he was being interviewed by a bunch of news channels. Again, he thought, "this is crazy."
A year went by before the bookstore finally opened. One day, early on, he had a message from CBS News, they were interested in what he was doing and wanted to interview him. Then Fox News. Then others, including me. We all came just like he dreamt it.
He calls it his "Field of Dreams." Spears put all the pieces together and built something special, for him and for anyone else that needs a lift.
When Spears describes himself and his ambitions he doesn't reference the average list of authors or musicians. He invokes Walt Disney and Einstein. Nike and Northface. DaVinci and Shakespeare and of course, Michael Jordan and Oprah. People with big ideas that were bigger than life, just like him.
He expects Darick Books to go global. He wants to travel to prisons and universities, give talks, perform music, and help everyone be as creative as him. He wants to "dream without margins."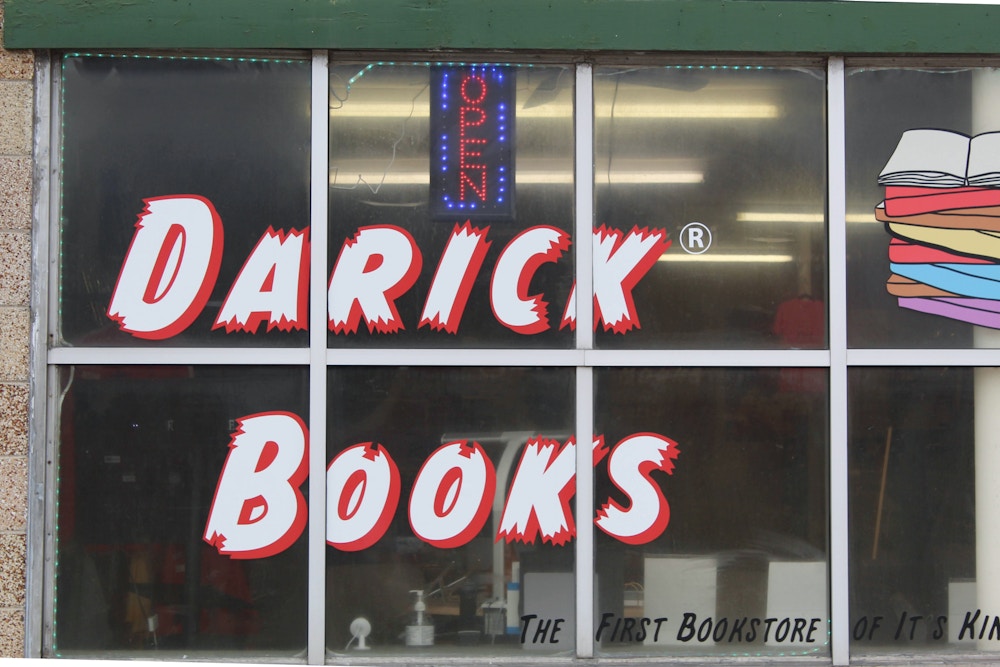 Spears has had the door shut in his face many times—he's been turned down for deals because someone didn't like the cover of one of his books—but he's not bringing old baggage to a new open door. He's positive and looking forward to a long-lasting legacy.
"I just want to motivate people. Inspire the world from this one place."
I asked him what he's been interested in lately and he replied, "Time stamping." The idea is that you can set your stories at a very specific time. Spears places his works firmly in 2022. He wants to write about the truth of what's happening in the present, so people in the future can look back and have a record of exactly what was going on. He wants to speak out, speak up and make his mark.
Near the end of our interview, Spears asks me what my deal is. I tell him about my past and how I used to do improv comedy for a living. He stops me. "Wait, did you say you're an improv comedian? … My wife just asked me the other day if I knew any improv comedians because she needs one to do a workshop, hold on." Within seconds I was FaceTiming with his wife, telling her my qualifications and giving her my information. Spears had done his thing and "Secret'd" me. It felt nice to be in his sphere of positive influence.
On my way out I bought a book of poetry and Spears gave me a free shirt of his character Bookworm. I'll leave you with one of the poems in his book, "The World's Greatest Poet, Volume 1" by Darick Spears. A man whom I assumed too much about before I even met him. A man I assumed might be self-serving and egotistical. But I was wrong, and I'll let Spears' words speak for me:
Assumption
Assuming is a disease,
And everyone has it.
We all assume that we know
someone,
We all assume that they have an
Interest in knowing us.
We all assume the inevitable,
Which is that the world revolves
around us.
And for this reason, we become
addicted to assuming.
Assuming leads to judgment,
inferences and categorizing,
Causing much of the world's mental
and emotional sickness.
I assume that you will get this,
After reading…
But it's just my assumption.
More Articles by Mike Betette
Jan. 25, 2023
•
6 min read
Jul. 6, 2022
•
7 min read
May. 20, 2022
•
8 min read
About the author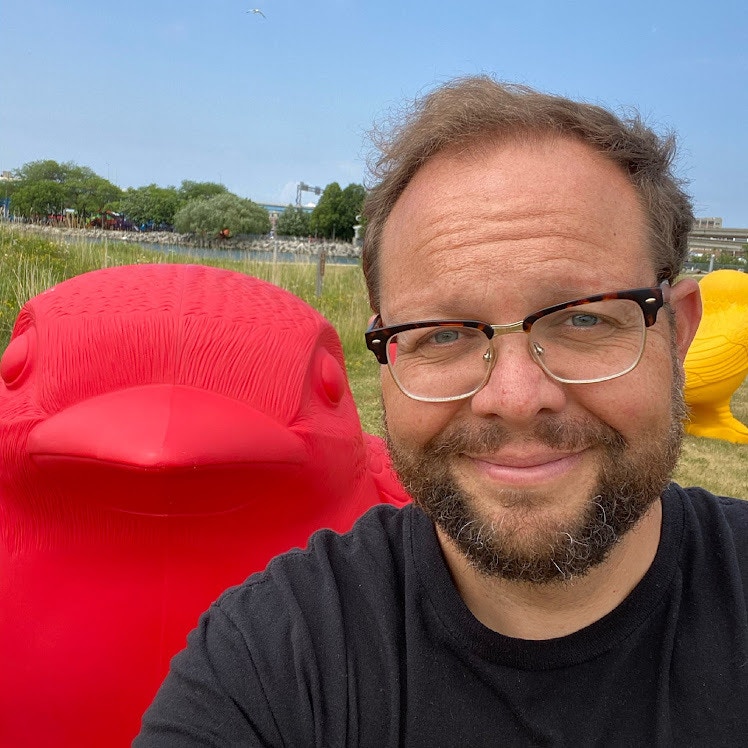 Mike is an improviser and writer who has performed with The Second City, Jimmy Kimmel Live!, and was a writer/director for Epic Rap Battles of History. He's currently a senior copywriter at an ad agency in Milwaukee and loves to be outside.