A Lifetime of Rock-and-Roll Resilience: My Conversation with Brian Kriegsman
Something changed in Brian Kriegsman the night he saw Wishbone Ash perform for the first time. The band had become known for its dueling lead guitar players, who would pass the role of soloist back and forth like in a heated tennis match. But it wasn't the performance itself that struck a literal chord with Kriegsman—it was the oddly-shaped instrument in guitarist Andy Powell's hands. 
"It was a Gibson Flying V guitar, and I fell in love with the design," Kriegsman said. "I thought, 'There could be an alternative design to guitars rather than the same old same old.'"
It was the early '70s, and the Flying V shape was not yet popular, as guitar players at the time struggled to understand its design or even hold the instrument properly. But for Kriegsman, it was a blast of inspiration—one that would open up a world of artistic freedom, but lead him down a road of rejection and heartbreak.
When I'm not writing, I work as a buyer at a used musical instrument store—where musicians of all skill levels and backgrounds trade in their old, unused gear for either something fresh or just for some extra cash. 
In September of 2021, a Pennsylvania teacher named Karen Behmke, and her husband Bill stopped by the store. They approached me with a common inquiry, asking whether or not the store would be interested in purchasing some guitars that her brother was looking to part with. But there was a catch—these weren't guitars with a sought-after name brand stamped on the headstock. They were instruments hand-crafted by her brother. I agreed to take a look.
When Karen and Bill brought the guitars in, their party now included one frail, 63-year-old man. It was Kriegsman—barely able to walk on his own—with a portable ventilator at his side. In the hands of Karen and Bill were three instruments in total—two guitars and one bass. My attention was quickly drawn to the oddly shaped, abrasive instruments. 
Despite Kriegsman's state of ill-health, he was clearly excited. He shared the history behind his hand-made guitars, detailing his many failed attempts at obtaining patents, and how he made contact with now-legendary guitar companies. He maintained a positive attitude throughout our exchange, even after he revealed the reason he was selling his guitars in the first place: According to his doctor, he had only weeks—maybe months—to live.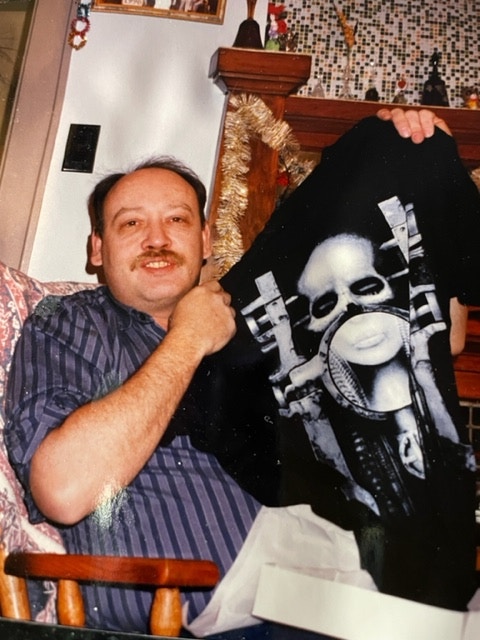 I was fascinated by Kriegsman's story—his get-back-up-and-try-again attitude and his unique guitar designs made for an interaction that moved me in ways that most conversations at my job fail to do. So I asked if he would be interested in sharing the story of Kriegsman Guitars with me, and a little over a week later, we spoke at length on the phone.
Kriegsman came from a middle-class family—his father was a millwright, and his mother worked office and retail jobs. Kriegsman had a creative mind and was passionate about art and music, but he struggled with traditional school.
"He was always eccentric with his ideas, beliefs, and passion," says Karen. "Which made him unique, and at times misunderstood."
He lived in Milwaukee his entire life and dabbled in woodworking here and there—eventually taking a few architectural drawing courses and teaching himself copyright laws in anticipation of pursuing his dream career of designing guitars.
Kriegsman's interest in guitars was more as a hobbyist than as a player—his car's vanity plates read "E-Guitar," but he never played in any bands or released his own music. He found himself drawn to artists like Alice Cooper, who injected elements of theater into his rock-and-roll performances. It makes sense then that Kriegsman would take a bold, abstract approach to design his guitars.
"I see guitars and wood as an art form"
His initial attempt at designing an electric guitar was a Telecaster copy that Kriegsman carved and shaped out of Hawaiian Koa. Like most first attempts at anything, he ran into some hiccups with that design—due to the lack of proper tools, he was unable to get the neck to intonate properly. That guitar soon found a new home in a dumpster on the Marquette University campus. 
After that first defeat, Kriegsman found himself sitting in a bean bag chair, sketching guitar designs with a little inspiration from a bottle of Southern Comfort. The shape he came up with would be the one that resonated with him most—a six-string electric guitar with rounded wings protruding from the body on either side, giving the guitar an almost sea-turtle-esque appearance. A description of the abrasive, sharp curves could just as easily have been used to paint the mental picture of a weapon in a Dungeons & Dragons campaign. And Kriegsman had figured out a way to avoid any further intonation dilemmas—he began pulling the necks off of thrifted Fender guitars and basses, sanding them down, and adding his own creative carvings. 
"The thing I've noticed about myself is that I don't like square designs," Kriegsman said. "I like rounded edges—I like wings that have a little edge or sharpness to the look." 
That guitar would be named the RBX—the "R" representing the first name of an ex-fiancée named Roberta, the "B" for Brian, and the "X" to symbolize the end of their relationship. Later, when pitching the RBX to guitar manufacturing companies, Kriegsman would change the acronym to stand for "Rock Blues Xplorer." However, in 1987, Yamaha introduced a line of Taiwanese-made basses called the RBX series. Kriegsman insists that Yamaha may have stolen the name from him—he had in fact sent the company his designs. Instead of trying to take legal action, he opted to rename his guitar the LBX.
"He struggled to obtain a patent and felt that putting his ideas out there allowed others who knew the system to take his ideas," Karen says. 
Kriegsman would then use that same body shape to design a bass, called the Laurel-1—named after another former lover.
"She died when I was 19, so the bass was for her," Kriegsman said.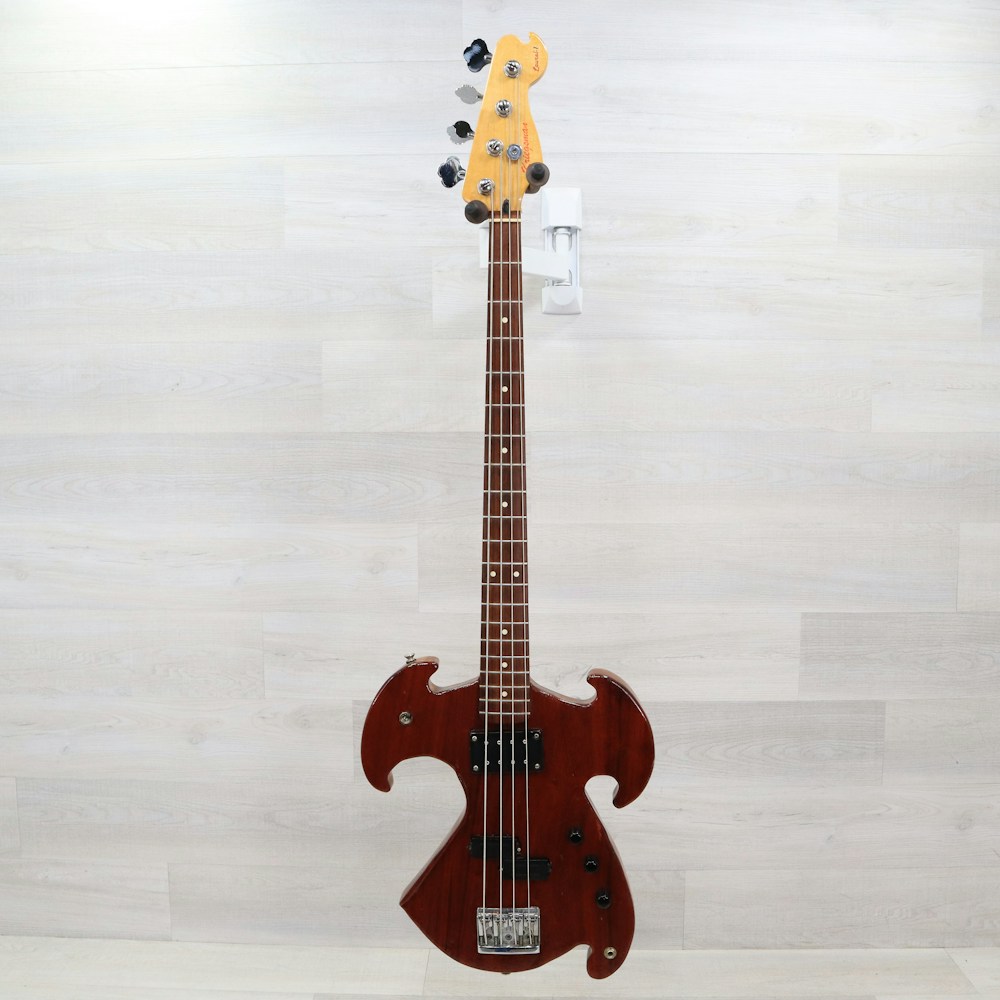 Kriegsman would send these and other designs to all of the big names in the guitar business at the time—Fender, Gibson, Dean, Ibanez, and Hamer. He received a call back from Dean Zelinsky, founder of Dean, who ultimately passed on the guitars, but encouraged Kriegsman to keep it up. Zelinksy described to Kriegsman how Dean guitars started to gain traction—by going to big-name-touring acts' performances and donating his guitars to the band. Kriegsman would later try a similar tactic—approaching the guitar tech of bands, like Iron Maiden, at their concerts and showing them photos of his designs. 
"I'd give them my address and have them try and pass that on to the guitarists to see if they'd be willing to contact me," Kriegsman said. "I actually continued to do this up until the '90s."
Hamer—a guitar manufacturer founded in Wilmette, Illinois—also showed interest in Kriegsman's designs. Kriegsman met with founder Jol Dantzig, who offered him a part-time position applying finishes to guitars. But Kriegsman wanted to design guitars, not just simply apply the finishes. 
"All I had was a motorcycle, and going down to Illinois for a part-time job just wasn't going to happen," Kriegsman said. "I really wish it would've because it might have led me into designing guitars for Hamer." 
Kriegsman continued to dream big. In 1984, Harley Davidson revealed the Evolution engine, an air-cooled, 45-degree, V-twin engine that's often credited as saving the motorcycle company from bankruptcy. Kriegsman came up with the idea to model a guitar after the v-shaped engine—dubbing it the V-2. He then contacted Willy G. Davidson about a hypothetical commercial, where ZZ Top guitarist Billy Gibbons would play Kriegsman's motorcycle-inspired guitar. Davidson wrote back, promising to keep Kriegsman in mind.
Kriegsman would drop guitar making for decades while he worked as a parking checker for the City of Milwaukee. He took the job very seriously, despite the many dangers that came with it—he even started wearing a protective vest in response to assaults while on duty.  But in 2019, that vest would fail to protect him. At 2 a.m. one morning, Kriegsman was issuing a parking citation when he was confronted by two men. One man complained about the ticket before launching into a vicious attack, knocking the then-60-year-old Kriegsman to the ground and continuing to hit him. When the attack was over, Kriegsman drove himself to the District 4 police station at 69th and Silver Spring where he collapsed out front. He was bleeding from his side and realized he had been stabbed—the wound reaching to his lung. 
Even after that traumatizing incident, Kriegsman planned to stick with the job for a little longer. His plan was to turn 65, retire, and then pick guitar-making back up again—churning out an instrument every few months while honing his craft. But Kriegsman's health began to decline, and he was diagnosed with an infection in his lungs. Upon closer inspection, that infection was revealed to be Stage 4 lung cancer. With only approximately 24 months to live, Kriegsman had to change his plans entirely, and guitar-making just wasn't going to fit into what little life he had left to live. That's when he decided to sell his guitars to a local music store, and how a Kriegsman guitar ended up in my hands.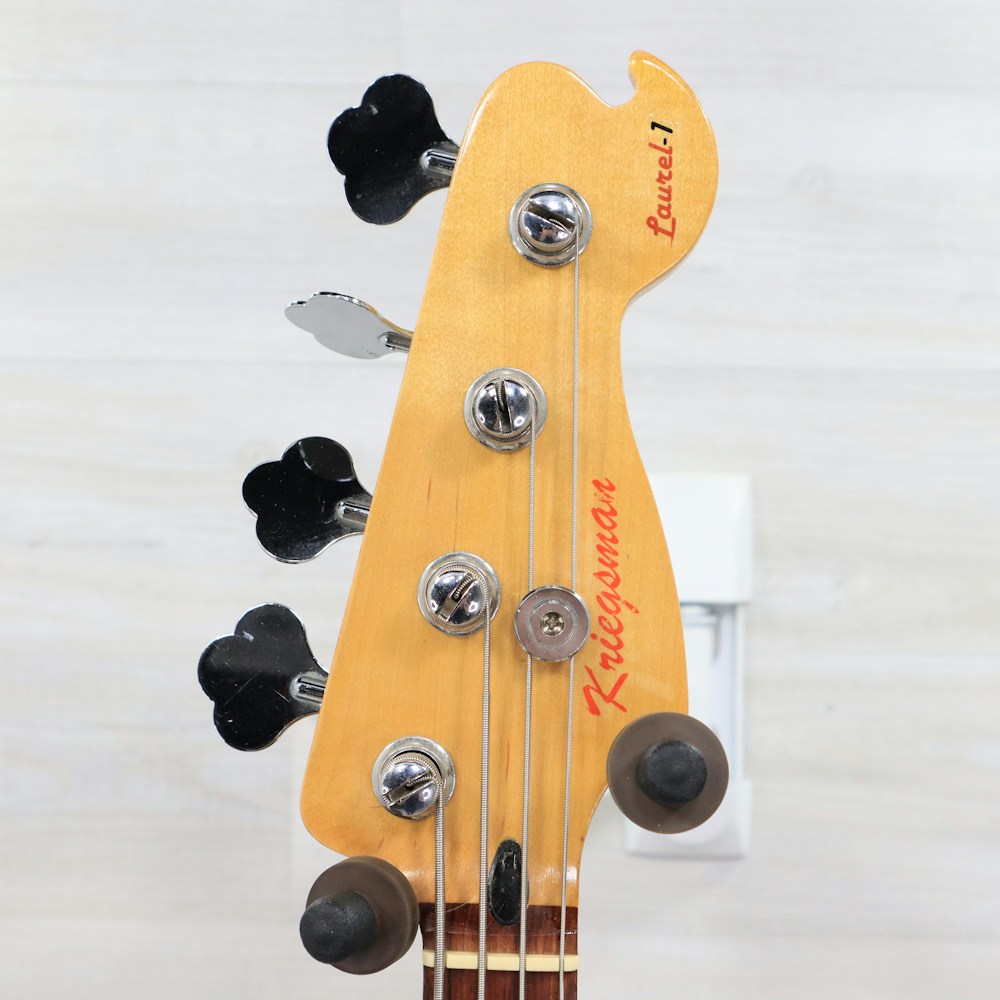 Before our deal was finalized, Kriegman gazed longingly at the three guitars he was about to part with. Each one represented a time and place in his life, named after people who undoubtedly meant the world to him at different points. For a moment he didn't speak—a life's worth of emotions and memories beginning to bubble to the top.
"I have no regrets—I did everything I could at the time," Kriegsman said. "I'm just doing my time now and trying to do the things that I want to do, which is pass on the music—pass on the instruments." 
Karen told me that after they had piled back into the car to leave, Kriegsman turned to her and said that it was a dream come true that he had finally sold his guitars. 
"I feel that selling the guitars validated him as a guitar maker and the gleam in his eye when he [told me that] will be in my heart forever," Karen says. 
Kriegsman passed away in hospice on October 5, 2021, less than two weeks after our phone conversation. Over the next month, all three eye-catching, question-conjuring curiosities would sell from the store. Kriegsman never even cashed the check he received for his guitars, but it wasn't ever about the money. The guitars were as much of a work of art as they were an instrument.
A lifetime of rock-and-roll resilience, although unfortunately cut short, had culminated in what Kriegsman was chasing all along—for someone to play his guitars.
More Articles by Mike Holloway
Aug. 8, 2023
•
11 min read
Aug. 13, 2019
•
3 min read
Dec. 13, 2018
•
5 min read
About the author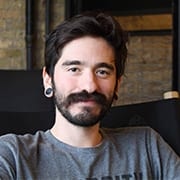 Mike Holloway was the music editor for The Wisconsin Gazette until it ceased publication in Sept. He currently writes for 88Nine Radio Milwaukee, Milwaukee Record and Urban Milwaukee.