A trashcan of hashtags: The Commonstate Super Bowl Post Mortem
As the Eagles claimed their "World Championship" crown after the Super Bowl (the word "world" used, I assume facetiously — considering the world doesn't play what Americans call football), the saber rattling began around who led the pack in this year's Super Bowl commercials.
The NFL got what they wanted out of it from a marketing standpoint, which is to say, an American spectacle. It was a competitive, exciting game where no one took a knee during the National Anthem (sung with professionalism by a flu stricken Pink). Better yet, the two teams were the "Patriots" and the "Eagles." And the halftime show was expertly maneuvered by Justin Timberlake, the whitest soulful dude alive. Yay America!
But enough about Pepsi sponsored, vanilla halftime shows. Let's get back to the commercials.
Really, the super bowl commercial has been relegated, in my mind, to just "commercial" – where nothing special really happens aside from a celebrity cameo, a talking animal, or the random cause du jour, which companies seem to want to latch onto like the paparazzi wants to latch on to the Kardashians.
It's really strange when what seems like a random product logo is strangely tacked on to the touching story of a Paralympic athlete's story. It's almost like the greatest of plot twists, where you're getting all the feels, watching a girl grow up, overcome a handicap and triumph in victory, only at the end to be met with a Toyota logo. It's weird to think that a story so special would end with all the averageness of the prospects of buying a Toyota Camry.
Toyota wasn't the only culprit – Verizon's paean to first responders and T-Mobile's incredibly strange message of equality had me wondering, what happened to the good old product benefit? Seems brands don't have as much a strategy as they do an agenda.
Weathertech wants you to know that their product is made in America. I assume they make floor mats for Toyotas, but that's beside the point. The real point is that their advertising copywriter probably wears a MAGA hat. They also violate, in my opinion, the "don't ask a question" rule in advertising when they say their plants are in America, and then ask, "Isn't that the way it should be?" Be careful what you ask, you may not like the answer, especially in a global economy.
There were also the usual blase suspects; the M&M guys, who, like Danny Devito, never seem to age and are part of a tired formula mixing live action, animation and bad, unfunny jokes designed for a five-year-old. And Michelob Ultra is still trying to persuade us that beer and fitness somehow mix, with the help of Chris Pratt, who, for a celebrity, feels like just another guy in a beer commercial.
Tide took a hearty swing with their series of commercials featuring David Harbour, the guy from Stranger Things. While I was expecting a PSA informing the public not to eat Tide Pods, we instead got a ridiculously simplistic set of commercials who's main copy line "It's a Tide commercial" is about as elementary as a commercial can get. How much planning, strategy, rounds of creative and endless midnight arguments got you to that conclusion? Maybe reductionism is the new clever.
Ram Trucks won the found voiceover sweepstakes, using a clip from a Martin Luther King speech for their commercial to great effect. It's hard not to get goosebumps at the sound of MLK's voice. At the same time, it's difficult to believe MLK's eloquence would accompany a TV commercial about pickup trucks. I'm going to assume he would never have thought his words would be used for American consumerism, they feel sacred, best left alone for history.
[Editors note: video omitted because it's terrible]
And when it comes to the historic, I wonder how many Super Bowl commercials feature an ex-stripper? Cardi B's appearance in Amazon's Alexa commercial broke some new ground. Her song Bodak Yellow is featured in the spot, where she raps "I've got money moves" which is now a reference to a Super Bowl commercial appearance payday. Jeff Bezos appears in the spot too which is kind of like a Hitchcock cameo. And the Alexa spot featured my favorite moment in this year's commercials when a man asks Alexa to "play some country music" and Alexa answers with silence. I can't believe I prefer Bodak Yellow to anything, but I apparently do.
Australia Tourism decided to go the generic route, featuring pop culture references and stereotypes (i.e. Crocodile Dundee and kangaroos) to market the destination. It would be like using beer and brats and the movie Major League to market Wisconsin. It's hard to get to the essence of a place, to find that emotional trigger that makes one want to visit. And for Chrissakes it's a 20 or so hour plane ride, so you better make it worth it.
My runner-up favorite is the spot by Jeep, which poked fun at the idea of a manifesto, hopefully marking the end of the timeworn, poetic, long VO that waxes poetic about a product. Seeing the Jeep traverse difficult terrain was a triumph of visuals over words. At the same time, it was expertly written and simply executed. It was the most "ad like" of all the ads, well crafted, with a focused strategy, that was easy to detect.
Ultimately, for me, the winner was NBC, whose marketing of the upcoming Olympic games is right on the mark. It's simple and beautiful and inspirational, giving the athletes center stage pairing them with great soundtracks, fantastic cinematography (see a table that starts to curve like a half pipe in the Shaun White spot) and an energy that genuinely gets you excited for the games.
Regardless of how you spin the Super Bowl commercials (AKA commercials), it's still amazing how companies are willing to step up and drop the million bucks for the all too precious air time. In a digital world, the big game is still synonymous with grabbing millions of chip and dip laden eyeballs while still grabbing the residual effect of actual YouTube views after the game.
As they say, another year, another trash can full of unused and hopelessly ineffective hashtags.
More Articles by Nicholas Pipitone
Jun. 10, 2023
•
9 min read
Mar. 12, 2023
•
8 min read
Dec. 14, 2022
•
8 min read
About the author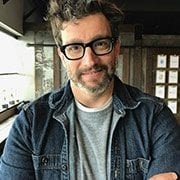 Co-founder, Editor-in-Chief, Commonstate.com