Talking with Jamar Jones, the Founder and CEO of Foureva Media
Jamar Jones is the founder and CEO of Foureva Media, a company borne out of his myriad strengths. He's a guy who emanates energy, and I sense it the minute he walks into Starbucks on Moorland and Capitol, our meeting place not far from where he lives. He immediately comes up to me and firmly shakes my hand. Jamar is a fit young man, who arrived dressed in a tracksuit, wearing a hat that says "I am 100% in charge" on it. The hat was a gift from Marcus Lemonis, business genius and host of the CNBC show "The Profit." More on the Lemonis story later.
Jamar has a Deion Sanders-esque smile, wide, genuine, and joyful. He orders a large tea, something he says soothes his throat. Jamar is a hip-hop artist motivational speaker, marketer, videographer, photographer, and author. And he's a master networker. 
Jamar was freshly off a networking junket to Las Vegas. Jamar was featured on season four of a TV show called Office Hours, which interviews entrepreneurs covering the intersection of their personal life, family life, and business life. "It was incredible. I got to network with a ton of heavy hitters," he tells me. It also presented itself as a prime opportunity to talk about his book, "Change Your Circle, Change Your Life," in which Jamar wrote about the importance of changing one's circle, meeting new people, and the challenging mental and physical shifts life requires to be successful.
It's a book that comes from profound personal experience. The journey, for Jamar, has been a series of turning points—more than most people experience in a lifetime. These pivotal moments have given him great perspective and a rare kind of resiliency.
I've got big goals, big ambitions. But the 10-year plan could be totally different. I don't know what's gonna happen. I definitely took a non-traditional kind of upbringing, which shaped me into who I am today, because I got a lot of time to think, time for self-discovery and self-awareness. it's amazing because now I feel almost like I'm unplugged from the matrix. You know, I now know how to adapt and understand situations."
"I just go with whatever the universe gives me, man."
He wrote his book in less than 6 months, after a moment of self-reflection. He often wondered, "How did I get here?" The revelatory answer, for Jamar, came down to the circles you find yourself in. "My ability to constantly change my circle helped me find out who I was. It really honed my strengths," Jamar told me. "Some of these people are adding to my life and some people are subtracting from my life, and I need to get that fixed. I realized I was a master of getting into new circles. Similar to the Vegas thing. I literally changed my circle that day. It's that ability to know yourself and your strengths and your value and then say, how can I apply that to other circles and other people and then be open and take a risk?"
Jamar, only in his mid-twenties, has learned at a young age that sometimes you change your circle, and sometimes life has a way of changing them for you.
One of the pivotal turning points in his life is the reason he sips tea while we talk. In 2013, during one of his hip-hop shows, in front of a few thousand fans, he felt a sharp pain in his neck, mid-verse. He pulled the microphone away from his face, turned his head, and spit up blood. An alarming moment, indeed. But despite knowing something was terribly wrong, he powered through and finished the show. At the time, he had no idea of the severity of the situation; he had torn his vocal cords and was about to come face to face with the harrowing decision to halt his Hip-Hop career and turn his life trajectory on a dime.
It was devastating, and when I ask Jamar what it was like to say goodbye to a promising rap career, he offers an overly long pause, full of silence and introspection. 
"I didn't realize I was done. I thought it was maybe like a hiccup, an injury. I would have studio sessions, and I'll start to record and all of a sudden, I couldn't speak the next day."
He had worked incredibly hard to get to the place where his hip-hop career started taking off—touring and opening for major national acts. Shockingly, while he was pursuing a career in music he was also working for a financial company in their IT department. 
Yeah, he's pretty resilient.
To understand that resiliency, and what drives him to accomplish whatever it is he sets his mind on, you've got to go back to his high school days.
His father, a marketing guy, changed jobs a lot – and the family moved during every year of Jamar's high school tenure. It was a very angry time for Jamar. A time so challenging that, at one point, his frustration caused him to leave his parents and find some space. "I felt like I hurt my parents because I just left the house. I was 19 years old. I was a very angry individual," he told me.
"I went to four different high schools in three different states. I just was pissed off at everybody."
That journey started at Wauwatosa East High School, and then his family moved to Muskego. Muskego High School is where the problems really started. "I was the only black kid in Muskego," he says, shaking his head. Jamar was bullied in the school's hallways and was the target of overt racist attitudes. One day a flaming bag of feces showed up on the family's front door. 
"It's just kids being kids," the police told him.
Jamar talked to therapists. He talked to counselors. He talked to the police, and no one was listening. It's hard not to get angry when you're screaming for help, and no one is hearing you. The anger inevitably just built up.
"A switch went off in my mind. I thought, well, no one's gonna listen. So I'm just going to take this into my own hands. And that's when I became a very angry person. You couldn't tell me anything. I got into fights. I was going down a bad path."
He took that anger to North Carolina, the next big move for his family. His Dad got laid off and got a new job. "It was better," remembers Jamar, but he was still angry. "I carried my resentment there." He didn't hang with the best crowd while in North Carolina but gained some great friends that he's still connected to. But just when he started to understand the landscape there, the bad news came that they were going to move to Virginia—halfway through Jamar's senior year.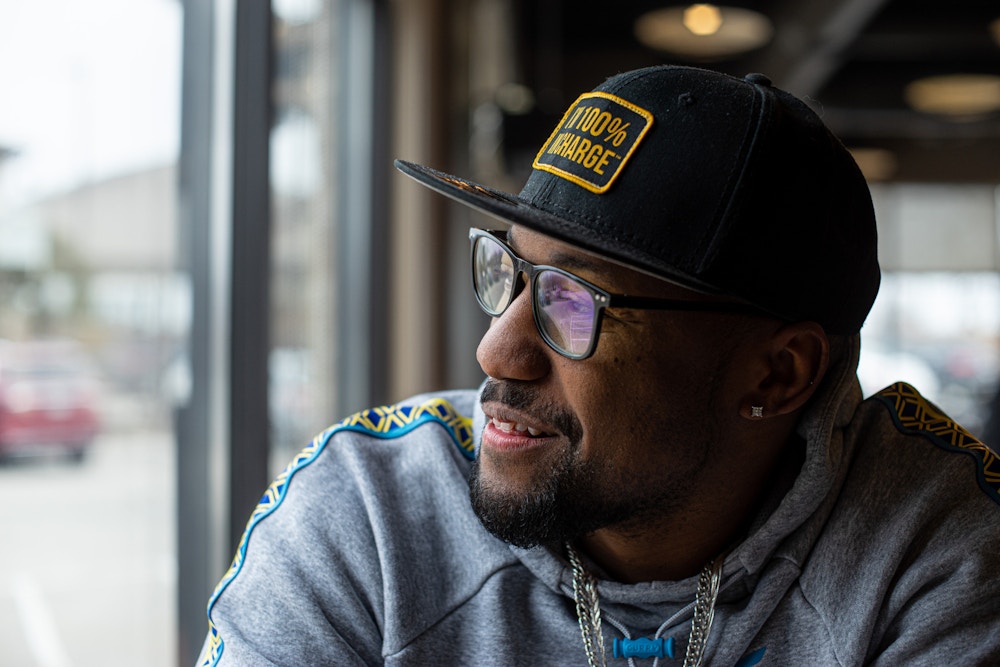 He recalls the difficulty of school in Virginia, where everyone knew everybody and here he was, a lone wolf just trying to make it through. "I just sat in the hallway with my hands over my head, headphones blaring. I didn't talk to anybody."
After graduation, the anger boiled over, and Jamar, along with a friend from North Carolina decided to move back to Milwaukee. His disdain for his parents was just too strong for him to stand pat. "I didn't give my parents a heads up," he tells me. It was extremely difficult, but it proved to be yet another turning point.
"My parents took it horribly at first," he recalls. "But one thing about my parents is that they always show love, no matter what. My mom was more broken. I rebuilt my relationship with my dad over time. We got to talk about it later on. My mom says your brain isn't fully attached until you're 25. And once I turned 25, I really started to realize everything. I thought, I gotta rewrite this." 
During the moves, he always felt an attachment to Milwaukee. "I like it here," he told me. "Down the road, I may move closer to my parents as they get older. I want to be there to help. But I also feel like for what I'm trying to accomplish I could be anywhere. I could still give back to the city here in Milwaukee. I could still do incredible things, bring incredible talent and resources, and innovation. I will always have a connection to Milwaukee.  I've lived here the longest."
Jamar rapped all the way through his high school years. Honing his craft, working on songs, and becoming very good at it. He played gigs, going back and forth from Milwaukee to North Carolina and back, using his connections when he could. But the grind—making phone call after phone call, dealing with club owners who wouldn't give you the time of day, and beating down doors—became tiresome. There had to be a better way.
Jamar's anger got channeled into positivity. He developed an unwavering work ethic because of it.  He's a "yes you can" in a world of "no you can't."
So he started cold calling colleges trying to get gigs. And that turned out to be another brick wall. The front door was not the way in. "I learned that student organizations—the student-led stuff had budgets, and these are programs that I would get into. And then I found that the American Cancer Society had been doing events across the country called Relay for Life. It's at all these different colleges and they're always looking for entertainment. So I eventually started to know exactly who to contact at these schools."
"A lot of times they were so ecstatic to talk to you because no one ever calls."
He started gigging at the Relay for Life events during the day and booking gigs at local clubs in the evening. He received tremendous exposure—at his height rapping in front of 4,000 people at Camp Randall Stadium in Madison. Everything was clicking. 
And then came the concert that changed everything—at the University of Minnesota, where his vocal cords gave out. 
"My only goal in life was to be famous and to share the music with the world. That was the only goal. So once that gets ripped away from you I was just straight-up depressed."
It took him two and a half years to get past it.  "I was working my way mentally through the realization—I'm not a rapper anymore. I can't play shows anymore. I'm not gonna record."
During the whole time he was doing shows, he also had an IT job at a financial company during the week. Soon after the hip-hop thing was over, 45 people were let go, including Jamar.
Ironically his last album was called "Momentum."
And he had none.
During the Covid pandemic, business mogul and host of CNBC's The Profit Marcus Lemonis appeared frequently on Instagram Live to talk about business. Every once in a while he would look at the list of people who had logged in and single someone out, and ask them to tell him about their business. 
Jamar's Instagram handle caught Marcus's eye.
Jamar was in an entirely new place, having worked through the end of his Hip Hop career, getting laid off from his job, and dealing with the anger of constantly moving during his high school years. A person could stay bitter through all of it. But Jamar had chosen a different path and his instincts told him to play to his strengths. He was on the call to learn about business from one of the best—his networking genes in full Jamar mode.
Hey, he had a business to grow.
In the early days of Foureva Media, it was called Foureva Productions and Jamar was doing artist consulting, beat-making, producing, photography, videography, website design, and logo design. "Anything I kind of knew," he said, He was working mostly with music artists, but the money just wasn't there and the business wasn't sustainable. So, he turned on a dime again and moved to the corporate side, launching Foureva Media as a complement to the production side of his business. 
But making videos wasn't enough, and he needed to get into the strategy side of the business. In discussing it, Jamar finds a great metaphor. "You're making a hammer for somebody and passing it over and saying, good luck. Take the hammer. But the plan was to build the house. Well, maybe they don't even know how to use the hammer."
His business sense was right—and Foureva Media has secured business from Northwestern Mutual, Veristi, Sherman Phoenix, Generac, Equitable Bank, and many others—including a stroke of luck brush with the aforementioned Mr. Lemonis.
On that Instagram call, he asked Jamar to tell him about his business, and Marcus was so impressed he invited Jamar and his partner to Gurnee, IL for a 90-minute private session with Marcus himself. It was packed with learning, tough love, and actionable advice. Marcus, a man with numerous business interests, handed the marketing keys to one of his businesses over to Jamar, a nice win and vote of confidence. It was life-changing.
Jamar's book is called "Change your circle, Change your life." With Lemonis in his circle, who knows what's possible?
With the company working on events, strategy, design, podcasting, and social media, Foureva Media has truly become a reflection of who Jamar is today.
And Jamar's inner famous Hip-Hop musician has found a new way to reach people—through the power of positive public speaking, hitting the event circuits, speaking at conferences, and relating his story to so many people that can learn from a guy whose life has been a series of arduous journeys full of great triumph, and devastating change.
He, along with his company, is not slowing down any time soon. When he's in, he's all in, damaged vocal cords and all. 
Jamar knows Jamar. What makes him tick?
"When I get hooked on something, I just become obsessive about it."
More Articles by Nicholas Pipitone
Dec. 14, 2022
•
8 min read
Sep. 9, 2022
•
8 min read
Apr. 15, 2022
•
4 min read
About the author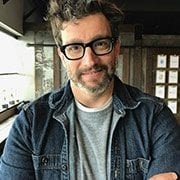 Co-founder, Editor-in-Chief, Commonstate.com