Hey Milwaukee, your inferiority complex is showing
The mission of Commonstate is to champion creative thinking in every community, in every field. Filmmakers, musicians, fine artists, chefs, public servants and architects alike are at home here. And just because you don't make art doesn't make you less of a creator. Creativity of all kinds drives business, community, and identity.
But the question is – why do we think these creative people are important? The answer to this question is rooted in the experiences that the co-founders of Commonstate, myself and Joseph Salvatori, had in the advertising and marketing business – and specifically working in travel and tourism.
If you work in tourism marketing long enough you start to realize that the same versions of most things exist pretty much everywhere. Art museums, great restaurants, microbreweries, state parks, etc. It's difficult to find a city that doesn't have a film festival and a progressive/college radio station. There are economies of scale of course, but once you get past what we affectionately call "the stuff" time and again you are left with one thing: The people and the culture they create.
And Milwaukee, from where we're sitting, is flush with creative talent across numerous disciplines. The Milwaukee Film Festival continues to break attendance records every year. Academy Award-winning screenwriter John Ridley is opening "No Studios," a hub for creative thinkers. We don't have one great progressive radio station; we have two in 88Nine and WMSE. We have business leaders that are forward-thinking enough to imagine a new arena downtown that won't just be a place to watch basketball games but a destination for all types of entertainment. From the businesses popping up on 5th street in the Walker's Point area to the Historic Third Ward, Milwaukee is a happening place to be – and live.
Heck, we even have an awesome flag now.
All of these things give Milwaukee meaning. But still, with all of these developments, it's difficult to figure out what Milwaukee's identity really is. Ask ten people and you would get ten different answers. You're sure to get a version of this:
Beer. Brats. Brewers. Summerfest. Bucks. Harley Davidson. Miller Brewing.
These things are all great – but you know, it's still just "The stuff."
The challenge is to discern what connects people emotionally to this city – and then translate that emotion into the way we talk about Milwaukee outside of Milwaukee.
It's ridiculously hard for a city – and a state – to find that identity.
For proof that Milwaukee and our state struggle with identity, look no further than the recent advertising campaign created by the Wisconsin Economic Development Corporation. The $1 Million ad campaign's goal is to woo qualified workers from Chicago to come to Wisconsin – whose largest draw exists in the community most analogous to Chicago: Milwaukee.
The campaign, featuring messages like "Bump elbows, or bump on the court?" – which pits the (perceived) dregs of riding the El with using that time more wisely – like – playing sand volleyball – is a head-scratcher. Many Chicagoans love the convenience of the El, and the enticement of sand volleyball is certainly not the state putting its best foot forward – to put it mildly.
Another ad says "Sunset on Michigan (Avenue) or Sunset on (Lake) Michigan?" Hmmm. Have our collective memories forgotten that Chicago and Milwaukee share the same lake and that choice doesn't really exist? The goal of advertising is to show valid and meaningful points of difference – I would hope I don't have to expound on the differences between our Michigan Avenue and Chicago's.
The ads are also quick to point out how much shorter the commute time is in Wisconsin compared to Chicago without pointing out how much less stressful the commute is in Chicago. Blame it on the train.
There is even a video in the campaign that depicts a man and his wife/girlfriend making ramen noodles at home to highlight the fact that the cost of living in Chicago is high and Milwaukee's is 22% lower. The video then shows the couple going out to dinner because if they lived in Milwaukee they can finally afford to dine out. Do you really think qualified workers are going to flee Chicago to escape the thought of eating another dreaded ramen noodle? A high cost of living does have ramifications but this comes off as ridiculously simplistic. I can't imagine this scenario would resonate with the target audience.
And really, whether you buy into that scenario is really beside the point – the cultural and nuanced differences between Milwaukee and Chicago are missed completely. Plus, the general lack of sophistication in execution and message serves to further the perception that Milwaukee – and Wisconsin – is less sophisticated than Chicago. 
In a news release, the Wisconsin Economic Development Corp. said " … our research has shown that individuals living outside of Wisconsin have a very limited perception of the opportunities — both career and lifestyle — that are available in our state."
Inexplicably, instead of highlighting that lifestyle and those opportunities, the campaign takes great pains to bash Chicago. In an article on the Journal Sentinel's website, John Greenfield, transportation columnist for the weekly Chicago Reader, said the "WEDC would be wiser to play up the benefits of Wisconsin than telling Chicagoans what's wrong with their town."
The anecdotal bashing isn't surprising considering Chicago and Milwaukee have had a big brother / little brother relationship for decades.
With baseball season approaching, you can hear chants of "Cubs suck" echo off the outfield walls of Miller Park, which Chicagoans affectionately call "Wrigley North."
The reality is that Chicago is a great city. But so is Milwaukee. And there are differences that we should not only acknowledge, but also embrace. And Milwaukee has so many great things to be proud of. Yes it is a bit slower here than in Chicago. The commutes are shorter. Rent and parking is cheaper. And there is a cultural renaissance going on here.
There is unprecedented development and an influx of people that are dedicated to Milwaukee being a forward-thinking haven with a way of life that is perfect for those who don't find the big city to their liking. Do we in Milwaukee have a lot to work on? Of course. But that shouldn't stop us from shining a light on the positive things.
In short, there are real reasons to move here from Chicago. But Milwaukee needs to do some soul searching, find out what it stands for and live that mantra every day. What is the actual value we can bring to a person considering a move? What do we as Milwaukee stand for? Who are we and what do we really have to offer that has real meaning?
The answers are there. And we hope here at Commonstate, by meeting and talking to the creative people in our community we can begin to uncover the things that make Milwaukee, Milwaukee.
More Articles by Nicholas Pipitone
Jun. 10, 2023
•
9 min read
Mar. 12, 2023
•
8 min read
Dec. 14, 2022
•
8 min read
About the author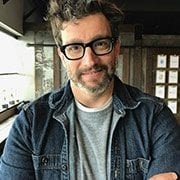 Co-founder, Editor-in-Chief, Commonstate.com