How a Secret Collection of Vintage Lighting is Brightening Milwaukee's Art Scene
Did you know your career path when you were 16? I didn't. I thought maybe I'd be a librarian. Or a choreographer. Neither panned out. Although, in hindsight, the world might benefit from dancing librarians. 
At 16, Steve Kaniewski didn't have a career crystal ball either. Unlike me and most people I know, he naturally possessed the instincts and vision of a seasoned CEO at a young age. Despite having no formal education on the subjects, Steve gravitated toward fine design, architecture, and excellent craftsmanship. In the present day, Steve is the president and CEO of Brass Light Gallery, a provider of handcrafted lighting—made in Milwaukee. Since 1974, Brass Light Gallery has manufactured and shipped timeless, made-to-order, high-design lighting fixtures to customers worldwide.
A Hidden Archive of Lighting History
Behind the company's success are many stories, as you'd expect. And hidden in plain sight is a physical manifestation of decades of stories: an enormous collection of lighting components lining the shelves of a 20,000-square-foot warehouse in the Menomonee River Valley. The Brass Light Gallery headquarters isn't a secret. However, adjacent to the showroom and production facility is an unknown and unlikely lighting museum of sorts, one that is not open to the public. 
In the summer, the warehouse is hot. It's dark, ironically. Noisy trains roll through town on nearby tracks, causing hundreds of chandeliers and pendants to sway above your head gracefully. The warehouse is also clean, meticulously organized, and feels enigmatically magical. 
The seemingly endless rows of shelves hold carved alabaster, gem-like chandelier parts, sparkling prismatic glass shades, flowery painted ceramics, and, my favorite, industrial light fixtures salvaged from an old munitions factory in Baraboo. There is even an old gas chandelier that once hung in Turner Hall, still blackened with nicotine from cigarette-puffing theater patrons long ago. I have no idea if anyone has officially inventoried the collection, but my guess is more than one million pieces, and parts of light fixtures are stored in the warehouse. All of it beautiful, even the wires, tubing, and cords.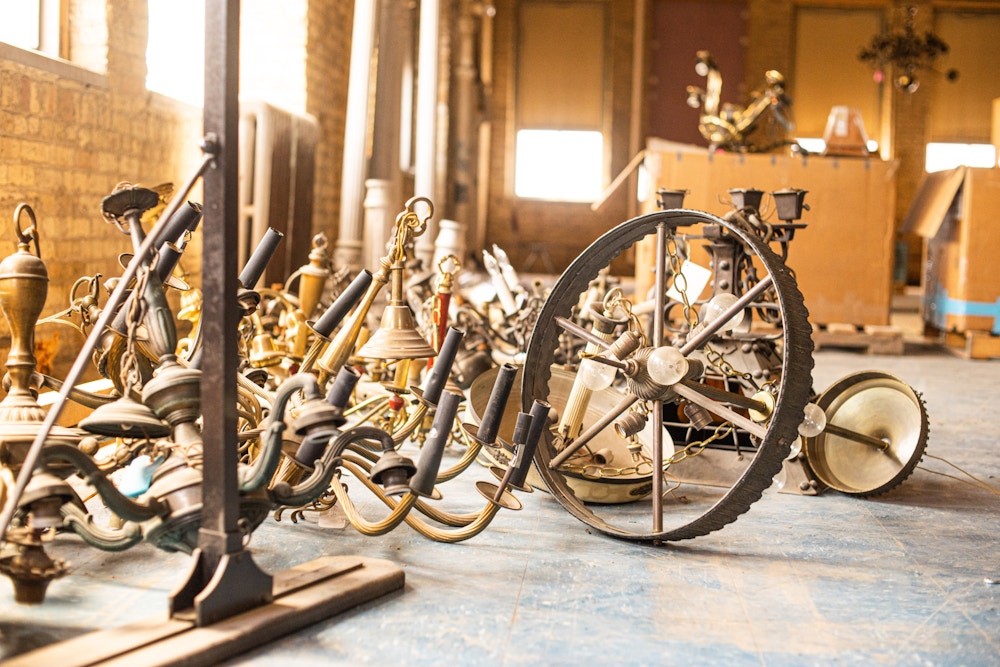 As the steward of this collection, Steve is the Indiana Jones of lighting. He can tell you the history and provenance of just about every vintage shade, crystal, socket, and backplate. The warehouse is his centralized archaeological storage facility. He's humble and often says, "I don't know everything," which I don't believe. 
Next door, Brass Light Gallery's business is booming. Long before I met Steve, I purchased two fixtures from them for my new-to-me house. As a customer, I was proud to support a Milwaukee business, but also, I was thrilled to own timeless pieces of functional art for my humble abode. It was a splurge 16 years ago that I'm still enjoying today. 
With online sales growing, the business continues to expand. "I need to focus on Brass Light Gallery now. I no longer need the warehouse nor most of its pieces," Steve admits.
So when my friend Christine Anderson, a former Brass Light Gallery employee, a long-time friend of Steve, and a current appraiser for Guardian Fine Art Services, called me, I was intrigued and unwittingly said yes to whatever she was asking.
To help Steve empty the warehouse, Christine assembled a team of Milwaukeeans who work in the arts. Our assignment: Donate as many artifacts as possible to local artists, makers, and creatives. By invitation only, we gathered artistic friends and friends of friends to tour the expansive warehouse. They brought trucks and teams of people to do the heavy, sweaty lifting. Steve provided boxes, packing materials, and of course, storytelling. It was fascinating to see which objects the artists were drawn to. A glass artist from California even rented a truck and, with some help from some local friends, carefully transported the fragile cargo back west.
We were also working under a tight deadline. Steve wasn't only emptying the warehouse, he was selling it— very soon. It felt like mission impossible to move that many delicate objects in a matter of weeks.
I've visited the warehouse a few times since that first call from Christine. And although I'm not an artist, Steve graciously gave me two shades, which I will cherish. He told me one of the shades I picked out came from a U.S. Navy yard in Philadelphia. As we've been rolling up our sleeves to help this somewhat strange and surprising effort, I repeatedly ask myself: why? How did this all come to be? I'm passionate about my profession, too, but I haven't amassed enough work-related objects to fill an entire warehouse, and I never will. 
So I called Steve and asked him.
It All Started With the Flicks
The Grand Warner Theater was built in the 1930s as part of Milwaukee's early cinema surge that lasted through The Great Depression. "The towering lobby was art deco, while the auditorium conjured French baroque that King Louis IV, the 'Sun King,' would have recognized," writes the Milwaukee Public Library. In 1964, Marcus Theaters purchased the building from Stanley-Warner Theaters (formerly Warner Bros.) and renamed it The Centre Theater, which was a fitting name for the place where Steve would derive his career. 
"I was looking for a job so I started knocking on doors. I wanted to be downtown. I didn't want to flip hamburgers in the suburbs," says Steve. "I always found the center of the city fascinating."
In the heart of downtown Milwaukee, Steve got what he wanted and more—a job as a movie theater usher in one of the most beautiful buildings in the city. "I absolutely fell in love with the architecture and interior décor of the theater. At the time, I didn't know much about design," admits Steve.
He learned everything he could about the theater's art deco and rococo architectural design. He was later promoted to junior management and would sometimes get asked to host tours of the historic building. 
Steve still refers to the movie palace, which was recently purchased and restored by the Milwaukee Symphony Orchestra, as The Warner Theater. His first job there as an usher changed the course of his life. It also impacted Milwaukee's business history. The fixtures crafted at Brass Light Gallery today are inspired by the enduring design aesthetics Steve discovered at the Grand Warner Theater decades ago. That first job also introduced him to people who would convert his budding interest into action.
Guided By the Light
"I gave a tour one evening at midnight after the theater closed. I was 17 years old and working as the assistant manager. The tour was with the late Susan Wirth and her then-husband Terrence Baun who were radio personalities at the old WFMR classical music station," shares Steve. "The tour was arranged through a mutual friend. Susan—a well-known architectural historian and art collector—wanted to get behind every locked door to see all the nooks and crannies. I was enamored by her vast knowledge. Two weeks later I was invited to visit the basement of their flat in Washington Heights where Susan kept a whole assemblage of vintage lighting fixtures she had curated from estate and garage sales."
Steve was instantly hooked. He and Susan became fast friends and remained close for decades. Susan sparked a love of historic lighting for Steve that would fuel his entire future. Steve eventually lived in the same Washington Heights flat where he first experienced vintage lighting as art. He now owns a home with his wife in the same neighborhood. Susan passed away in 2017, and Steve clearly is still mourning her loss.
But Steve wasn't ready to go into business just yet. He needed to learn more. Terrence taught Steve how to wire sockets. The two would make visits to buy parts at the old Goldmann's Department Store on Mitchell Street. Beyond the lunch counter, Goldmann's was known as to place to get hard-to-find items including a wide selection of girdles, school uniforms, and lighting supplies. Goldmann's became Steve's school.
"George Marshall from Goldmann's helped me when I'd go up to his balcony to buy parts. He started answering questions and invited me into his warehouse," remembers Steve. "He taught me so much including how to rewire and reinvigorate old lighting. You couldn't otherwise get training for that."
With the guidance of his mentors, Steve started restoring vintage lighting for the fun of it.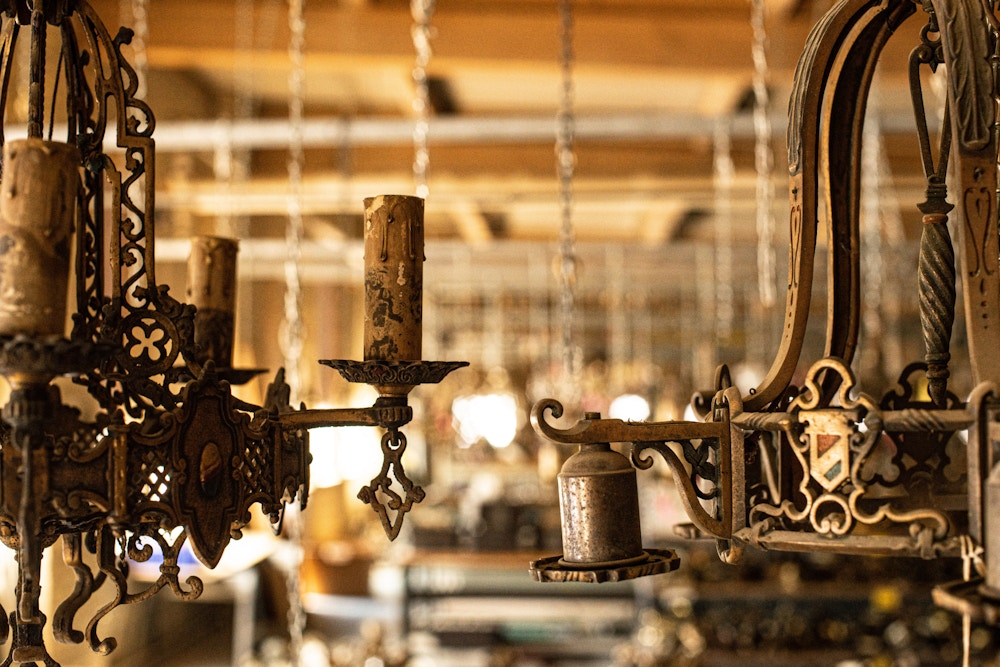 "I remember buying my first fixtures at an auction. They were Mission-style from 1905 or 1910; they required about six hours of restoration work. I bought them for $10 each and sold them for $35. I was having such a good time and didn't factor in the value of my labor. But I ended up with something beautiful," gushes Steve.
He quickly learned he couldn't survive on fun and the love of design alone. He adjusted his pricing to cover the time, talent, and resources required to return an old, dirty fixture to its original glory. 
By the time he was 21, Steve was officially an entrepreneur. He restored fixtures and learned about sales and marketing simultaneously. He ran a booth at a small antique center in Milwaukee's Third Ward. He later discovered antique markets hosted at local shopping malls like Mayfair, which were lucrative. At the malls, a community of people who shared his love for art, history, and design embraced him. Many of his new friends were quick to take Steve under their wings and encourage his business instincts.
"When I bought my first serious light fixture I was apprehensive about the price—$50. But I thought I could restore it and make money on it. Another brilliant, now-deceased Milwaukeean advised me not to worry about the cost. He told me that it was good design and that it'll all come out in the wash," shares Steve.
"I was lucky to be connected to the right people at the time—many were older folks. They generously shared their architectural and design wisdom with me. Some were graduates from the Layton School of Art and Design, which at the time was one of the top five art schools in the country. I was so fortunate to have those people around me, encouraging me to 'Buy that!' or 'Don't pass on this!' They saw promise in my enthusiasm."
As a sole proprietor, Steve's business modestly took hold. He was living frugally and working in Walker's Point, a neighborhood he saw potential in. He was volunteering for the Junior League of Milwaukee to help invigorate the quiet, industrial area of the city when an opportunity arose in a strikingly similar way to how he landed his first job. 
"I was going door-to-door canvasing to help bring life into Walker's Point. It was November 1978. The neighborhood was hindered by a perception of crime, but I loved the area. One door I knocked on turned out to be a building for sale. I bought the whole building for $9,000. I didn't have any money. An attorney friend closed on the real estate transaction pro bono for me as a favor. The building wasn't habitable so I rented a seven-room apartment above the Junior League office across the street."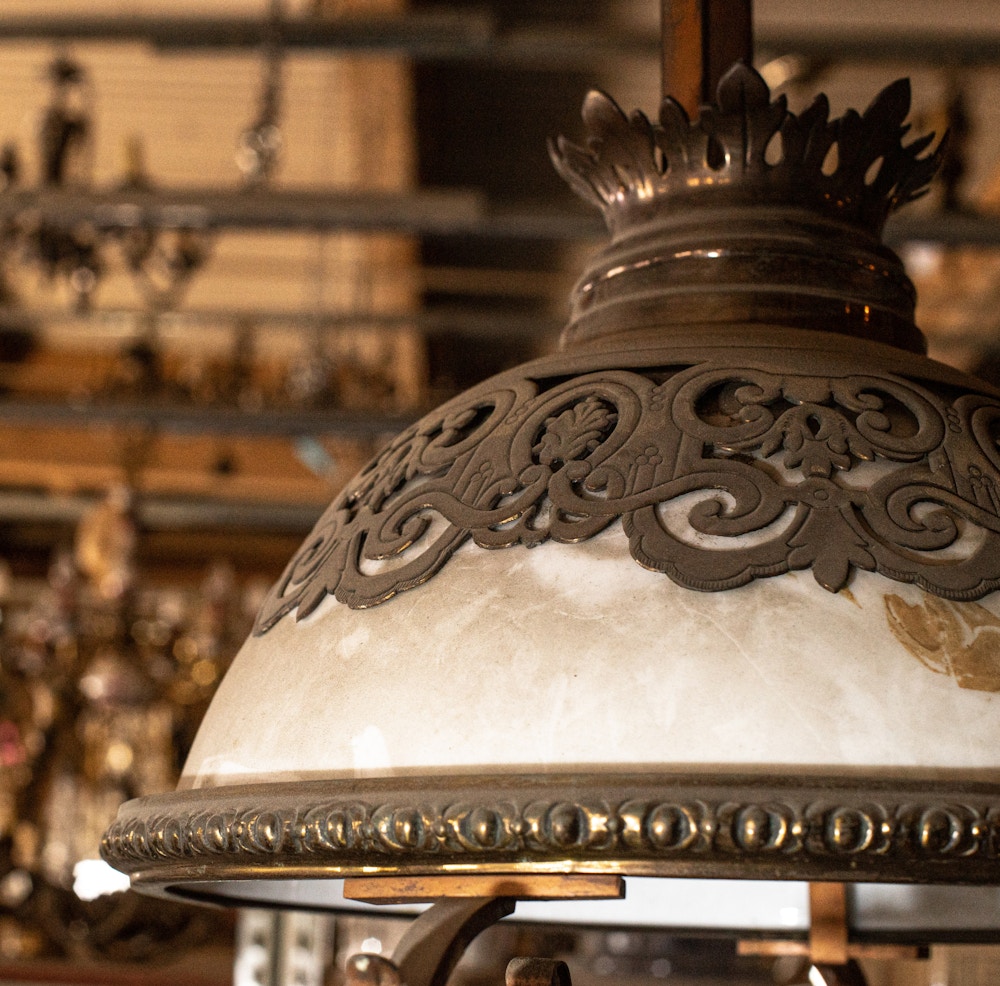 Leave It to the Artists
What is now the collection of artifacts I'm helping distribute to artists and makers once served a practical business purpose in the late 1970s. It was originally a sales exhibit situated in an actual residence—Steve's apartment.
"I started displaying the lights I restored at my apartment because I didn't have room for a showroom back then," explains Steve. "I would take people down to the basement and everything looked beautiful. I sold a lot of great light fixtures that way. I was showing off the pieces I personally enjoyed in my own apartment. Then I fixed up my main building enough so that I could move there. I had the greatest time living on 5th and National in the 1970s. Nobody was there. Living in that apartment afforded me the ability to sell lights and buy more antiques. I'd go to the East Coast and come back with my car packed with fixtures. If I had lived in an expensive apartment, none of it would have ever happened."
The collection outgrew Steve's old Walker's Point space years ago. "It's always more cost-effective to buy in bulk," he advises. But now it's time for others to create new stories and art. Steve's goal is to pay it all forward as a token of appreciation for the valuable support and inspiration he received as a kid from Susan Wirth, George Marshall, and many others. He aims to share his knowledge and love of design with others in hopes it will spark something else big, just as it did for him long ago in a movie theater. And besides, Brass Light Gallery has a physical showroom and a website now. 
"I'd love to see the artists find adaptive reuse for the items in whatever their medium is. Not necessarily a light fixture. It could be collage, sculpture, anything," explains Steve. "I'm challenging the artists to create something. These artists are responsible for training the next generation. They are in the field they love. I'm not the artist; I'm the architectural art history person. I want to share inspiration, education, and offer a challenge."
The project is on track and Steve and his team are expecting to have the warehouse ready for its new owner on time. And our crew who helped facilitate the donation effort is impatiently waiting to see what will be made with all the sparkly, wirey, spindly, fragile, shiny objects that local creators hauled away. Until then, I'll focus on the inspiration Steve donated to me.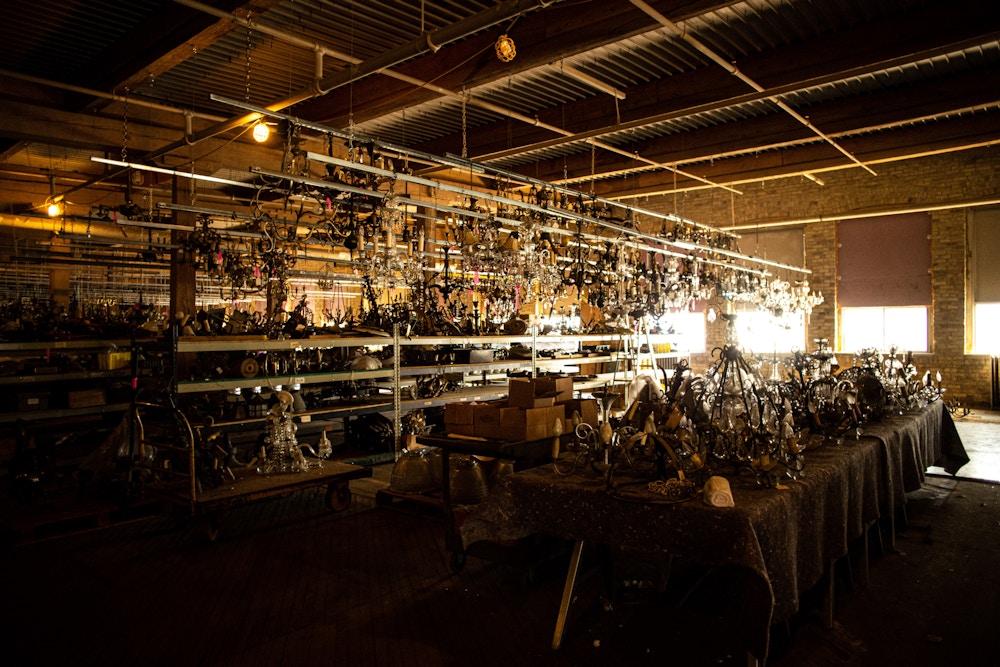 More Articles by Cory Ampe
Jun. 2, 2020
•
6 min read
May. 14, 2020
•
6 min read
Oct. 3, 2023
•
8 min read
About the author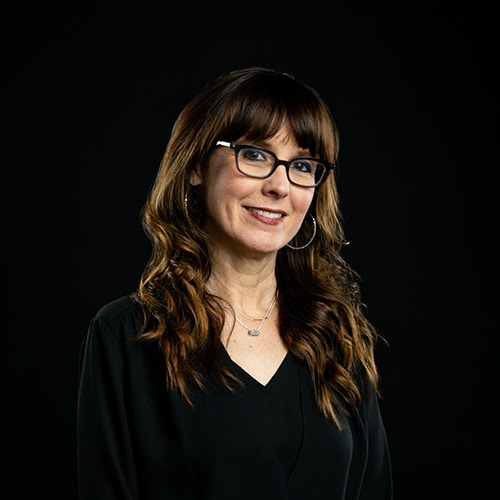 Cory Ampe has worked in marketing and communications for more than 20 years. She currently owns a marketing firm named Campe + Co , is the president of United Adworkers, and volunteers for Sculpture Milwaukee, Islands of Brilliance, and Girl Scouts Wisconsin Southeast. She is also married to a creative person and is the mom of two high-energy kids.