The Makers Dozen: Creative Technologist and Entrepreneur Romke de Haan
Romke de Haan is a creative technologist, serial entrepreneur, and business leader with a heart that beats hip hop. He is a graduate of and former creative director for Homeboyz Interactive, an organization that taps the latent talents of gang members, redirecting their energy from violent activity to website development. As a founding board member of True Skool, Romke further channeled his passion for music and youth empowerment. Later he went on to act as president for Spreenkler, a strategic planning and technology communications firm. In 2015, Romke put his talents to work on the national level as the director of business development for 18F, an office within the General Services Administration. He's now back in Milwaukee where he lives with his four busy children. Romke is currently a principal consultant for GuidePoint Security and is the founder of Ekmor Holdings.
Why are you creative?
I just woke up like this. Creativity is a strong part of how I was raised. There are a lot of artists, seamstresses, and painters in my family.  Also, hip hop was my world; it was my community since I was three years old. Breakdancers and graffiti artists were all around me. We would DJ in the back yard. Creative has always been my way of life.
What is something you do outside your job that keeps you creative?
What don't I do is a shorter list. I paint, I dance, I DJ. I love to watch other friends' creative explorations and projects. I frequently travel to see other friends making murals or producing shows. 
What's something you saw recently that inspired you?
A friend of mine is working on a six-story mural in Washington DC. It is inspired. She thinks deeply about every detail of her art. Each object she depicts conveys meaning. It's interesting to learn from her research process. I enjoy interpreting the iconography she comes up with. If there's a person in the piece, their clothes and position are significant. If there's a plant in the background, it has meaning. Everything is intentional. 
What's one thing you've created that defines who you are the most? CA: Your kids? (chuckle)
That's kinda true. I've created some hyper-creative kids who are extensions of me. They are musical and artful. Basically, I've created friends. 
Beyond my family, I'm really proud of Milwaukeeans Against Hate. It was a project that grew out of a U.S. Department of Homeland of Security hack-a-thon. We presented a winning concept that got funded. Next thing we knew, we were printing t-shirts and merch, hosting an awareness-building event with a bunch of musicians. Through music, we aimed to build unity in Milwaukee. We wanted to be real with dialogue to expose the narrative of hate. I wish I had more time to keep it going now. We benefited from a quick hit of capital that enabled it to get off the ground. Maybe we'll do it again someday.
Name an Influential/Inspirational book everyone must-read.
The Utopia of Rules: On Technology, Stupidity, and the Secret Joys of Bureaucracy by David Graeber. It's my favorite book. 
What do you carry around with you every day that is indispensable?
Most influential person in your creative life?
A young fellow by the name of Andrew Tallon, he was my first creative mentor. He was a professor at Vasser. Andrew taught me a lot about design and working at a master level. He was a global designer. He passed away a few years ago. But Andrew's legacy lives on in his work. His love of gothic architecture drove him to deconstruct an MRI machine and digitally scan Notre-Dame in Pars. He visually dismantled the cathedral. And now his work is hugely instrumental during the fire reconstruction. He was from Milwaukee. I didn't learn about his passing until he was publicly recognized for his post-mortem role in rebuilding Notre-Dame. It was pretty heartbreaking. He was a beautiful sound designer, too. 
How do you silence the doubts?
You don't silence them, you challenge them. You question them. You ask yourself: Are they valid? If so, how do you overcome your doubts? If not, throw them away. Doubts are an enabler, not a blocker. 
What's your morning routine?
My routine is dependent on my kids. If the kids are with me, I get up at 5:00 a.m. High school kids start at 7:00 and the elementary kids start at 8:00. I start my workday at 9:00 a.m. and go.
Favorite/most productive meeting spot?
If you weren't a [blank] what would you be?
Hmm… the question is what my blank is. What am I? That is the question. If I wasn't who I am now, I'd be a club DJ in Bali. You should never leave an island. 
Greatest piece of advice you ever received?
Step away from the computer. Step away from technology. Creativity goes with you … it's present when you're taking a walk, experiencing a show, and reading a book. You don't think "I'm going to build a shelf." after playing with a hammer. Put life in the right order. 
More Articles by Cory Ampe
Jun. 2, 2020
•
6 min read
May. 14, 2020
•
6 min read
Aug. 22, 2023
•
11 min read
About the author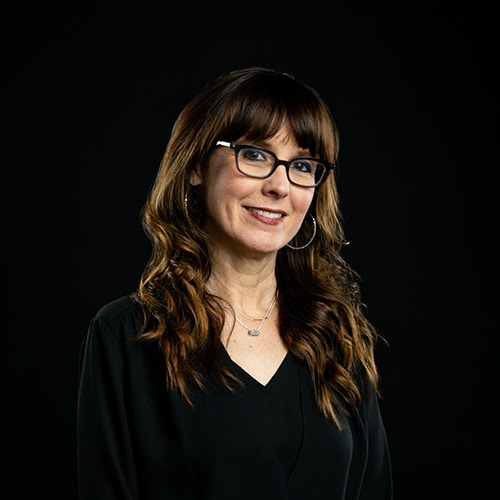 Cory Ampe has worked in marketing and communications for more than 20 years. She currently owns a marketing firm named Campe + Co , is the president of United Adworkers, and volunteers for Sculpture Milwaukee, Islands of Brilliance, and Girl Scouts Wisconsin Southeast. She is also married to a creative person and is the mom of two high-energy kids.