I'm sorry, Vampire Weekend, please forgive me
It's time for my mea culpa, Vampire Weekend.
I wrote off A-Punk when I first heard it. "It sounds like someone has been listening to The Specials and English Beat too much. Feels like a party band," was a rumination I remember swirling around my head at the time. A-Punk stayed in my peripheral consciousness because it became stock bumper music on TV and radio. I really didn't think too much of Vampire Weekend after that. If I had only ventured only slightly further, I would have heard the line "Who gives a fuck about an oxford comma?" and i would have been hooked.
Damned closed mindedness.
I missed "Contra" because of the conclusions I had unfairly jumped to. "Horchata" and "Cousins" never hit my radar. It's like if you hated the George Clooney Batman so much you neglected to watch the Christopher Nolan films. Big mistake.
Then Modern Vampires of the City came out and I'm not sure under what circumstances it came to me but I heard "Step" for the first time and it was a revelation. The swirling harpsichords of the intro took me to 70s film dream sequence land. The whispery singing and the melody are gorgeous. And as I have come to know now, VW plants lines in their songs that hook you that may or may not be a part of what traditional songwriters might call a chorus. In "Step," the line "I feel it in my bones" stuck with me and still does.
Yes, Mr. Koenig, I do feel it, now.
And then Ezra Koenig's name showed up on Beyonce's brilliant Lemonade album as a co-writer and I knew he was playing a finely honed and respected songwriting instrument. Beyonce's Hold Up is a Vampire Weekend song in disguise.
I had to go back in time. I heavily rotated Cousins and Horchata. I ate up Modern Vampires of the City top to bottom. Obvious Bicycle, Unbelievers, Dianna Young, Everlasting Arms – Koenig and his songwriting partner Rostam (who has left the band to go solo) were creating in a songwriting hemisphere with a command of craft that is rare. There's a beautiful simplicity to it, yet layers that keep revealing themselves after numerous listens.
And now we finally have new material, and the first song, Harmony Hall – a 5 minute opus that collects all of what makes VW great. It's an uncompromising mix of influences and styles. Acoustic flourishes, 90s beats, beautifully layered choruses and an unbeatable hook, "I don't want to live like this, but I don't wanna die." We've ALL felt that. I can wipe the sweat off my forehead in fear that their new material would not live up to the rest of their discography. It turns out it's a natural extension of it.
So apologies, Vampire Weekend. Unbeliever I was, unbeliever no more.
More Articles by Nicholas Pipitone
Jun. 10, 2023
•
9 min read
Mar. 12, 2023
•
8 min read
Dec. 14, 2022
•
8 min read
About the author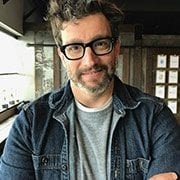 Co-founder, Editor-in-Chief, Commonstate.com