Hot Spell: The Cure for the Weary Traveler in Winter
On a brisk November night in Wisconsin, I stood outside in the Zócalo Food Truck Park in Walker's Point with a few friends. Neighbors walking their dogs passed by, turning up their collars and hunching their shoulders against the sharp wind. In stark contrast, we were sweating—in bathing suits with steam rising from our warm bodies. We were experiencing Hot Spell, a barrel sauna parked amongst the food trucks for the season. In Nordic tradition, the alternating heat and cold outdoor air are what make a sauna. Not the windowless basement sauna at your local gym you sweat in once and then leave.
Nordic magic inspires a Milwaukee sauna experience
Jaime Meyer brought the sauna experience to Milwaukee after a revelation while traveling solo in Malmö, Sweden. According to the Hot Spell Sauna website, Jaime visited the Ribersborgs Cold Bathhouse and found, "The heat was intense and incredible. The smell of cedar was magical. I felt my neck and shoulders release as the stresses of solo traveling disappeared."
I sat down with Jaime and asked more about her life-changing experience. "To experience the beautiful space with windows looking outside, jumping into the Baltic Sea, and going back and forth with the hot and the cold therapy was something I had never done before. I was there by myself, so I was able to take it in and observe everyone else there. There were teenagers and grandmothers, and everyone was loving it. It was cold, I was exhausted, sore, and just emerged completely cured. Instantly cured of all my ails; my stresses, my physical, mental ailments. I was hooked immediately, and I want to feel this way more. There's not really any experience like that here. Wanting that experience for myself and not being able to find it was the inspiration for Hot Spell."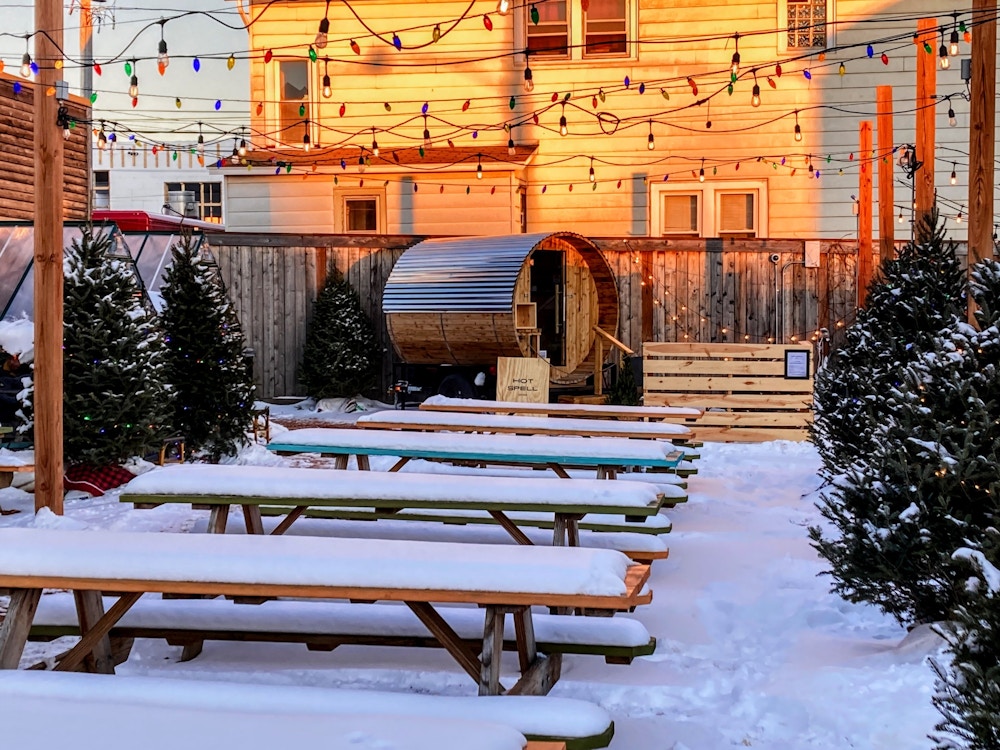 Starting a new business for the first time
The pandemic brought an opportunity for change. After 25 years in the hospitality industry, rising from waiting tables at 15 to serving as GM of Bavette at age 40, Jaime asked herself, "I'm managing what I think is the best restaurant in the city, what do I do now?" While Hot Spell describes itself as "Nordic Sauna Meets Midwest Hospitality," it's still a big shift for Jaime. Never having owned a business before, she's learning as she goes: "It's been really fun, taking it as it comes. I'm learning everything as I do it. I've asked a lot of complete strangers to take time out of their day to either hop on a call or meet in person, and people have been generous about that. I feel the small business community has been very supportive in that regard." Jaime continues, "There will always be competition, but at the end of the day, most small business owners just want the city to be a better place, and business owners are supportive of it."
What makes Nordic sauna different from infrared saunas
While there has been an influx in infrared saunas in the city as well as the typical electric gym sauna, Jaime points out the differences in culture and health benefits of those experiences to a Nordic sauna.
She explained, "I think access to the outdoors is such a crucial part of it. That's a big thing that's lacking in any other place around. Infrared sauna without the hot rocks and steam and going back and forth between hot and cold temperatures are not the same thing. You go in for 40 minutes, and it's maybe 140 degrees, and you're done. Most places in Europe would be offended, it's simply not what sauna is. It's warm, and it's enjoyable, and you're going to get health benefits, but it's incomparable."
Hot Spell offers that outdoor access at its Zócalo location and its new off-grid wood-burning sauna offers mobile experiences like a sold-out New Year's Day event right on Lake Michigan for an icy lake dunk followed by a sweat session.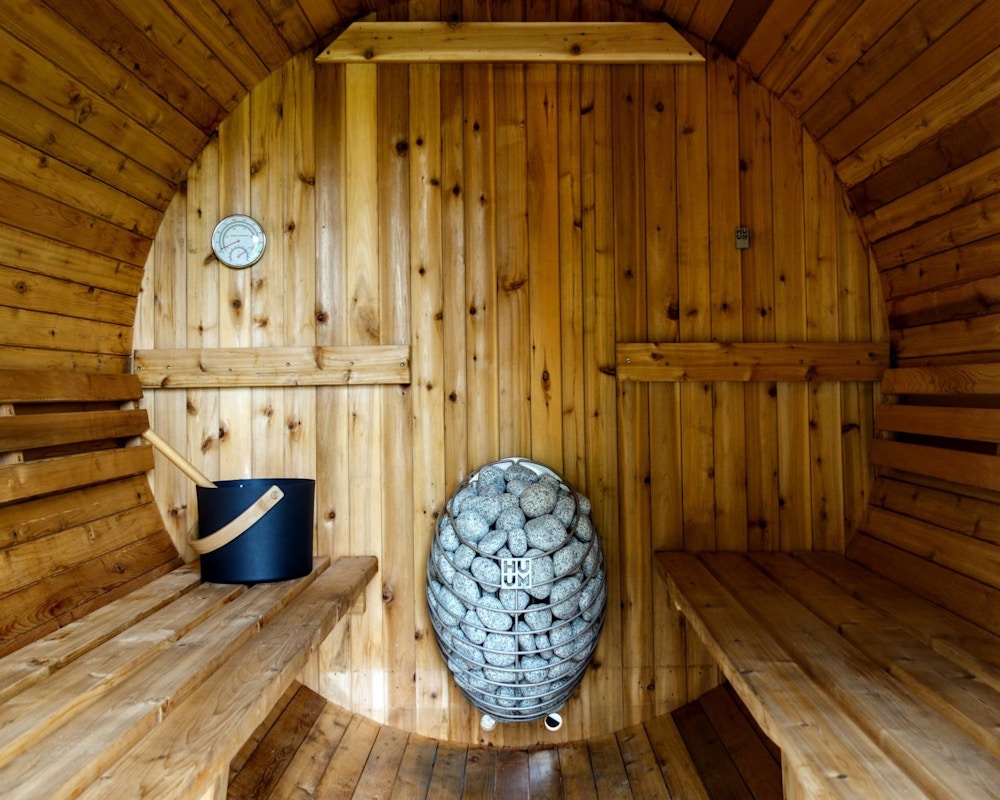 Entering year two of Hot Spell
The cedar barrel sauna at Zócalo is currently in its second season. When asked about how Milwaukee took to the first season, Jaime said, "It was great, I started small, really DIY to test it and see if ANYONE would do it at Zócalo. It surpassed my expectations; the response was so strong." She saw people experience the transformation she felt in Sweden: "People showed up running late from work, stressed out. Some people showed up thinking, 'What have I gotten myself into, this is weird … ' and every group of people came out super happy. After six months, I didn't get one complaint. I couldn't believe it. I just couldn't get over that, coming from the service industry where you get complaints all day long. People just loved it. They walked in one way and came out another—glowing and smiling; it was great."
After experiencing the cedar barrel sauna with my friends, we too felt renewed and cozy. The 75-minute session was enough for a few rounds of rotating the ten-minute sand timers in the heat and as many minutes as we could handle in the cold Wisconsin air. Pouring water over the rocks created an immediate steamy sweat that felt both energizing and cleansing. It brought me back to my own experiences in Swedish bathhouses, lazy afternoons going from pool to pool, sauna to ice-cold shower, and back again. The best part is feeling like your bones are finally warm after a cold day in Milwaukee and getting the deep, restorative sleep only a traditional sauna can provide when you go home.
What's next for Hot Spell
Jaime expanded her business to include a custom, wood-fired mobile sauna in a larger size (7' x 14', 11' tall), with a small changing room built-in and solar panels for lights and electricity, making it completely off-grid. When asked about the new sauna, she shared, "It's beautiful, it's well-insulated, it's unbelievable how efficient the stove is, it's got windows. You have to be able to see outside. The goal of the new sauna is full-day event rentals. Corporate wellness events, local companies with great employee wellness programs. Getting out in front of forward-thinking local businesses that want to do something great for their employees, clients, or members."
The new mobile sauna will return to Lake Michigan in the spring for more of the crucial nature and cold lake experiences, replicating Jaime's life-changing Nordic sauna for Milwaukeeans to enjoy. I will be there with my friends, closing my eyes and returning to Sweden's invigorating saunas.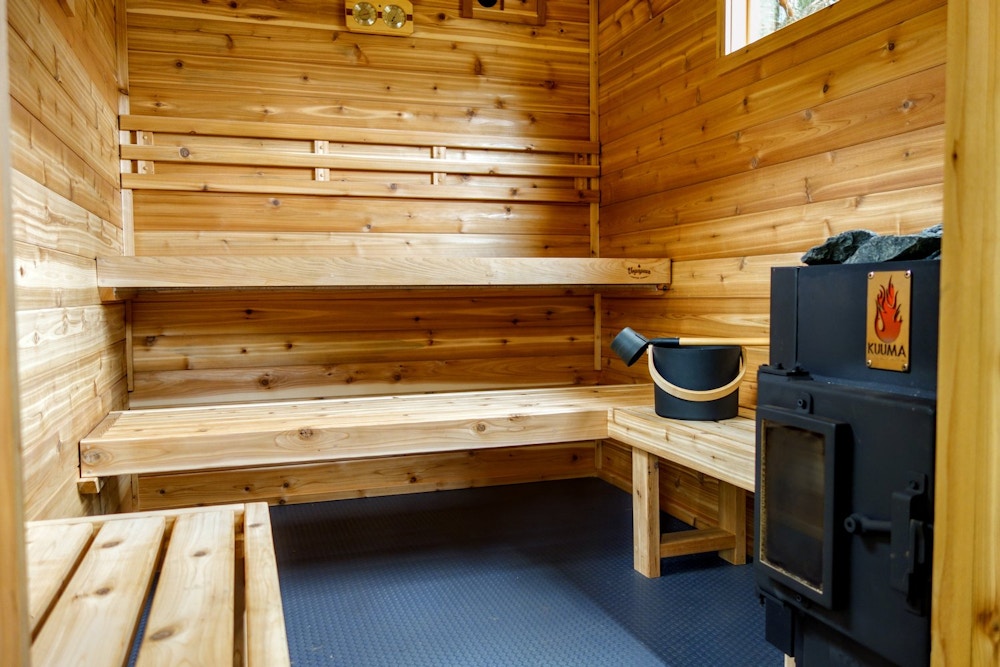 Services
Private, 75-minute sessions in the original barrel sauna at Zócalo are available now until May 1st for up to six people. A small greenhouse with lockers is available next to the sauna to change in.
Full-day, full-service event rentals are available for the new, larger sauna for parties, employee wellness programs, team-building events, wedding parties, corporate events and retreats, traveling athletes, etc. Hot Spell will bring the sauna to the desired location.
Overnight rentals are also available for the larger sauna to bring to your home, cabin, or lake house.
More information and booking at: https://www.hotspellsauna.com/
More Articles by Amelinda Burich
Apr. 26, 2018
•
2 min read
Feb. 19, 2018
•
4 min read
Jan. 29, 2018
•
4 min read
About the author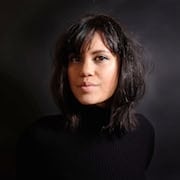 Musician, music journalist, artist,and accidental actress with too many hobbies.