So "this is what falling in love feels like." JVKE's "golden hour" Melts My Cold, Millennial Heart
When's the last time an album latched on to you and didn't let go?
For me, it happened this past weekend. It was the third or fourth time this year my partner and I discussed how they just don't make music as they used to in the 90s through the early aughts. How I find Dua Lipa painfully boring, and I'm not talking about the first iteration of her dance moves. And I vehemently disagree with the notion that Taylor Swift is the best songwriter of our generation because popular does not equal meaningful, compelling, or timeless. That she's still singing about months-long relationships from a decade ago, allegedly, is utterly disappointing.
It was out of this conversation that my partner and I decided to check ourselves before we wrecked any opportunity to delay our inevitable slip into the cultural relevancy void you enter as you age. Thank Spotify for its "Hot Hits USA" playlist that features a who's who and what's what of most-played songs everybody who's anybody knows.
It was an experiment. We planned to go into it with an open mind and see if our preconceived notions about popular music were just a story we wrote in our heads or if music has really declined in recent years. Turn's out, it's a story as old as time. Every generation goes through this. But underneath the bah humbugs is a painful transition, away from the time when music was life, and bills and responsibilities were things your parents worried about. We judge because underneath, change lurks. And we just can't face it. 
But face it, we did.
Rihanna's new song was a massive disappointment. We skipped the track after waiting a minute 30 for any rising action to match the energetic pulse that made her songs such jams back in the day. We gleefully bopped along to Harry Styles' "As It Was," which is a certified banger despite his otherwise palpable mediocrity. We soaked up "Die for You" by the Weeknd, who I've watched rise from the melancholic beats of his debut mixtapes to stadium-level fame ("Blinding Lights" is one of the catchiest songs I've heard in the last five years). And let's be honest, The Weeknd is a far better comparison to Michael Jackson. Harry Styles wishes.
Then, one of Taylor Swift's latest (honestly, "Karma" is layered enough to warrant a second listen) transitioned to "golden hour" by JVKE. We immediately dismissed the song when we saw the artist's name pop up on the media screen in my car. What kind of Gen Z bullshit is this? 
Oh, how wrong first impressions can be.
As twinkling piano cascaded across my sound system, my mouth was agape. What. Is. This. And as JVKE, whose name is, yes, Jake, transitioned from a hybrid talk/rap to smooth vibrato-tinged lamentations, my eyes grew wide. My entire body vibrated with that familiar excitement of discovering something new that you can't get enough of, not unlike the feeling of falling in love. Carried away, rose-colored glasses perched on your nose, and willing to say yes to anything you're asked because life is full of possibility.
So "this is what falling in love feels like."
JVKE's debut album, "this is what ---- feels like (Vol. 1-4)," has melted, softened, and massaged my cold, jaded Millennial heart. I've now been wrapped up comfortably in a cocoon of nostalgia for three days, revisiting what it feels like to have crushes, revolve your life around whether so-and-so liked your latest post, and feel alive and chock-full of hope (and angst). One listen had me in a flashback—I was laying in my soccer sweatshirt in a hammock in my family's backyard on a chilly October evening, stars glittering, and wishing I could never stop holding hands with Aaron, the young gent I had a massive crush on, and who was laying next to me at the time hands looped in mine in the pocket of my sweatshirt. 
I'm in the goo phase, liquefied, and unable to do anything but hit repeat on this damn album. I'm on round seven.
Since the rise of streaming services, my connection to music has evolved from exploring specific artists to building playlists that fit the mood, season, or represent a unified theme (i.e. all-acoustic numbers). Rarely can I tell you the names of artists or songs. I mostly just recognize a song from my playlists if I hear it again somewhere else. I don't remember the last time I listened to an album in its entirety. Until JVKE.
Jake comes from Providence, Rhode Island, the son of a music teacher and child of the church, which apparently is an absolutely lethal combination for future wholesome pop success. And the evidence is written on the social media posts. A recent Instagram post shows his blindfolded "grammy" in Times Square—the big reveal being his Gen Z self prominently displayed on a billboard overhead, which leaves grammy glowing at her grandson's newfound success. The guy clearly loves his family; he featured his mom in the viral TikTok video for his breakout hit "Upside Down." And there's a video on Instagram of him and his friends sitting in his car, reacting to his music playing on the radio for the first time. It's utterly adorable. Jake has big springer spaniel energy.
Yes, I crept, but to be honest, I think JVKE would approve—his song "wonder if she loves me" features the lyrics, "I thought I had it in me to not check up on your profile. But then I scrolled down. That's when I saw that new boy all up in your comments."
Listen. I'm going to interrupt this rave review to note that the lyrics are not poetry. They're clearly written by somebody solidly in their youth and sometimes swing a bit too far toward "I'm 13, and this is deep" land. But it works. If I want lyrical prowess, I'll listen to somebody who aces that hole.
But, my favorite lyrics from the album are as follows:
Pretty little liar, whatcha gonna say?
Tell me that you love me, lying to my face
I know you double-crossed me, girl, you're such a fake
What a shame, guess my lover was a snake—"this is what heartbreak feels like"
On the page, it may read trite, but I gasped, "He didn't!" when I first heard the song. You're compelled to sing along as he calls the nameless her out. It's unbelievably satisfying. 
Despite the lack of verbal depth, JVKE offers a cohesive pop odyssey. My partner noted the song titles and realized the whole album follows the story of a young man falling in love, being cheated on, yearning for what was, and falling victim to the relationship strife that's a right of passage for the lovers in the room. Some of the songs literally transition directly into each other, a continuation of the piano line from track to track. The writer in me loves that this young man put a story arc in his album, transitions and all.
It's sweet. It's simple. And it's dynamic, each song a mix of traditional pop song elements (a child saying "she loves me, she loves me not" on "wonder if she loves me,"  and "I can't help it" covering "Can't Help Falling In Love" by Elvis, for example) plus instrumentation (violin, piano) and sound mixing characteristic of radio hits.
"I'm not okay" soars into a distinctly Queen feel about a minute in. I hear echoes of "Iris" by the Goo Goo Dolls (about 0:49) in "save your breath." I know 1:28-1:34 in "catch me" mimics another song out there that I just can't place. Please send me a note if you figure it out. JVKE's both original in his approach and pulls heavily from other influences. It would be easy to criticize him on this aspect of his debut album, but it's part of why it's so damn good. It's a new take on sounds that have occupied my memory bank for decades. It instantly connects. A salve during a frankly disorienting time in our human history.
The beats, rhythms, and melodies hit just right. The way pop is supposed to be. Get out of here with this nonsense, this mumblecore, dissonant, "sleepy rap" (as my partner calls it).
I know it's en vogue to release subtle, repetitive, low-key, minimalist music, but I refuse to get on board. Give me JVKE any day. 
He weaves in brief minor shifts that add dimension and emotion. There are birds chirping in the background of multiple songs. He gasps, and he breathes in two separate songs. It's bordering on chaos but somehow comes together every time. And the chaos suits the story arc. The peaks and valleys of falling in love, from lust to obsession to loss to denial to resistance to resignation to starting all over again—are decidedly chaotic when you're young. It's absorbing, and nothing else matters. Like the dishes in my sink I should be doing right now but have chosen to ignore to listen to this damn album one more time. 
And boy, can the boy sing. His voice has range, and when he hits those long, high notes—it's just lovely. It shows the difference a background in music theory and technique makes in the songs that make it to our ears (and hearts).
Though "golden hour" remains my favorite after listening to the album in its entirety, I recommend listening to the whole opus from start to finish. It's truly an experience.
And while it's easy to fall into the tired groove of ridiculing other generations for what makes them other—the broccoli haircut, the and I oop's, and endless seas of chunky white sneakers, Millennials like me committed our own sins. We rode into our time to shine in popular culture with side bangs, skinny jeans, and overuse of the word "doggo." Now that we're over the hill of cultural prominence in pop music, we can spend our energy recognizing the brilliance of those growing up after us and the shared humanity that transcends the latest trends.
After all, everybody knows what falling in love feels like. And "i can't help it," I love this damn album.
More Articles by Caitlin Knudsen
Apr. 8, 2022
•
9 min read
Mar. 31, 2022
•
4 min read
Mar. 28, 2022
•
12 min read
About the author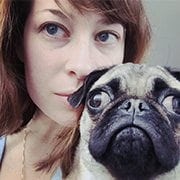 Propagator of succulents, hobbyist baker, healthcare by day, pug wrangler always.