The Urban Landscape, the Easily Overlooked, and Artist Paul Druecke
I was on a typical afternoon internet detour.
It happens to all of us. You're working and you see a photo or a headline and you get distracted and that turns into numerous rabbit holes. For me, these are generally inclusive of eBay auctions for vinyl, golf swing tip videos, and Twitter doom scrolling. 
But this detour was different. I came across a picture of a plaque that was designed to look like the typical plaque you see on the sides of historical buildings. And it appealed to my inner advertising sensibilities. I have spent the better part of my career in advertising, as a writer and creative director. Signs in public fascinate me. Especially signs that are designed to disrupt the norm and stand out in a landscape of the mundane and the typical.
I immediately clicked on the picture and dragged and dropped it to my desktop. I didn't want to risk forgetting it.
This plaque was made of steel and featured serif type, and it had a title at the top. Below the title was a block of copy which typically would explain the building in which the plaque is attached. If you walked past it you would think nothing of it. But if you glanced just for a second at it, it would stop you.
That's because this plaque was not what it appeared to be. At the top, it said: "Near Here." And below the title, this copy appeared:
Near here. The original site and fabrication
date are unknown. On the evening of October
28, 1892. Affectionately referred to as. First
settler. Near this site. Born. An exploding
oil barrel started a small fire. Is the last ves-
tige of Wisconsin's once broad network of.
For over 90 years. On the site know as. Of
German birth. Though their headhouses are
gone. Near here. The other three stations
have been demolished. The bridge was re-
placed. Originally built. Was the first. This
house. After the railroad bypassed it. The
once thriving community of 200 people,
two hotels, a brickyard and five factories
gradually declined. Only the original church
remains. Near here. In the 1920′s. Quick-
ly became a ghost town. Once the site of a
bustling waterfront community. Limestone
grist mill and dam are the remnants of what
once. You are now on. Near here. Once.
I found out later that the text was written by poet Donna Stonecipher. And, while it was clear that this plaque did not denote a historical place, it was inherently historical to me because I had never seen anything like it. I found this mashup of artist vision, historical plaque, and poetic message intriguing—and brilliant.
Who could possibly be behind the creation of such a non-traditional work of art? Who was able to take a common thing—a historical plaque that is so commonplace in our world—and turn it into something so uncommon?
It didn't take me long to figure out that this was the work of artist Paul Druecke, and after a few email exchanges with him I found myself on a cold late December day, just after Christmas, pulling up to an industrial area just off of Capitol Drive. Snow was falling slowly, cutting through the gray. Paul greeted me at the door and led me up a couple of flights of stairs to his studio.
Paul is introspective, thoughtful, relaxed. But you can tell that his mind quietly races. He greeted me in a blue stocking cap, wearing brown horn-rimmed glasses and worn black jeans—the look of a guy who has been chasing a number of thoughts and ideas, something it seems he is constantly doing. Ideas, disruptive ideas are his currency and for the better part of the last 30 years, he has quietly been breaking new ground on a number of fronts.
At this moment I find him in organizational mode. "Basically what's going on in this space is a material archive of the last 30 years of my production," he tells me, sitting at a table strewn with items from his vast artistic output. "I thought this would be done six months ago, I'm not even halfway. Still in preliminary stages of sifting through, I manage to keep a lot of ephemera over all of that time."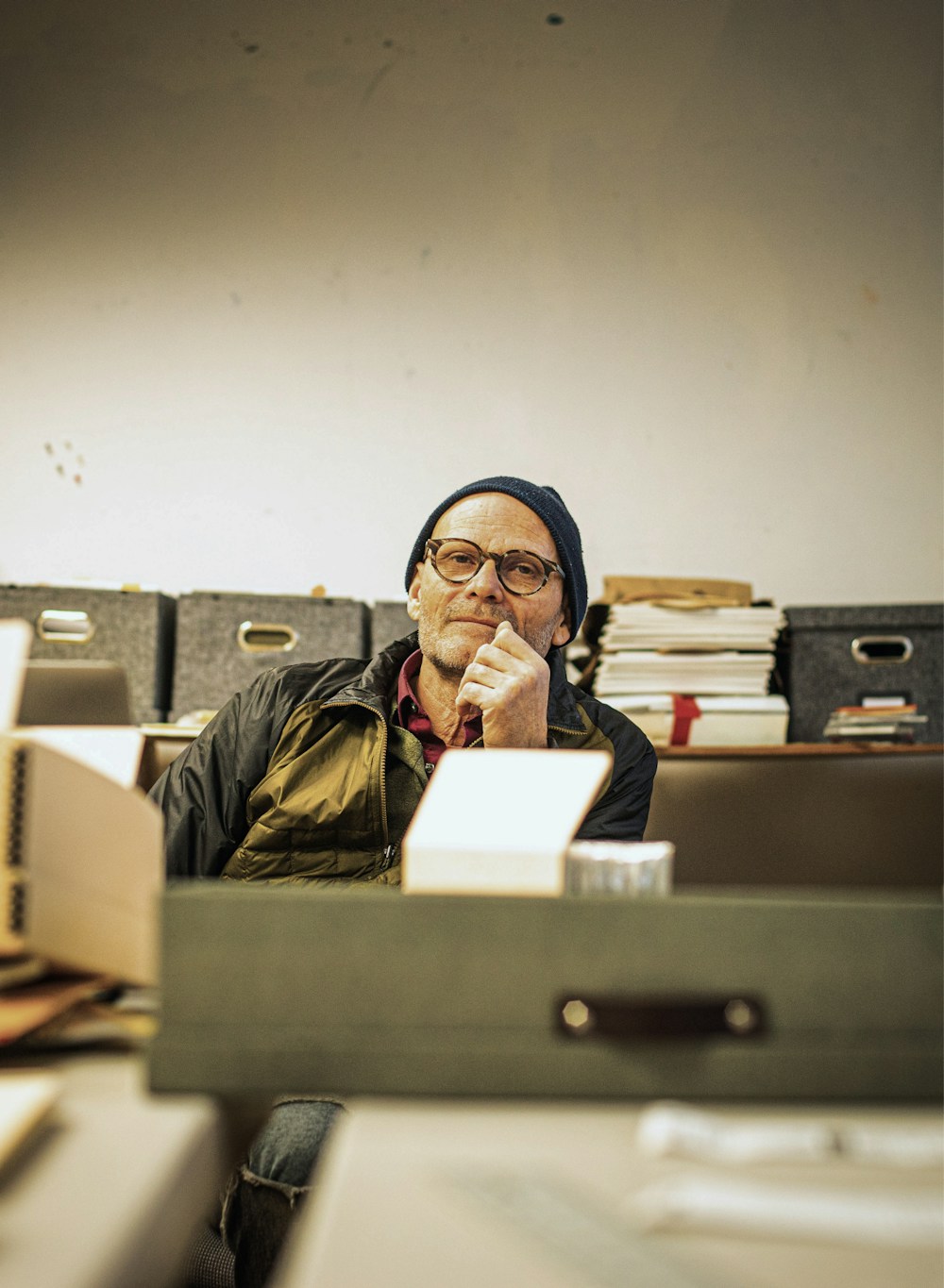 His work does not come in the form of piles of canvases and palettes splashed with paint. This archive is full of photo prints and slides, documenting his work. His work appears in the outside world, almost seamlessly, not on walls in art galleries. "It has not been this material production of a product that hangs on a wall," says Paul. "It's site-specific things that look like historical landmarks."
He grew up in Brown Deer in the 70s and 80s.  "I was a product of that time specific to Milwaukee. I feel there's a cultural lag. The 60s was finally catching up to suburban white teenagers, in my case, in the mid, late 70s."  It was a period of experimentation and Paul wasn't sure what he wanted to do coming out of high school.
"College seemed like a waste of time," he remembers. But coming from a family with a strong work ethic he could only go one of two ways—enter the workforce or go to college. "I ended up going to Milwaukee Institute of Art and Design as an applied arts major." Paul calls his time at MIAD "reactionary"—following his muse wherever it would take him.
"I spent four years figuring out I didn't want to focus on illustration or work in that field, which seems a successful use of college. In retrospect."
He remembered his muse making him feel very lonely at the time because his artistic mind was pushing him in an incredibly unconventional direction. In the late 90s, he made his first notable piece, turning old tires into a planter for a local garden. It was a culmination of Paul's journey in the 90s to discover what kind of artist he would ultimately be.
"What happens is my paintings become sculptures, and the sculptures look like paintings at first, and then all of a sudden, the sculptures don't look like paintings anymore," he says. Then, around 1995, it finally came to him:
"The urban landscape was always my inspiration."
It was the aha moment he had been waiting for.
Despite the fact that Paul's work lives in the outside world, don't call Paul an "environmental" artist. I got the feeling while talking to him that he would rather dispose of labels altogether. 
"Artists that do environmental work are committed to that. My agenda is eclectic, it doesn't perfectly align with anything," says Paul. I discovered about 90 minutes into our conversation, what that agenda actually is—and it gave me my aha moment.
"I've long been a fan of what is overlooked, easily overlooked," Paul told me.
The synapses that connected all his work came to life for me when Paul said this, a sentiment that gave me clarity, the dot connector I was looking for.
Old tires and historical plaques are not things people think about much—but they are part of our world and have meaning. Once Paul started sharing with me a few other projects he had worked on—the "easily overlooked" theme became revelatory for me.
His latest project, called "America Pastime" lives largely on his Instagram account. The project is about the litter we see that is prevalent in the outside world. Discarded garbage in random places, in public. Most of us just see trash and are kind of disgusted by it. Paul sees it and thinks, how did that get there? What was the event that led to this garbage being thrown on the grass?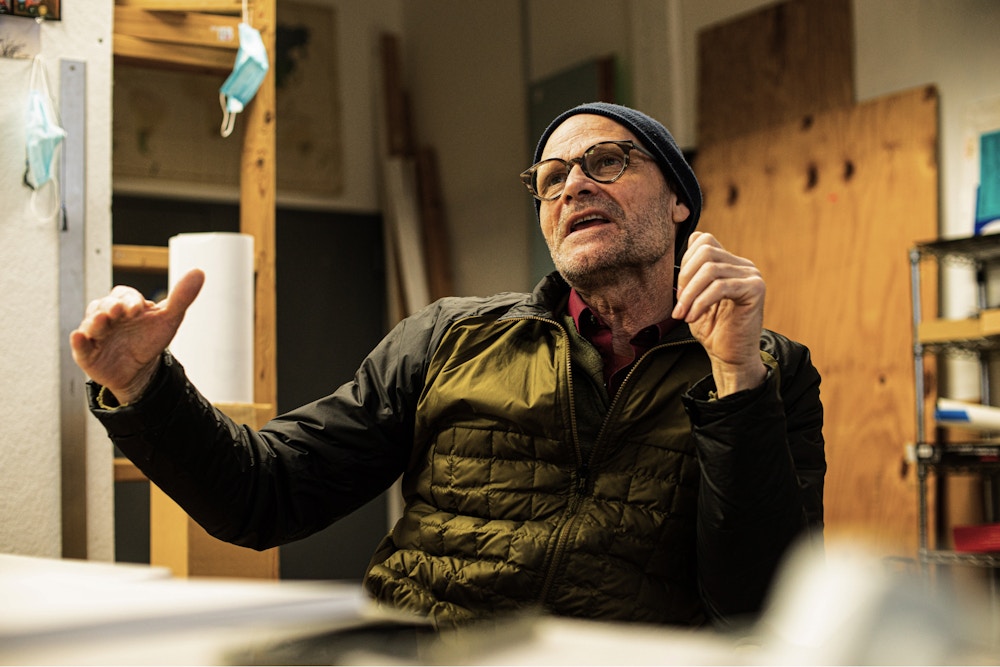 Paul explains further, "There are a lot of people that are focused on litter. And their thing is we need to pick it up and put it in a better place. And I agree, of course. I'm interested in something else. Something else that's messier and more poetic. Trashing, which is how I refer to AP's activities, searches for inspiration from things deemed worthless or worse "
Messier is the perfect word for it. 
Consider his "Social Event Archive" project that began in 1997 and lasted more than 10 years. The idea was simple; to solicit by mail (and other means) event photos from people's past. We all have stacks of photos in a box somewhere, and Paul was just asking for one photo, documenting a social event. This idea predated social media, where photos of people and social events have become ubiquitous. But Paul's goal was much deeper—yes, messier.
He showed me the archive and I saw a photo of a tombstone of a soldier who died in battle. A car door open, window smashed, snow on the inside of the car. Two elderly men in full embrace, their outstretched arms covering their faces. 
In Paul's context, the photos are poignant. Startling. Jarring, even.
Paul remembered when he started receiving the photos. "Some people went with their heart, and others played with the idea and project guidelines. I didn't know what to expect. But the photos contributed expanded my notion of social occasions and the project itself. So the idea that somebody has their window broken into is this residue of that occasion. The one I talk about quite a bit was when somebody contributed the gravestone of an anonymous soldier, a memorial to the horrible occasion of war, battle, comrades. And it's like, I would have never—my brain would have never gotten to that. The photo is a marker of another marker of a very unpleasant social event."
"Another thing that becomes apparent is one doesn't often think of the person that's snapping the image. Who are they, where are they? What is the psychology of their easily overlooked presence?"
It's such a refreshing thought considering how photography—a document of a split second in time—makes people jump to conclusions, especially in the social media age. But Paul saw the near-infinite possibility of events that may have occurred 
Before and after the shutter went click. 
Again, the things that are easily overlooked.
And speaking of overlooked, how about plastic bags stuck in trees?
"They're kind of confrontational," Paul tells me about the plastic bags. "A big question for me is how much energy do we put into ignoring these materials so as to not be overwhelmed by them?"
He showed me a few stacks of photos, mostly taken from the hip, of the bags. "If you think about the color and the texture they can be quite beautiful," Paul says. Ultimately he self-funded a billboard to post one of his photos. "That was on Center Street. I wanted to share my perspective on the familiar urban presence by putting it back out into the landscape where I had found it. I wanted to reach an audience in the midst of their daily routines. This very early project is a good example of integrating various layers of thinking and materiality."
Paul mostly travels by bike, and he is constantly surrounded by the stimulus of the urban landscape that is his canvas. But it doesn't overwhelm him. 
"It feeds me. It doesn't deplete me," he says.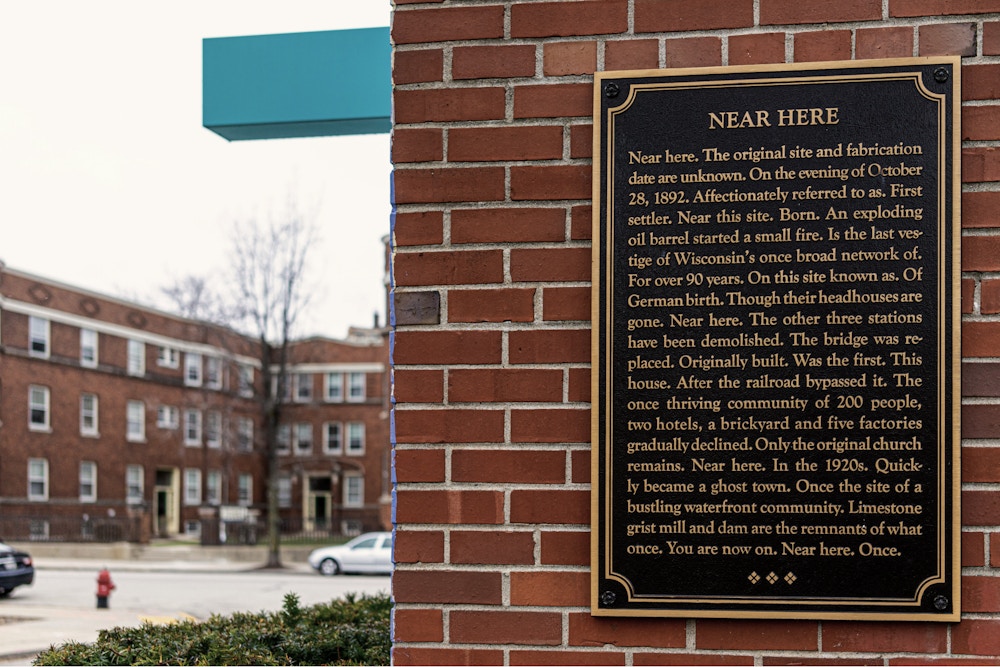 It would be impossible to address all the different projects Paul has worked on over the last three decades. That would not be an article, it would be a novel. You never really know when you might stumble upon Paul's work. 
It could be "Near Here" or another historical plaque in Milwaukee's Third Ward titled "Shoreline Repast." Or it could be The Garden Path at the Lynden Sculpture Garden. One of his more recent works is called "Sign of the Times," which invites participants to share a brief (a la Twitter) message for public display on an LED sign.
Turns out the overlooked is hard to overlook. Especially for Paul.
"I take inspiration from being out in the urban landscape, trying to be present and aware about the world in general. I've lived in the city my entire life. I like that context, where all of this human history and interaction slowly accumulates, even the stuff that is not written on a plaque. Generations have been here. And there's a palpable presence to it. I can think of no better use of my time than trying to be aware and take it in. And I'll keep looking for inspiration that might be shared with others."
More Articles by Nicholas Pipitone
Dec. 14, 2022
•
8 min read
Sep. 9, 2022
•
8 min read
Jun. 13, 2022
•
7 min read
About the author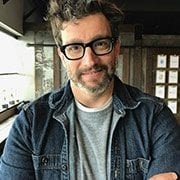 Co-founder, Editor-in-Chief, Commonstate.com