The Therapeutic Exercise of Writing Your Own Obituary (Yeah, You Read that Right)
I have heard writers refer to penning their own bios as being a "death sentence." So, when you hear the term obituary, and are asked to write one, it's somewhat common to assume that what they're actually asking you to write is a biography — not exactly a death notice.
But when I was applying for a local reporting position recently, I had to do a double take.
The application requirements included the usual: references, resume, writing samples, aspiring intentions for the position. And a 500-word obituary of yourself.
I sent in my application, including what I assumed should be a bio of myself and immediately received a response from a staff member that I failed to attach my obituary. Hmmmm. Off to a bad start as a seemingly mediocre applicant, I immediately began writing my own death notice to finish the application. This was, to put it simply, an experience. That was until halfway through my new exercise, when I received yet another email telling me they didn't see the attached bio and everything was all as it should be.
At this point I'm exhausted from using email and am halfway through writing my public death notice that I thought was necessary for this application just to find out it's not— and yet I felt the wild urge to finish what I started. Not because I'm one of those people who heroically must finish the job, because I'm actually a casual quitter at most things in life. I kept writing because I felt a stir of emotions merely halfway into the exercise. Writing about my death was both cumbersome and entertainingly morbid for me. It was a different writing exercise that was both unique and new— one that I highly recommend doing. Plus, now that It was no longer being attached to a resume, I immediately dropped all serious pretenses and wrote what I thought was right: something silly about the short-lived life of a Midwestern gal.
Death Obituary for Emmy A. Yates

Emily Anna Yates, 27, of Milwaukee, died Oct. 31, 2019 due to injuries sustained while trying to rescue her Saint Bernard, Pearl, from jumping off the roof of her Riverwest home. She was born Oct. 27, (scorpio) 1992 in Antioch Illinois. She is the daughter of Steven and Laura (Loesche) Yates. She was homeschooled her entire education prior to college, and only attended preschool briefly due to an incident involving biting another child over a Pocahontas doll. She attended community college in Illinois, studying advanced oil painting and theatre. She did well in school, and made lifelong friends with her classmates that were over the age of 50. She moved to Milwaukee when she was 21 to finish her Bachelors in Journalism at Marquette University, but also to do what normal dumb 21-year-olds do: "follow their heart" I.E, move to another state for the first boy to tell them they loved them.

Emmy enjoyed spending her free time traveling, cooking, doing art, mechanics, reading, riding her bike, and being an aspiring farmer—during her last summer she successfully pickled 20 jars of pickles that she grew from seeds. A vegetarian of thirteen years; she was a lover of animals. Often fooled by her cute snaggletooth and lively freckles, she beheld an Irish temper to be remembered. In addition, she had an ass that could move even the most stubborn atheist, to faith. Despite living with a milk allergy while residing in the dairy state, she truly lived life to the fullest.

She is survived by her parents Steve and Laura of Antioch, sisters Tierani (Rocco), Lindsey (Scott) and Molly. Brothers Elliott, Dylan, Daniel (Melanie). Yes, that's six siblings. Her parents loved each other very much. Nieces Hailey, Milena, Zahara, Penny, Elsie and Evelyn. Nephews Rocco and Tobias. She is also survived by her partner Bart, several cousins and relatives who she saw once a year, and her two pets; Pearl (see above for cause of death) and her perfect cat Wiley.

Funeral arrangements will be held under the Locust Street bridge. BYOB and firewood. Her only wishes were for her funeral take place during a blood moon, which according to science (which is real), will occur on May 16, 2022. In leu of flowers, the family asks that you donate money to cover her remaining student loan debt that doesn't disappear upon death. Her family accepts PayPal or cash. ACAB.
As we read, my Saint Bernard killed me by pushing me off my own roof. While the cause of death isn't usually included in obit's these days, I wanted the reader to have something special. I wasn't taking my cause too seriously because being that I'm in fact still alive, it couldn't be written seriously. At the risk of sounding like a Buzzfeed article, it raises the question: how would you write your own death and what does it say about yourself? For me, I felt far, far away from the very notion. I think that's why it was so easy to blame the dog.
Despite being someone who actually thinks about death a lot (not in a criminal way I swear) — at the end of the day I'm still a private person. I had to write about details of who I am outside the general stuff -- where I was born, where I went to school, etc. I had to share about my parents, my family. I found myself writing about big things in my short life that mark significance for me personally; big things like moving to Milwaukee for school and an old relationship— or even smaller things such as learning to pickle this past summer.
Funny how the facts were the most uncomfortable for me to write.
I didn't feel the "ah dang" moment, that tinge of sadness, until I had to list my surviving immediate family. My six siblings, ten nieces and nephews, my parents, my partner and my pets. Gosh, if there's anyone on that list that would function poorly in my absence, it would be the pets. Who would warn everyone of all my dog's allergies?Who would scratch the cats belly perfectly just below the armpit?It's the little things we'll probably stress about wherever we wind up after we die. I'd like to think I won't be sad watching people move on, but I sure would be bummed if they made another National Treasure while I'm gone. 
What are some of the little things that would keep you up at night, even in your own grave bed? What wouldn't you be able to let go?
Years ago, I had a very brief professional writing gig where I had to write an obituary of an elderly lady. I had to call her family, hear their side of her story, and then write a proper ode to this stranger I would never meet. While it was heavy work, I think writing my own death notice was more of a challenge.
Actually writing about how I felt about writing it is even harder.
Writing my own short-and-to-the-point death notice got me thinking how maybe none of us have any right at all to try to summarize the life that someone else lived.
Trying to imagine what would be written about me upon my death is a strange concept. However, doing it myself was a great writing exercise. Aspiring writer or not, I think everyone can get something out of this exercise. It provoked existential thinking by making me analyze the life I'm leaving behind, and the current life I'm living. It challenged me to summarize my 26 years in less than 500 words —the real important Cliffs Notes.
It was an experience to write it, even if it came off as silly. If I've learned anything, it's that life itself is kind of a funny story. Not everything needs to be as beautiful and memorable as a Paul Simon song. I think if anyone is at a point in their life where they feel a bit directionless, they should play dead and write about themselves. Don't be afraid to ask yourself the big heavy questions. Don't be afraid to be sad, silly or even angry. No one can talk about yourself, better than you. I think you'll learn a thing or two about your own perception of yourself along the way.
Also to whomever truly writes my obit: make me sound cool. Like if the reader had never known me, they'd feel like they missed out on an interesting party.
More Articles by Emmy A. Yates
Oct. 3, 2023
•
8 min read
Sep. 19, 2023
•
9 min read
Aug. 22, 2023
•
11 min read
About the author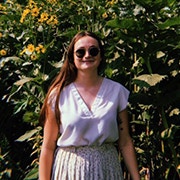 Emmy is a writer, film photographer and illustrator based in Milwaukee. Catch her spending all her money on bikes and burritos.