Welcome to Commonstate
The driving force of communities around the world all share a focal point; culture. It is from this culture that we draw our meaning; our individuality; for what it takes to enhance the identity of our community.
Hello reader! Welcome to Commonstate, a tribute to the creative thinkers in every community who believe that a culture of creativity is a better culture for all. These are the writers, artists, photographers, entrepreneurs, restaurateurs, musicians, architects, and original thinkers; the innovators and people who see the world differently and for the better, who through the movement of a pen, or the stroke of a brush, the click of a shutter or a singular vision for business are fearlessly themselves. Commonstate celebrates them all.
One of our main goals is to bring those that create into the spotlight, and simplify the way you might connect with others in your community.
Together with co-founder and editor in chief Nicholas Pipitone, we aim to provide you; the reader; with a platform that puts creativity on a pedestal. Initially our local range will focus mainly in Milwaukee; with pointed goals to roll-out expansions into other major metro areas. Other growth plans will involve creating a platform that local fiction & non-fiction writers can utilize to showcase their work; and allowing our readers to view and save those writings easily, either while at home or on the go. We plan to provide accessibility systems and integrations that give our readers control over how they digest the content they want to connect with.
So reach out and say hello; send us any ideas you might have; extend interest in writing with us; or just sit back and enjoy our dedication to creativity. Our mission is community, and that mission begins with you.
More Articles by Joseph Salvatori
Oct. 3, 2023
•
8 min read
Sep. 19, 2023
•
9 min read
Sep. 5, 2023
•
23 min read
About the author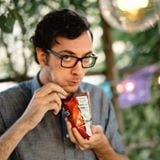 Co-founder and CEO of Commonstate