Playing cards with Mike Alt, owner of Alt's Antiques
Mike Alt, sitting to my left,  looked over at me, grinning. Then he laid down this gem: "I went to about 8 or 9 thrift shops before I came here tonight."
He began shuffling the cards for another hand of Golf, a fairly easy to understand card game in which, like the other game called golf, your goal is to get the least points.
But when it comes to thrifting, Mike Alt has a lot of points to make.
He isn't exaggerating when he says he goes to thrift shops and flea markets every morning and every evening. In between, he presides over the duties at his shop, Alt's Antiques. He is the sole proprietor.
"You know some churches have thrift shops but don't advertise them? You have to go in and ask someone and they show you where it is." As Mike talks you get that for him, this is one-half obsession, one-half professional pursuit, driven by the constant search for the perfect little item, trinket or curiosity.
Mike Alt, sitting to my left,  looked over at me, grinning. Then he laid down this gem: "I went to about 8 or 9 thrift shops before I came here tonight."
Mike adjusts his cap, a worn brown baseball hat that has whatever emblem that was originally on it ripped off. He says he likes the hat, but didn't like the original patch. It's tough to get past Mike's firewall of taste. He is a curator of all things in a way that is rare, carefully selecting items for his shop with the knack for seeing value in things that to the untrained eye seemingly have no value.
In other words, one man's doorknob is another man's coat hanger. Mike's penchant for repurposing the old and rusty into the useful and practical is quite otherworldly. Everything on his shelves is meticulously organized and presented, making Alt's radically different from the "junk thrown on a shelf" nature of many antique stores. Mike cares. He really cares.
It's amazing he even has time for a game of cards. As if Mike didn't already have enough to do (he doesn't have any employees) he also makes furniture and runs the floral part of his shop – something he learned how to do growing up. He does weddings too.
In between hands, we talked about how he carefully chooses his items, which he works to constantly keep fresh in a rotating stock of stuff at the store. He is also slightly obsessed with social media, and whether he's using Instagram the right way. He takes great pics of the new stuff he has picked up, along with his quirky and frankly awesome floral arrangements.
Our little game of Golf ended, and we shook hands, hoping some of his discerning, uncanny ability to appreciate the offbeat would rub off on me.
I can only hope.
You can follow Alt's Antiques on Instagram here. Images courtesy of Mike Alt.
More Articles by Nicholas Pipitone
Jun. 10, 2023
•
9 min read
Mar. 12, 2023
•
8 min read
Dec. 14, 2022
•
8 min read
About the author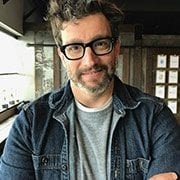 Co-founder, Editor-in-Chief, Commonstate.com