Tricklebee Café: The Best Food in Milwaukee is Pay-What-You-Can
It was 2016, Trump had just won. I was devastated. I was lost and angry and hurt and confused and didn't know what to do. I had just left Los Angeles and driven across the country with my family to start a new life. I was new to Wisconsin. Five days new. I knew almost no one. I was out of work. It was a shitty time. But, I sucked it up and went looking for anything I could find to give myself hope. What I found was Tricklebee Café, a pay-what-you-can community café in Sherman Park.
Tricklebee Café was an oasis of joy. A place where people were making their corner of the world a better place. Constantly full of genuine smiles, good deeds, and appreciation for the people around them. A respite from the anger and frustration.
I started cleaning dishes, washing food, serving food, bussing tables, and meeting new people. When money got tight, the owner Christie Melby-Gibbons asked if I wanted to do some custodial work and get paid. It saved me and my family more than she will ever know. 
Once I started to feel better, my life got better. I made friends, got a great job, and fell in love with the city.
Five years and four months later I'm back, and it's like I never left. The place smells amazing as usual. On the menu today is creamy tikka masala soup, roasted potato salad, roasted garlic hummus with celery and carrot sticks, blueberry chamomile muffin, and cranberry lemonade or hot herbal tea. 
All fresh, all vegan, every day.
So, what does pay-what-you-can really mean? Honestly, it means exactly what it says. At Tricklebee Café there are no official prices, only a sign that explains the policy:
"So, how does this work? ... If your pockets are full, please give a bit more. If your pockets are light, pay what you can. And if your pockets are empty please eat and enjoy a delicious, healthy meal in exchange for 15-30 minutes of volunteer time. Thank you!"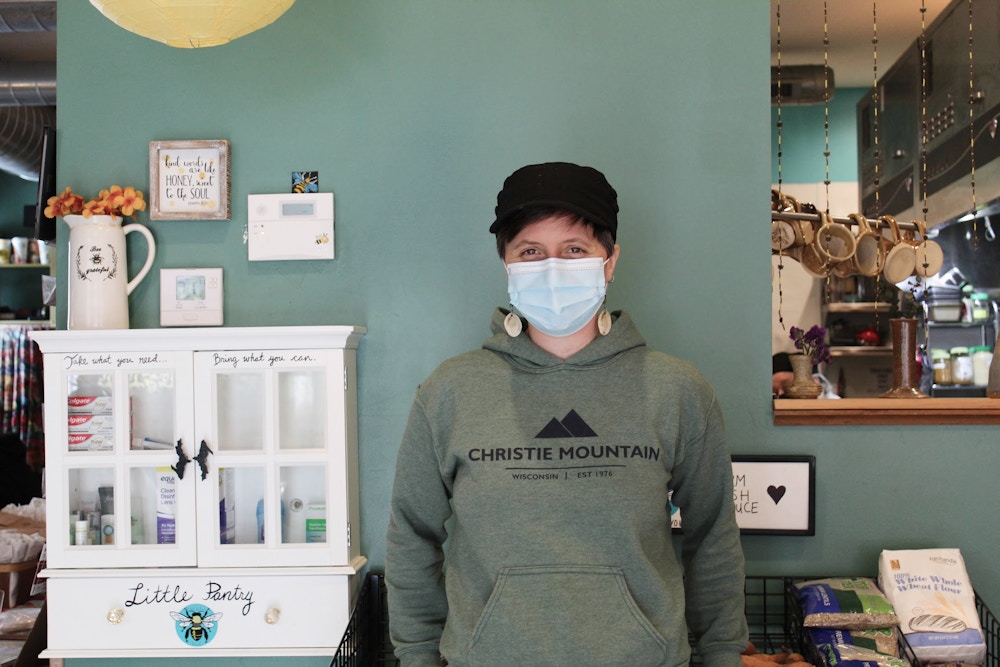 Volunteering at Tricklebee Café can mean picking up litter, packing snack bags, wrapping cutlery, filling tea bags, or sorting produce. Christie says most people pay something. And a lot of people who have the means, pay extra. While I was there waiting for my food, I spoke to a customer, Joe Brown, who told me the other day he had his meal paid for by someone else paying it forward. He still left $10, and the cycle continues. Christie figured out that most of their meals cost between $7.50 and $9.50 to make, and with about 25-30 regulars a day (40-50 pre-pandemic) that usually sustains them. Of course, they can't guarantee how many people will come in every day, so they currently rely on 43 monthly individual donors which cover utilities. They also get support from a few local Lutheran and Jewish faith organizations, and from people donating to their online wish list, which includes things like cleaning supplies, dish gloves, and canned beans.
They rarely have to pay for ingredients, with most of them either homegrown or donated. They have their own plot next door and they partner with a local community garden. In the winter, to supplement their gardens throughout the year, they have tapped into what's known as the "Bill Emerson Good Samaritan Food Donation Act." The law allows grocery stores to donate any food that has an expired freshness date, but hasn't yet spoiled, to food banks or charities without the worry of being sued if someone gets sick.
A couple of years ago Tricklebee sent letters to local grocery stores offering a cost-saving service. They would come and pick up all their discarded produce and keep their dumpsters free of up to two tons of waste that they would no longer have to pay to dispose of, saving them time and money. Now, twice a week they hit up the grocery stores, load up their cars, and come back with, mostly, fresh veggies. Sure, they toss some, but not much. They have so many fresh veggies they have even had to set up a giveaway rack for the products they can't use before they go bad. The spoiled food goes into their compost that goes into their garden that helps grow more veggies next season. The fresh items go from being 'rescued food' to some of the best meals you'll ever eat in Milwaukee.
Those meals, by the way, are not prepared by chefs. No, the job title at Tricklebee Café is "Passionate Cook." You don't need to have proper chef training to cook there. Yes, you need some food certifications, but other than that, all you need is a love for cooking and your neighborhood. The menus are curated by the "passionate cooks"  every morning based on what food comes in. Fresh food, intentionally crafted, consistently delicious. Almost entirely volunteer-run.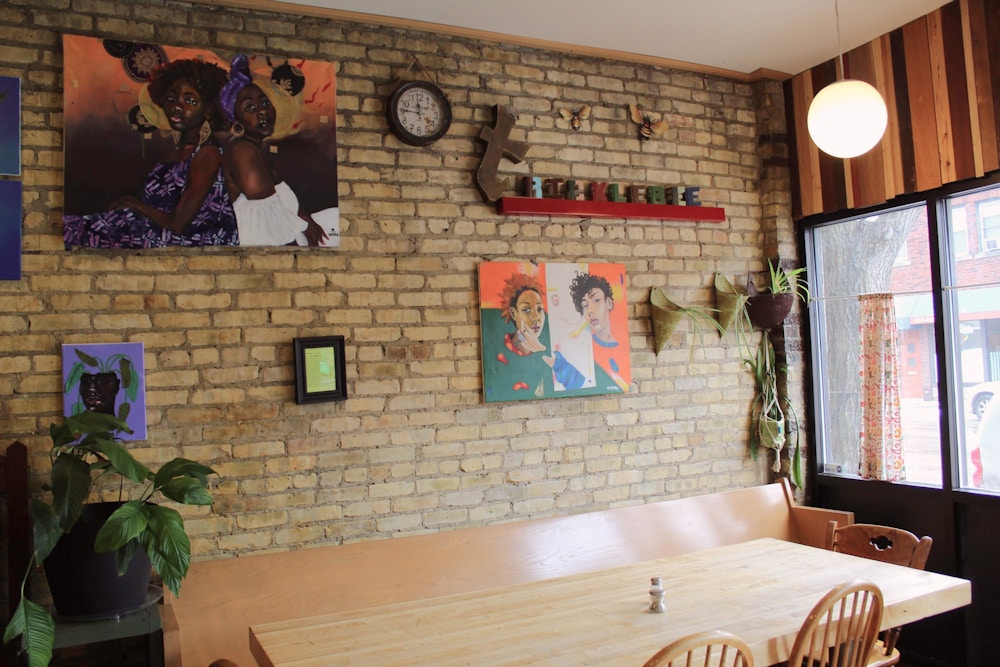 Some people volunteer in exchange for free meals, some volunteer to feel like they are making a difference, some because they love cooking. One volunteer, Zakiya Courtney, volunteers as a chef once a week in exchange for use of the kitchen for her business, Vegan Soul catering. Apparently, she can veganize anything, from fish fry to Oxtail soup. Another volunteer working the day I came in was Rachel, who started coming to Tricklebee, as many have, on doctors' orders. She needed to start eating healthier and the café was one of the few healthy and delicious options in the area. Rachel told me she started at 350 pounds and has lost half that through healthy eating, and is now a staple at the café. She eats healthy and volunteers for free meals. For Rachel, and all the volunteers, Tricklebee is a win-win.
It's a win-win for the community too. Kira's Kove, which is right next door, sells lingerie, sexy toys, pole dancing classes, and offers spa services including waxing any time, for anyone, on any part of the body. Kira and Christie share the work of keeping their sidewalk clean and Christie has been mentoring Kira through the process of trying to buy her building, as Tricklebee Café has done. This winter Kira hosted a coat drive and used Tricklebee's free clothing rack to acquire a couple dozen of those coats. Some would call it an unlikely partnership, but for Christie, it feels like business as usual. 
Kids Palace daycare, which is across the street, is the recurring recipient of "blessing baskets" for about twenty-five families. They are full of soap, canned food, and other essential items donated to Tricklebee and packaged by volunteers.
So, who do we have to thank for this place? The Moravians. 
The who? Let's take a quick tangent, shall we? The Moravian Church is one of the oldest Protestant denominations, founded in the 15th century. They have an estimated 750,000 members worldwide, with their largest congregations being in Tanzania and Nicaragua. They only have eight congregations in Wisconsin, but that's the most of any state in the U.S. They're not very well known, but what they are well known for are things like Tricklebee Café. Feeding people, clothing people, opening schools in parts of the world where it's hard to find education, and with a history of educating women since the 1400s. 
Christie Melby-Gibbons was a Moravian pastor at a congregation in a suburb of Los Angeles, but her favorite part was their food ministry called "Open Table." It was frequented by lonely people, business people, addicts, and everything in between. "We'd never be together in any other setting … that was real church for me." She asked the church leaders if she could start a restaurant based on that idea, and they agreed. They chose Wisconsin because it was closer to family, but they wanted to be in an urban context to help as many people struggling with food insecurities as possible.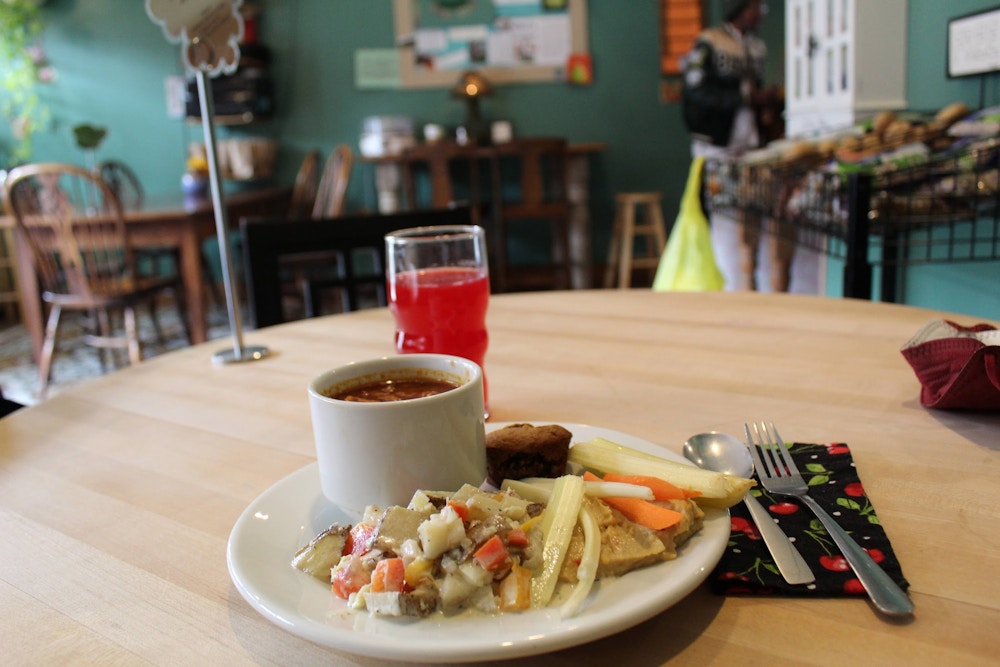 That's how Milwaukee got Tricklebee Café.
"We joke, 'Everyone needs a Moravian,'" she says. I ask Christie, what do you want people to know about this place? She says she wants people to try it, but also to consider what they can do themselves in the same vein. Then she said something that might just be my new mantra. She wants people to "figure out how to redirect the waste into beautiful things." She was talking about the food, but also, not exactly. Can you imagine if we could all take our "waste," the problems in our lives, our feelings of devastation, being lost and angry and hurt and confused and not knowing what to do, and turn them all into beautiful things?
Once again, thanks to the power of pure joy at Tricklebee Café I felt full in stomach, heart, mind, and spirit. Christie says, "If you've ever worked here you're part of the family whether you like it or not, when you're done working here, you're part of the family." It felt good to be home.
More Articles by Mike Betette
May. 8, 2023
•
6 min read
Jan. 25, 2023
•
6 min read
Nov. 28, 2022
•
9 min read
About the author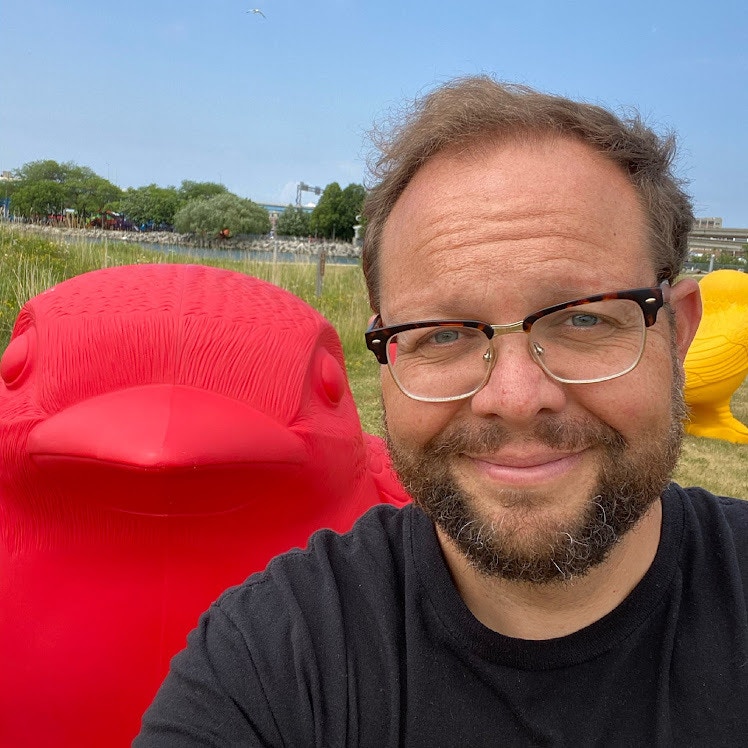 Mike is an improviser and writer who has performed with The Second City, Jimmy Kimmel Live!, and was a writer/director for Epic Rap Battles of History. He's currently a senior copywriter at an ad agency in Milwaukee and loves to be outside.