Bringing Wisconsin Legends to Life: Artist Mike Bass
They are out there. Peering at us from behind the timbers of the Rhinelander forest or Devil's Lake's murky depths. No matter what Wisconsin town you're from, big or small, there are creatures that lurk in shadows and forgotten places. Drunken locals in tiny dive bars regale others in low whispers around a summer campfire, keeping these local legends alive. Most of all, they are brought to life by Wisconsin artist Mike Bass.
The Father of Wisco-Mythos
I first met Mike Bass at the Madison Farmers' Market in early October. Though the leaves were losing their green luster for pops of orange and yellow, the morning was unseasonably warm. Robust pumpkins, fresh-picked apples, and bright bouquets of dahlias—my favorite flower—dotted stalls all around the state capital building. It didn't quite feel like spooky season, until I saw it. 
In a booth on State Street was a vintage-style illustration of a black and green creature with long, white fangs. Razor-sharp spikes snaked their way down the creature's back and coiled tail. It stared at me with glowing green eyes and an unmistakable wicked snarl. It's a creature many Wisconsinites are familiar with—the Hodag. I visited Rhinelander the previous summer with my boyfriend, and we fell in love with the legend. 
Joining the Hodag was an array of vintage illustrations of other Wisconsin myths and legends along with their creator, Bass, the legend behind Wisco-Mythos. After chatting a bit about myths and folklore, I couldn't keep my eyes off the angry Hodag staring back at me. I decided that it must be mine. So I swiped my credit card and tucked the monster under my arm like one would tuck away a story.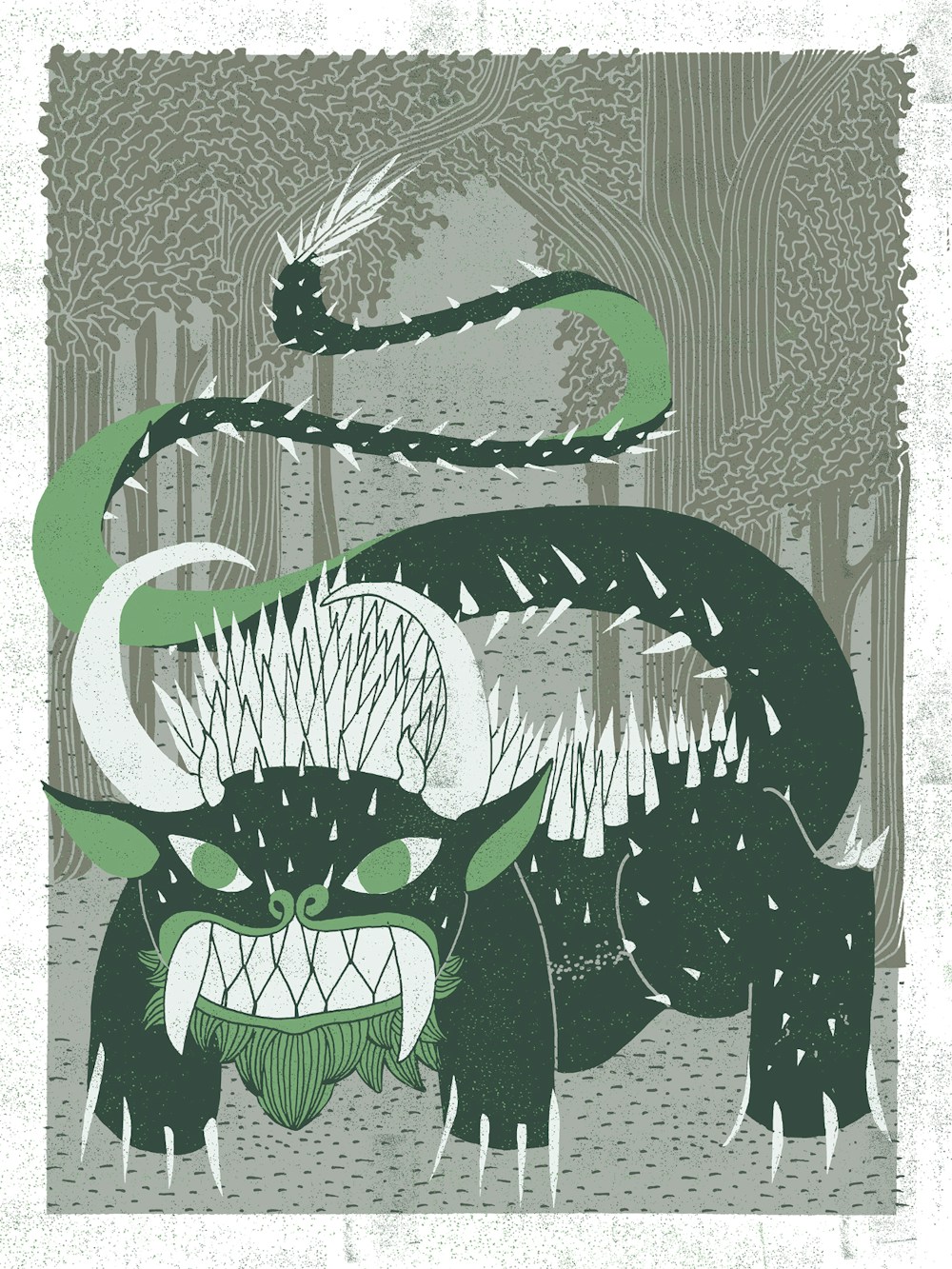 Wisco-Mythos Origins
My Hodag now resides on the wall of my room, watching over me as I work. Though the beast seems so familiar to me, it serves as a good reminder of just how unique mythology in your state can be and how important it is to share those stories. So I called up Bass to see where the inspiration for Wisco-Mythos came from. 
Before Bass moved to Madison, he grew up in Platteville. 
"I've always been a person who draws," Bass said. "That was one of the things my mom would always tell us to do when we were bored."
From there, his creative spark took him to UW-Eau Claire, where he earned a degree in graphic design and photography, and then to Madison for work. In 2010, the idea for Wisco-Mythos was born. 
Bass has been interested in myth, folklore, and scary stories since he can remember. Much of that interest ignited by the fact that he grew up in a house with spirits. 
"[The spirits] weren't not friendly, but they weren't friendly," Bass said. "They were just kind of oppressive." 
Some of Bass' early works focus on the stories of those spirits. He recalls being seven or eight years old and coming up to the house after school and feeling heavy and dark, which according to Bass, is a weird feeling when you're only a child. He also recalls hearing voices, seeing things move, and noticing items fall off the walls.
Some of his earliest Wisco-Mythos works detail his experiences with the spirits in the Platteville house. One story discusses how both he and his sister heard a voice over their shoulders that said, "I like you" at the same time, though they were several feet apart.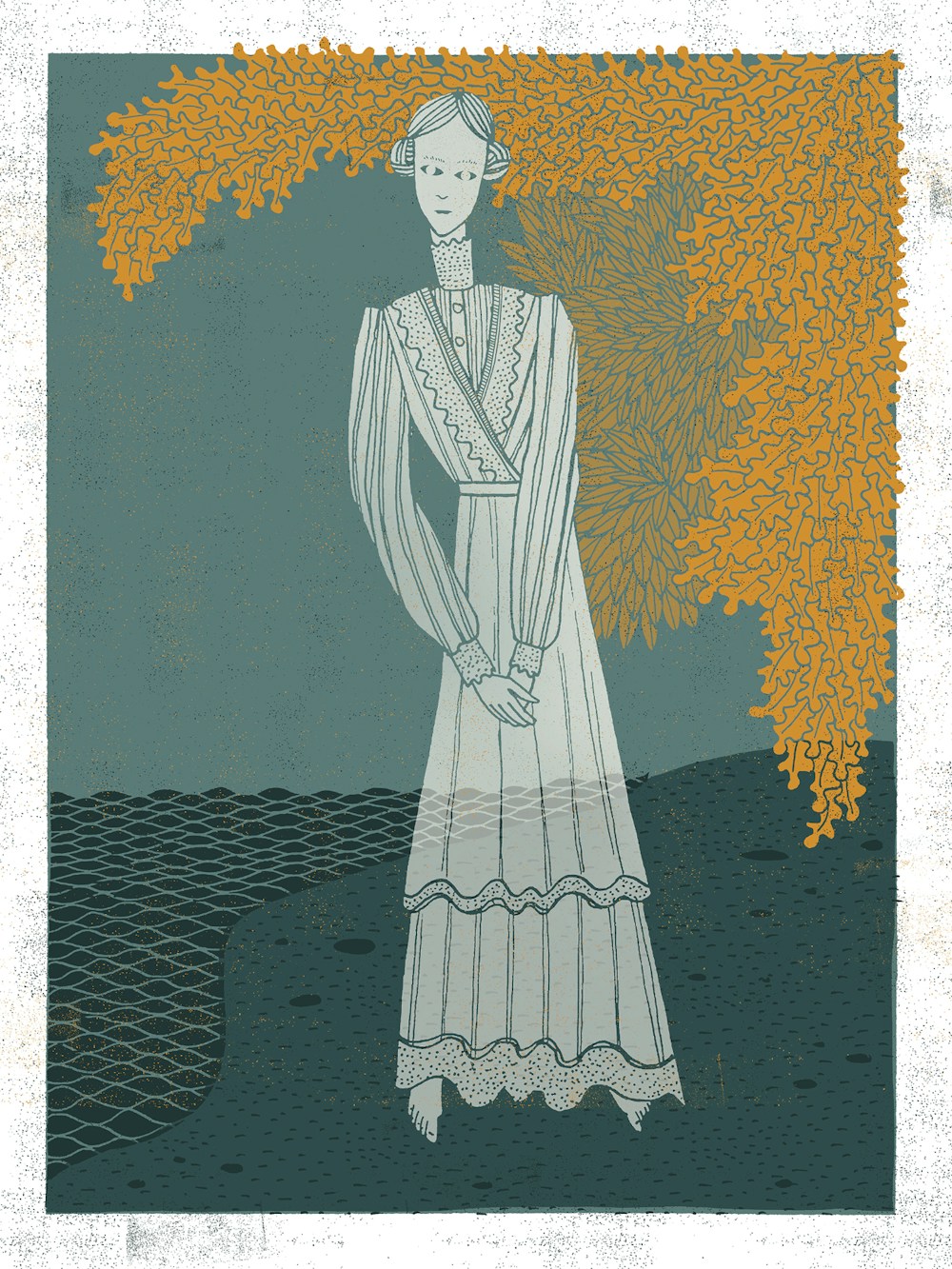 Keeping Legends Alive
Branching off from the spirits that lived in his childhood home, Bass began researching and exploring the other myths, legends, and spirits that call Wisconsin home. He often learns about the various legends from books and by speaking with locals. Thanks to his work, people spread these stories easily across local communities to different states and even larger metropolitan areas. While not all legends are as famous as the Hodag, some of Wisconsin's most famous spots have their own eerie legends. 
For example, Seven Bridges Trail in Grant Park is allegedly haunted by those who lost their lives there. The park entrance sign even reads, "Enter this wild wood and view the haunts of nature."
According to Bass, this trail may have been where people chose to end their lives. Hikers have heard footsteps and heavy breathing behind them but turn to find nothing there. Others have heard cries for help in the distance. Most notably, people have claimed to see a glowing woman looking for her lost children. Bass depicts her drifting through the winding trail that leads down to the shores of Lake Michigan. According to Bass' Instagram post, the woman, usually seen dressed in white, is searching and calling for her children, who may have drowned in Lake Michigan. 
I've traversed that trail numerous times and never knew the morbid legends associated with it, but I know I'll be keeping my eye out next time. 
Other works focus on legends like the Mauston Birdman and the Devil's Lake Horror. 
While most of his work focuses on Wisconsin legends, Bass has created a few pieces during his travels, including neighboring states of Minnesota and Michigan. Many take place on or around Lake Superior, like the Lake Superior Frogman. Bass has also created pieces from his time in New Mexico.
New Mexico is already famous for the extraterrestrial activity around Roswell, but there is an octopus man that lives in the depths of a bottomless lake. And no, not technically a bottomless lake, a sinkhole in the state park called Bottomless Lakes.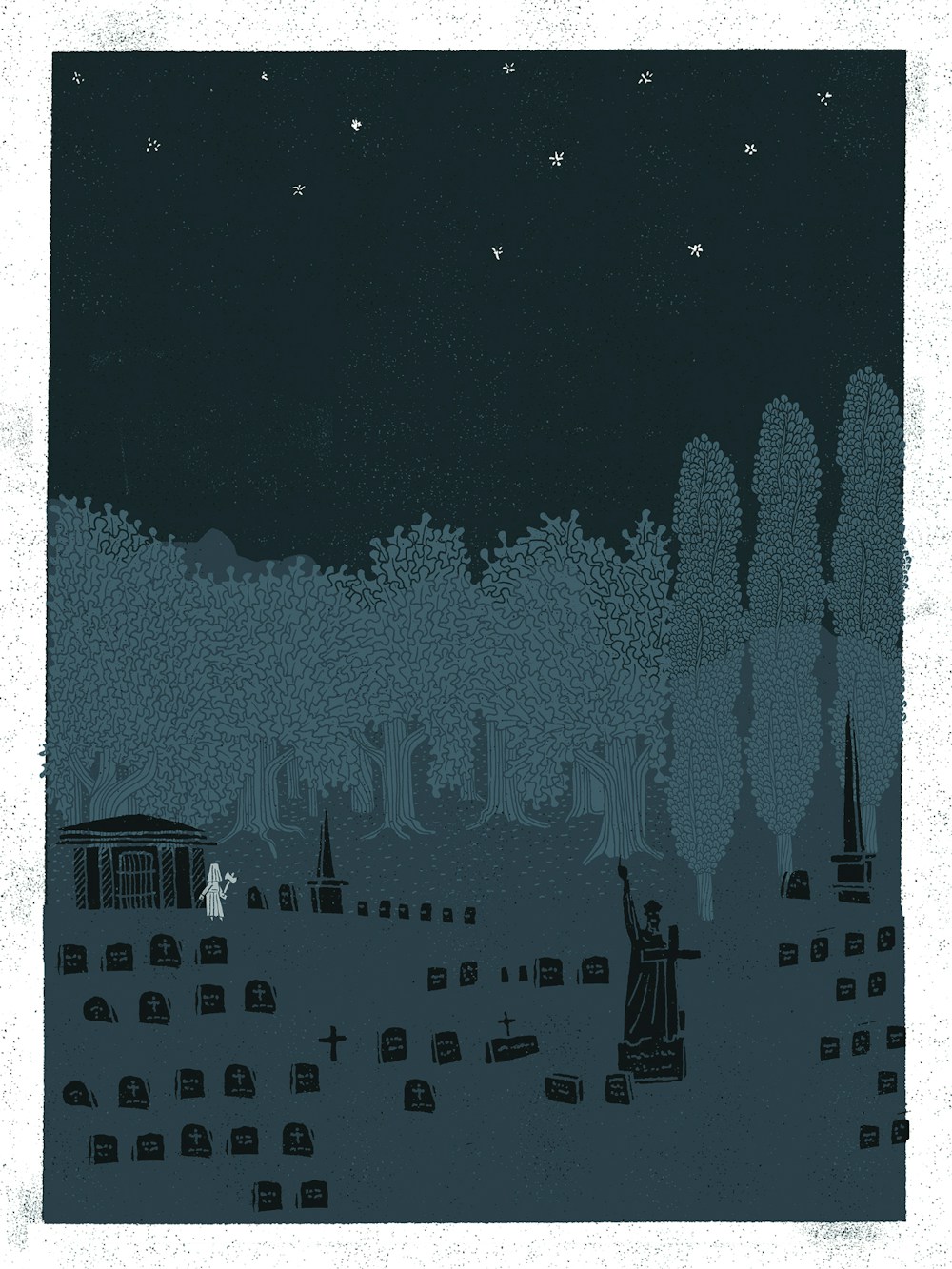 Why Folklore Is Important
When creating these works, Bass wanted to present them in a way that reflected classic fairytales and folklore. Many of his prints are long and narrow versus a typical 8" x 11" print. This way, the piece looks more like a tablet or tableau, with the story underneath. 
Bass likes to look at fairytales and folklore for their historical lessons. 
"I tend to enjoy fairy tales in the general sense with what the cautionary tale is," Bass explained. "Basically deconstructing it to see what that society or that particular group of people at that particular point in time were trying to either come together to defend themselves against or what they were trying to caution their children or young ladies or young men about out in the world."
Fairy tales and folklore grow and change with society. And those tales can shed light on the history of the place where they originated.
For example, Bass created a series of prints about the Whitewater Witches. For those who don't know, Whitewater, Wisconsin, is dubbed "Second Salem" because of the witches who were once said to live there—or still do. Before the founding of UW-Whitewater, Morris Pratt had established the Temple of Psychic Science, an institution that allegedly taught witchcraft and held séances.
Other eerie happenings about Whitewater include the placement of the three cemeteries, which make a witches' triangle. In Starin Park, the fence around the Water Tower has spikes that point inwards that are supposed to keep the witches from getting out. It's believed the witches would dance around this tower. There is also an unholy book in the basement of the campus library. Legend has it, the book has driven people mad.  
If you weren't a resident of the city or a UW-Whitewater alum, likely, you wouldn't know about the legend or some of Whitewater's history. But, thanks to Bass' prints, the story can spread across the state. 
"It's a wild and diverse world out there," said Bass. "Our words and stories and the things we say have a tendency to travel. We should be aware of that as we tell these tales, and take pride and honor in what we are saying because you never know when someone else is going to spread that story or tale somewhere else."
Photo and illustrations courtesy of Mike Bass. You can find more of Bass' work on his website or at his art shop, Zip Dang, in Madison.
More Articles by Monica Cull
Sep. 1, 2022
•
6 min read
Aug. 10, 2022
•
6 min read
Jun. 28, 2022
•
8 min read
About the author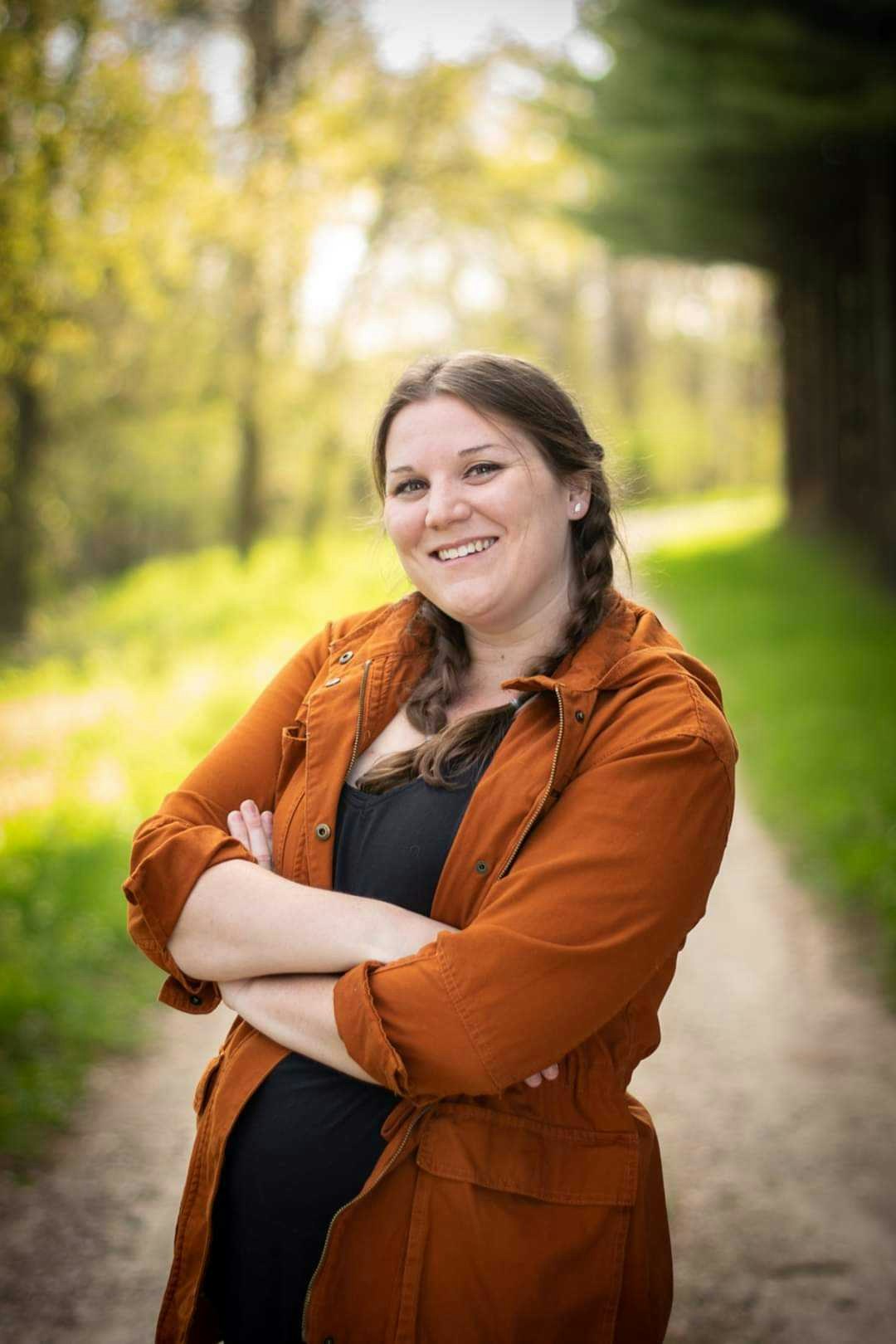 Monica is a writer, editor, weekend warrior, and professional concert goer.