Why Every Music Lover Should Make the Pilgrimage to Colorado's Red Rocks
I love concerts. No, really, I mean actually LOVE them. I'm a concert gal. I've been to so many, I've lost count—but it's well into the hundreds. How far will I go for a show? Pretty far. Now, I'm not the camping-in-line-for-days kind of crazy like some Twenty One Pilot fans are. I respect that; they're my favorite band, too, but I'm almost 30. Standing for that long is hard on my knees. Give me a seat in the arena over being crammed in the sweaty pit any day. Trust me. Or I'll be hobbling like a grandma for days.  
When I say I've gone pretty far, I mean I've traveled far for concerts. I remember thinking that driving from Milwaukee to Rosemont, Illinois, for Panic! At The Disco was crazy. Then the following year, driving from Milwaukee to St. Paul, Minnesota, and back in the same night for Twenty One Pilots was an unbelievable feat. However, I have now gone from Wisconsin to Saskatoon, Saskatchewan, for Elton John; Asbury Park, New Jersey, for Bleachers; Hamilton, Ontario, for the Arkells; and various Midwestern states to see my favorite bands. I've seen amazing music venues, some historical and some state-of-the-art. The sun has baked me alive, and I've fought off frostbite while waiting outside for the doors to open. However, there is only one venue and one place in the United States that I recommend any music lover goes to see their favorite band—Red Rocks in Colorado.
A Venue 250 Million Years in the Making
Red Rocks wasn't built. It was made—and there is a difference. While the stage, seating, restrooms, and concession areas were all built, what makes Red Rocks so spectacular is that it is a natural amphitheater formed out of—you guessed it—rocks.
The rock formations that make up the venue are over 250 million years old. They've been home to dinosaurs and various indigenous peoples before white settlers encroached on the territory, looking for gold. The site was later used as a tourist attraction called Garden of the Titans, similar to the Garden of the Gods in Colorado Springs. There were even small concerts on make-shift stages in the early 1900s.
In 1928, the City of Denver purchased the area and began shaping Red Rocks into what it is today. With the help of the Civilian Conservation Corps (CCC), brought in in 1935, the natural amphitheater had a stage and seating area. In 1941, it was finally opened to the public. Even if you're not going to a show, it's a fantastic place to visit. The rock formations are beautiful, and there are hiking trails all over the park! You can walk through the seats and on the stage. But, let's be honest, you really do want to go there for a show. Before it's too late and your knees can't do the strenuous climb—more on that later.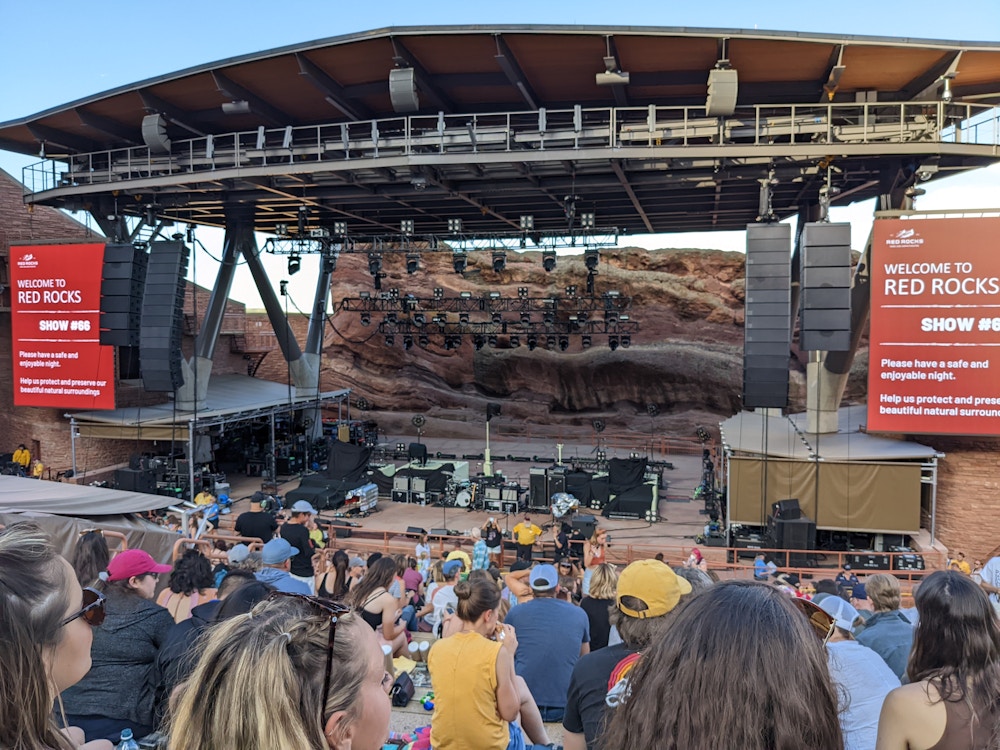 The Road To Red Rocks
I was 11 years old when my mom took me to my first concert: Bruce Springsteen, during his Devils and Dust tour. It was a more laid-back show for Springsteen, or so my mom told me as we settled into the now-deceased Bradley Center. 
"You haven't really seen Bruce," she said of her favorite artist. "Not yet." 
I saw him again during the Seeger Sessions tour in 2006 and then for The River Tour in 2016. 
At that last show, he looked up at the ceiling of the Bradley Center and said, "I hear they're tearing this place down."
And it was true. By then, architecture firm Populus was drawing up plans for the yet-to-be-named Fiserv Forum, and the demo crews waited in the wings. I saw Lorde at the Bradley Center in March 2018 before the demo began, and I left that show with a sinking feeling.
It was the same feeling I had when I stood inside the Fiserv Forum for the first time to watch The Killers play the inaugural concert on September 4, 2018. Before the Bradley Center imploded in 2019, you could look over the ghostly shell of this once-great arena from inside the Fiserv Forum. As the walls of my first concert venue went down, I wondered if anyone would feel this way about the Fiserv one day. 
Venues come and go. We tear them down, replace them, then tear them down again. It's sort of the American way. A lot of what we build isn't built to last. In another 50 or so years, we just bulldoze down, repave, or reconstruct. Careful Miller Park, you only have about 30 years left! (Yes, it will always be Miller Park.)
While it's unlikely that Red Rocks could ever be torn down, that doesn't mean that it can't be shut down or deemed no longer safe, or even worse … one of your favorite bands could cease to exist. I'll forever regret not getting to see Linkin Park before Chester Bennington passed. Money returns, but the regret of not seeing your favorite band at Red Rocks lasts forever.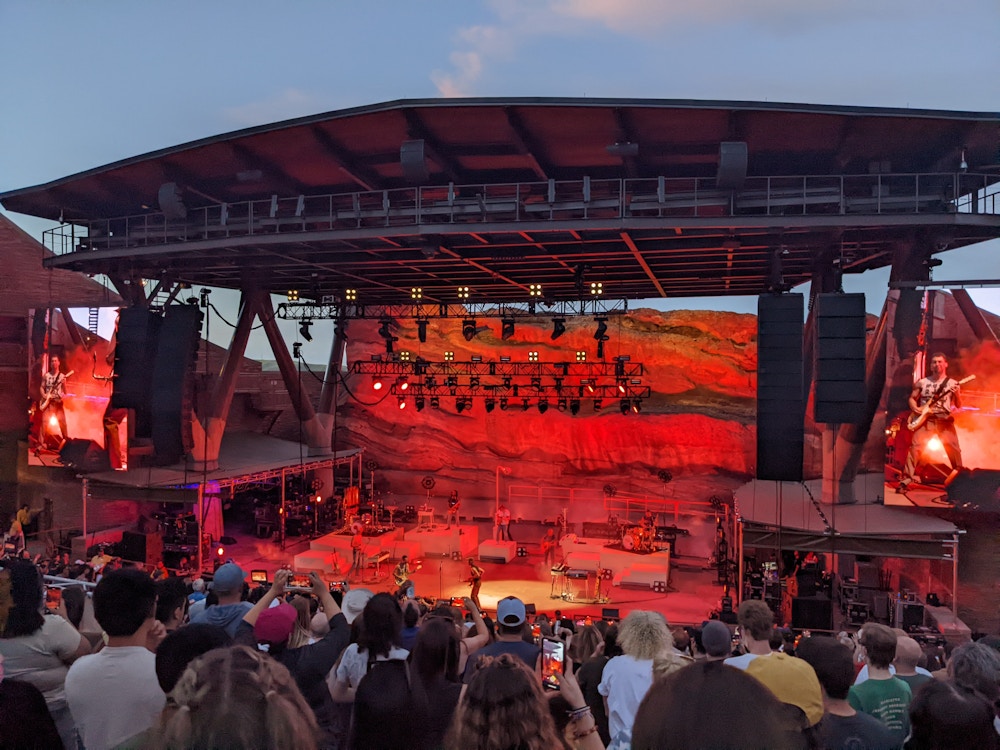 Home is Where the Heart is, and the Heart is at the Show
I found Bleachers after my favorite Milwaukee band, Vinyl Theater, covered Don't Take The Money. I was instantly hooked. You know the guitarist from the band Fun? Yeah, that's Jack Antonoff, a musical genius and the mastermind behind Bleachers. He's an incredible musician with so much character and charisma that it's hard not to love him. I recommended Bleachers to Scott—my then-new best friend and eventual boyfriend. I love Bleachers, but Scott loves Bleachers.
"It's my drug, Mon," Scott always confesses to me, as if I don't know. 
So the moment Bleachers announced they would be playing at Red Rocks, we knew we would move Heaven and Earth just to get to that show. We booked tickets nearly a year ahead of time, and I even paid extra for the souvenir concert ticket—the use of mobile entry and the death of ticket stubs is a tragic COVID-19 casualty.
Red Rocks is outside the quaint touristy town of Morrison, Colorado. Or at least I think it's touristy. Scott was so amped to get to Red Rocks and get a good spot that we didn't stop to look around. The show started at 7 p.m. Guess when we got there. Just guess. Yeah, 1:00 p.m. The amphitheater was still open, so people could walk around and explore it. 
So there we are, baking in the Colorado June sun at 1 p.m. We did both museum tours and perused the gift shop. And I learned much more about John Denver than I ever thought. He was the first artist to play four consecutive nights at Red Rocks. He even has a statue outside the museum. But I know Scott would show up to a venue this early if I asked him to. The things we do for love.
As the sun began to sink and the venue gates opened, we walked up an ungodly hill and had our virtual tickets scanned. Scott ran ahead to grab seats while I stood in the merch line. I overheard the people in front of me talking about the concert posters for sale. There were two posters, a special Red Rocks edition and one for the tour. Scott bought both, of course. 
I heard one woman in front of me complain to another woman with crimson hair that rent for apartments with enough wall space for concert posters is unreasonably high. The woman with the crimson hair said she wasn't from the area and that she and her boyfriend had actually traveled to Colorado to see Bleachers.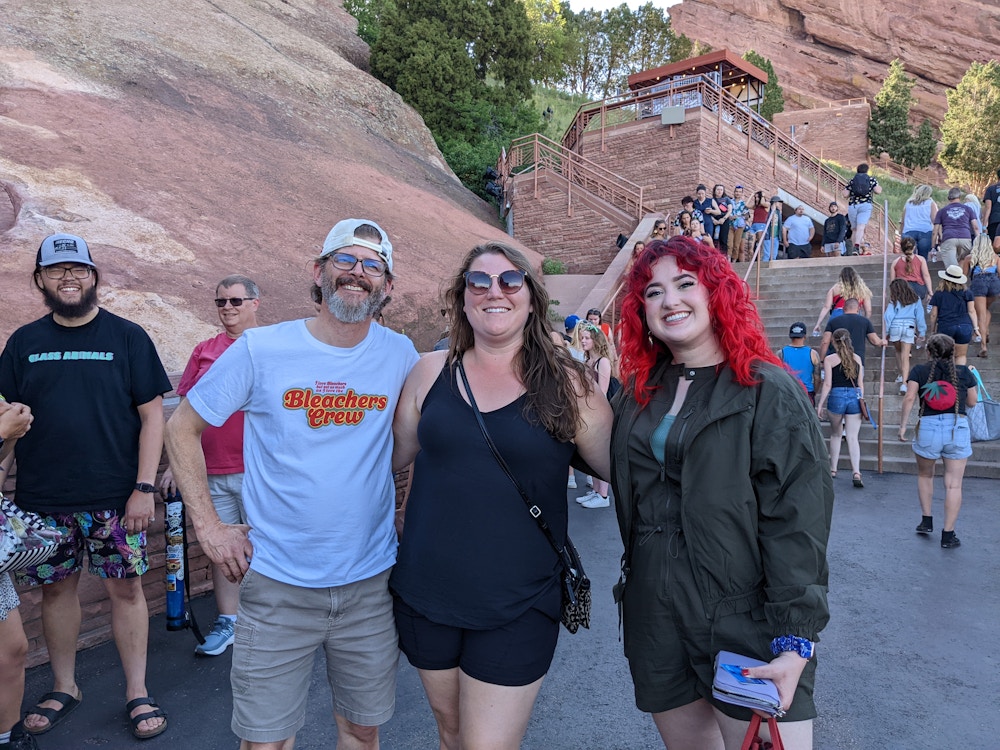 "That's why I'm here too!" I said a little too enthusiastically. 
"Where are you from?" she asked.
"Wisconsin."
"No way, me too!" she exclaimed.
Her name is Victoria, and she's from Eau Claire.
Behind me, I heard a male voice say, "Not to eavesdrop, but did I hear you're from Wisconsin?"
A man named Kip stands behind me. He says he's from Madison, and while Victoria looked like she was in her late 20s like me, he looked like he was in his 40s with his salt and pepper beard and deep laugh lines. While Victoria was making her purchase, Kip and I discussed why we love Bleachers. 
Jack Antonoff, he says, makes great music but has also made modern pop a lot more palatable.
Antonoff has produced albums for Lorde, Taylor Swift, and Lana Del Ray, to name a few. We took a quick photo, and all followed each other on Instagram, laughing at the coincidence of running into fellow Bleachers fans and fellow Wisconsinites this far from home.
A Religious Experience
After leaving my newfound friends, I joined Scott, who found seats nearly dead center, about 15 rows from the stage. My favorite part of this venue, even above the sound quality, is the seats. They are so wide, and you get so much leg room to move around and dance. It's amazing. You aren't packed in between people like a tin of sardines. It's comfortable and spacious, and the tallest person at the show isn't standing right in front of you! 
If you've read some of my earlier work, you know I don't consider myself religious. However, concerts are like a spiritual awakening. I can feel light in every dark part of my soul. Feel the buzzing energy of hundreds or thousands of harmonious humans. To me, a concert is my place of worship. And the artist is my higher power.
Inside a concert, you can forget about your troubles for a little while. Let the vibrations seep into your chest and fill you with a sense of euphoria. 
After listening to ABBA on repeat, the lights went down and screams echoed through the venue. Anticipation fluttered in our chests as Jack took the stage. The first few notes rang out, and the crowd began to sing along with him. It was finally here, the moment we were waiting for. 
If you haven't seen Bleachers live, I implore you to. Jack Antonoff puts on an immensely energetic show. But, at Red Rocks, it's tenfold. The music reverberated off the towering red cliffs. Fresh, cool air filled our lungs as we sang and danced. We were surrounded by 9,000 people who had all gathered for one reason—to see the band they'd go anywhere for. They have come to see their God. Our God (or one of them).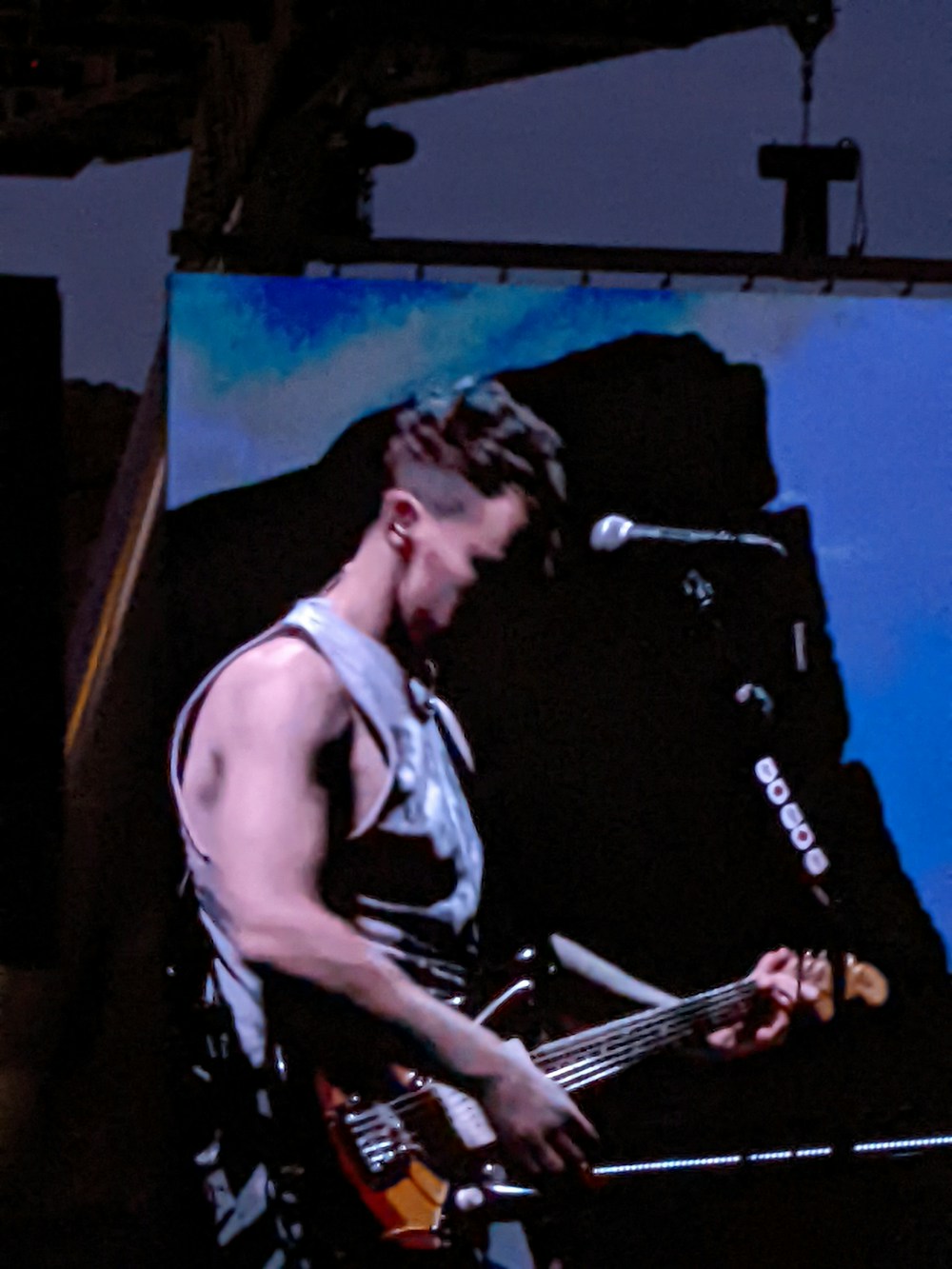 Before the band played their hit, Rollercoaster, Antonoff talked about the band's backbone. A low synth note from a keyboard he bought back in the day. During a time when things were going well, but he didn't feel well. The low sound is warm and comforting. But then he takes it away. The band cut off all sound and filled us with an empty, anxious feeling. Then he brought the sound back again and explained how that sound is the glue that keeps the band and us together. It's an underlying sound in his songs. This comfortable note. It's a sound that helped him get through some rough times. From the early days of working on Bleachers to coping through the pandemic. It's the sound of Bleachers—the sound of being saved. 
I wish I had the Red Rocks video of him explaining it, but I'm a live-in-the-moment person who doesn't take many concert videos. Would you believe that of the 9,000 people at that show, no one got a video of it and put it on YouTube? What are the chances? However, this clip from a month after the Red Rocks show encompasses what he said. Be warned, there is some harsh language! But hopefully, you'll understand what I mean.
The band ended with Scott's favorite song, Stop Making This Hurt, with the all-too-appropriate lyric, "say goodbye like you mean it." As Bleachers left the stage, the whole crowd seemed to wait for a second, taking in what they had just witnessed. Scott and I looked at each other simultaneously.
"I think that's the best concert I've ever been to," we said in unison. 
I wouldn't be surprised if you said that after experiencing Red Rocks, too.
More Articles by Monica Cull
Sep. 1, 2022
•
6 min read
Aug. 10, 2022
•
6 min read
Jun. 28, 2022
•
8 min read
About the author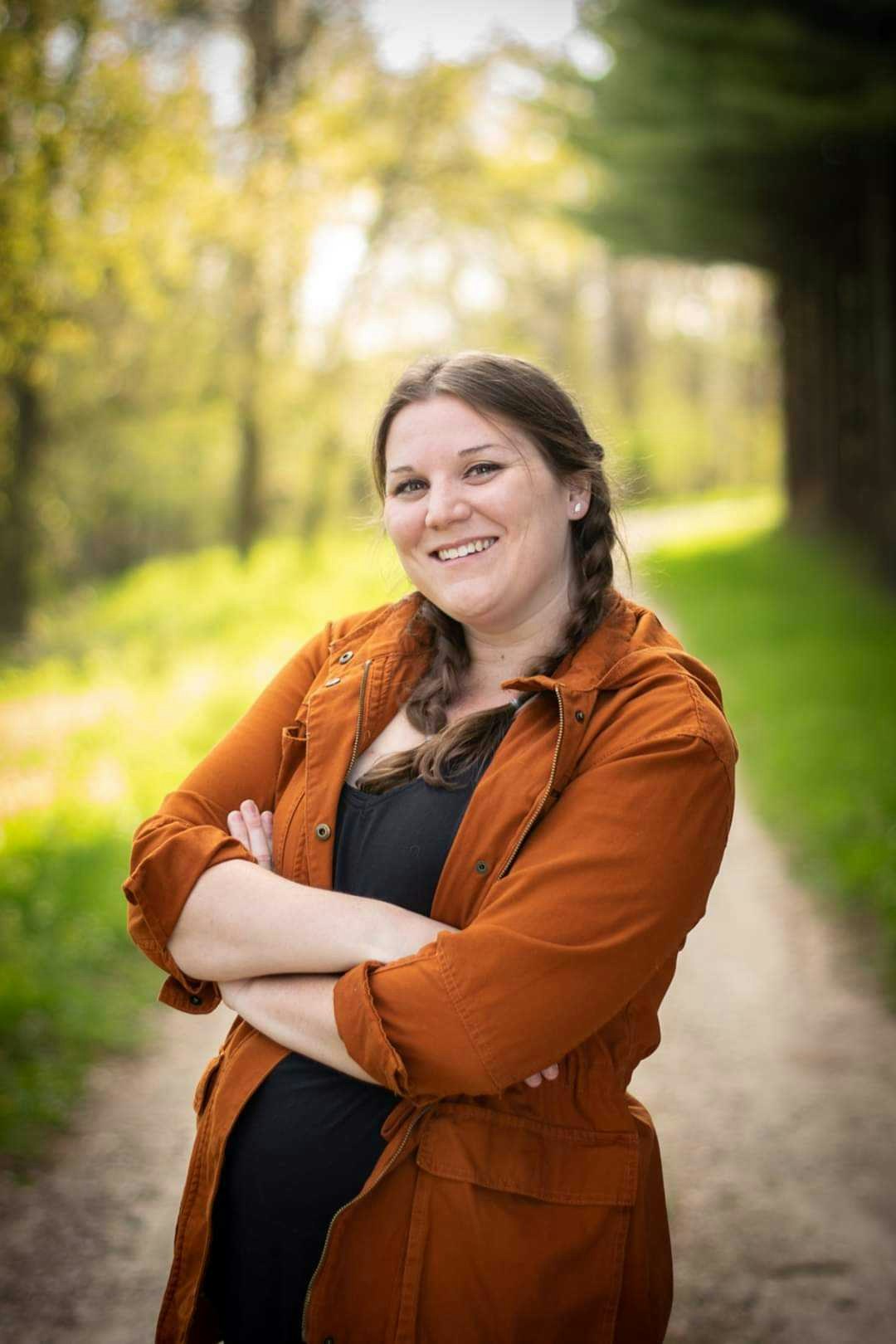 Monica is a writer, editor, weekend warrior, and professional concert goer.