How an April Fool's Joke Inspired Bay View's Lost Whale
Nestled along Kinnickinnic Ave is Bay View's Lost Whale. It's a quaint establishment with 30 seats and nautically chic furnishings. The wallpaper is a blue-green paisley pattern, and the lounge chairs are a calming cerulean blue. Orange stools line the bar, while potted plants and light fixtures that look like a cluster of spiky knitting needles hang from the ceiling. In the corner, a large portrait of an elderly man on a boat holding binoculars keeps watch—real The Old Man and the Sea vibes. In the evenings, the bar is drenched in warm lamplight. The music isn't too loud, and each cocktail is one-of-a-kind. It's a great place to meet friends and experience Bay View as a community. What's even more unique than the ever-changing, delicious cocktail menu is how the bar got its name in the first place.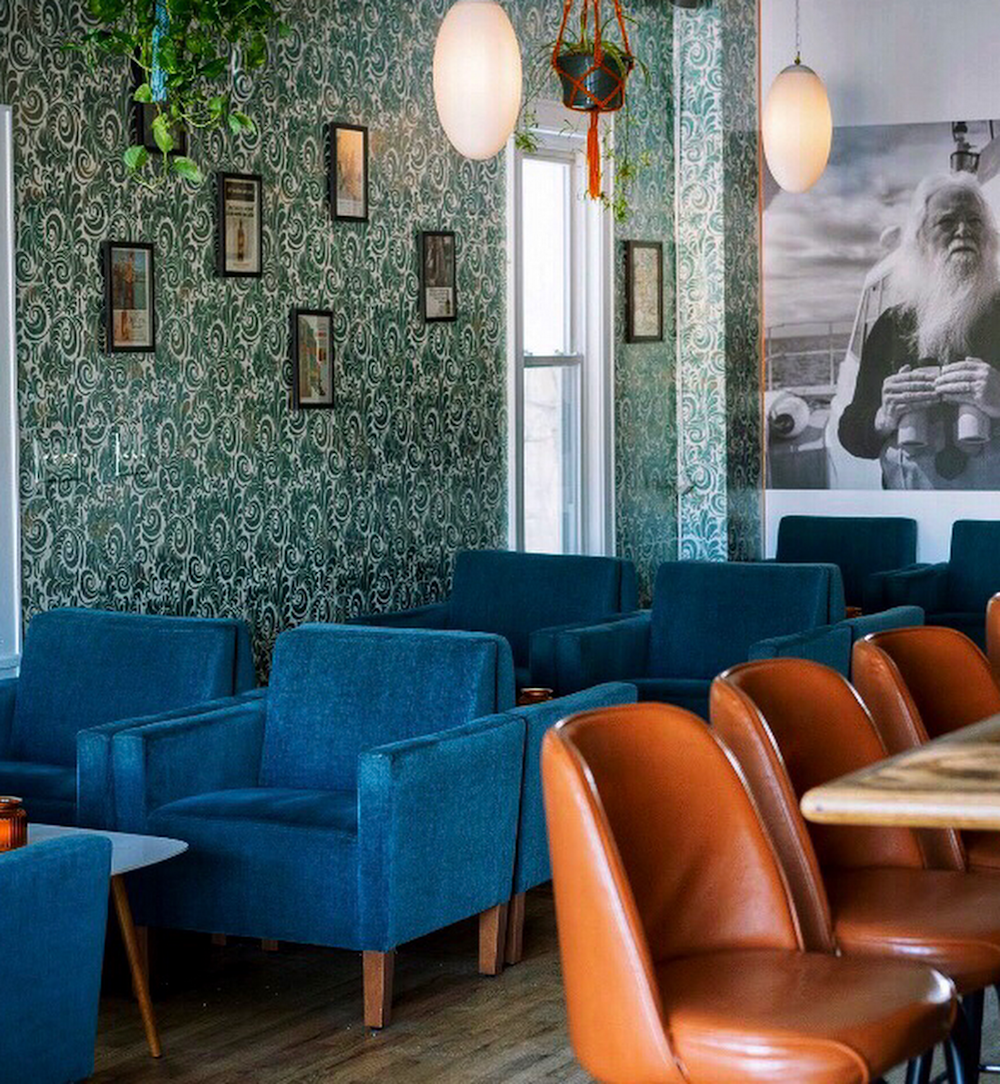 Whale Of A Tale   
As Tripper Duval was scrolling through articles on the internet one April Fool's Day, he had no idea he'd find inspiration for one of Bay View's most beloved watering holes. The article mentioned that whales had been spotted in Lake Michigan. While the story was hilarious and obviously a joke—sorry all, there aren't really whales in Lake Michigan—people believed it. 
Now, there is a Facebook community—The Lake Michigan Whale Migration Station— of over 16,000 people who go out and "search" for the lost whale of Lake Michigan. The page states that this is "just for fun," and it has sparked a sense of community—and comedy. Something Duval wanted to translate into his bar. 
"I had been bartending around the city," Duval says. "And the idea popped into my head that maybe one day, I'd want to open a bar." Wisconsinites will find any excuse to get together and drink, which includes searching for imaginary whales. Tipper couldn't shake the enthusiastic support for Lake Michigan's own legend and how it might relate to his own watering hole.
Polluted Water Means No Whales Or Cocktails
This isn't the first time people have believed there are whales in Lake Michigan. The Chicago Tribune ran an article about a whale-watching excursion on Lake Michigan in June of 1985. The article is about Tom and Chris Kastle, a couple who led the Great Lakes Whale Watch on their 85-foot historic schooner. It's a comedic article, meant to raise awareness of the plight of whales. 
''Cities on both coasts are very aware of the serious plight of the whales,'' Chris Kastle tells Chicago Tribune. ''It's about time they get some attention in Chicago. The whales really are disappearing off the face of the Earth right before our eyes. And that's really quite sad.''
Whales are threatened by whaling, climate change, and water pollution, among other things. Like the Kastles, Duval and his business partner Daniel Beres use their bar to help bring awareness to an issue that is important to them—water pollution. Milwaukee waterways are polluted by garbage, industrial runoff, de-icing salt and other various factors.
"We are a water-based bar," Duval says. He's a water lover. If there's a body of water around, he'll find himself in it. "We have one of the largest and best lakes in the world at our disposal, and it seems like most people don't really acknowledge it or talk about it or take care of it." 
Because of this, Lost Whale strives to protect Milwaukee waterways such as the Kinnickinnic River and Lake Michigan. They use biodegradable straws, compost, and recycle. They also cross-utilize products such as fruit peels in cocktails to prevent waste at their bar.. Water is important for life and for bars, too.
"It's two-fold," Duval says. "In one sense, we all need it. If we don't have water, we all die. And in the other sense, within a cocktail, water is a very very key ingredient that most people don't talk about."
Water can be used to balance out a cocktail, keep it cool with ice, and of course, it's needed to create alcohol.
"It's a crucial part when creating cocktails," Duval shares. "And it's a crucial part of our lives."
Part of the Ship, Part of the Crew
Besides bringing attention to protecting local waterways, another crucial element to Lost Whale is customer experience. Two of their current specials are called "Birds Aren't Real" and "In Watermelon Sugar"—the latter of which may or may not be a Harry Styles reference. 


"We just try to have as much fun with the drinks as we can," Duval says. "Because if I have to be here all day, I'll drive myself nuts if I'm being too serious or not having fun. I just want people to have a good cocktail and have a good time."
Duval discloses that both he and Beres are goofy individuals and love to laugh. This clearly translates into how they run their establishment. Patrons enjoy the cocktails and giggle at the hilarious names and descriptions. They also love the eclectic glassware and garnishes that come with their drinks. My top drink was their Negroni Spritz. Served in a rose-shaped glass and garnished with dried rosebuds, I could sip this cocktail all night long! I'm not a big gin drinker, but throw in homemade strawberry water, and I'm sold. I even kept the little rosebud as a memento. I also couldn't pass up their Old Fashioneds—hello, Wisconsin girl. I tried some of their non-alcoholic cocktails, too. If you like a little spice, try the Hemingway-ish Daiquiri—it tastes like the cure to writer's block. 
Other cocktails come in a Jolly Good can, one garnished with mint and a blue whale gummy and the other with a mini pirate flag! Some of the distinguished glassware is created by artists the duo has partnered with, including the porcelain pufferfishes that come from the Lost Whale offshoot, PufferFish. When COVID-19 restrictions began to ease, Duval and Beres wanted to give their patrons the full Lost Whale experience as safely as possible. Because their indoor space is so small, they set up a pop-up bar on their patio so patrons could enjoy socially distanced cocktails.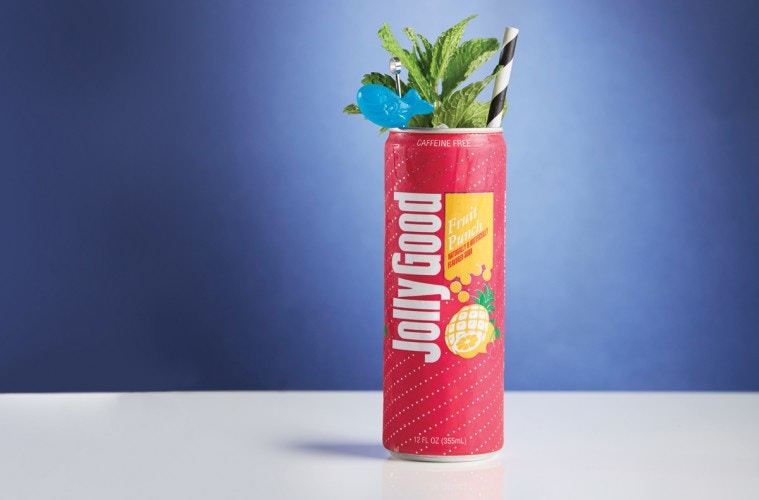 A Weather Eye on the Horizon
Before owning a bar, Duval and Beres each wanted to be musicians. When they realized a music career may not be in the cards for them, they focused on bartending. 
"When you learn that you're not going to be a rockstar, you go back out there and find out what you want to do," explains Duval. "And to me, bartending is the closest thing to that because you're meeting new people every day. You're sort of the spotlight being the body behind the bar and the creative part of it. Creating a cocktail for some reason or someone or some time and watching that look on peoples' faces when they try it for the first time and say, 'Oh my god, this is incredible, and I don't even like gin!'"
If Lost Whale is the duo's breakout hit, PufferFish is their next album. Eventually, PufferFish closed down as bars reopened to full capacity again. However, Lost Whale's team knew they weren't done with it forever. This summer, PufferFish started a residency program with Hotel Metro in Milwaukee. PufferFish is currently a rooftop bar and will remain there until mid-October when it becomes too cold for people to sit outside. After that, Duval and Beres are going back to the drawing board to make PufferFish what it was always meant to be. A mid-century modern, tropical rooftop escape. 
Until then, thirsty whale watchers can still enjoy a cocktail at Lost Whale, swapping stories about whale sightings while sitting under the portrait of Duval's Great Uncle Charlie—a whale watcher from the west coast. 
"He was just a marvel of a man," Duval says. Now Great Uncle Charlie keeps his eyes fixed on Lake Michigan, always watching for the lost whale.
All photos courtesy of Lost Whale
More Articles by Monica Cull
Sep. 23, 2022
•
8 min read
Aug. 10, 2022
•
6 min read
Jun. 28, 2022
•
8 min read
About the author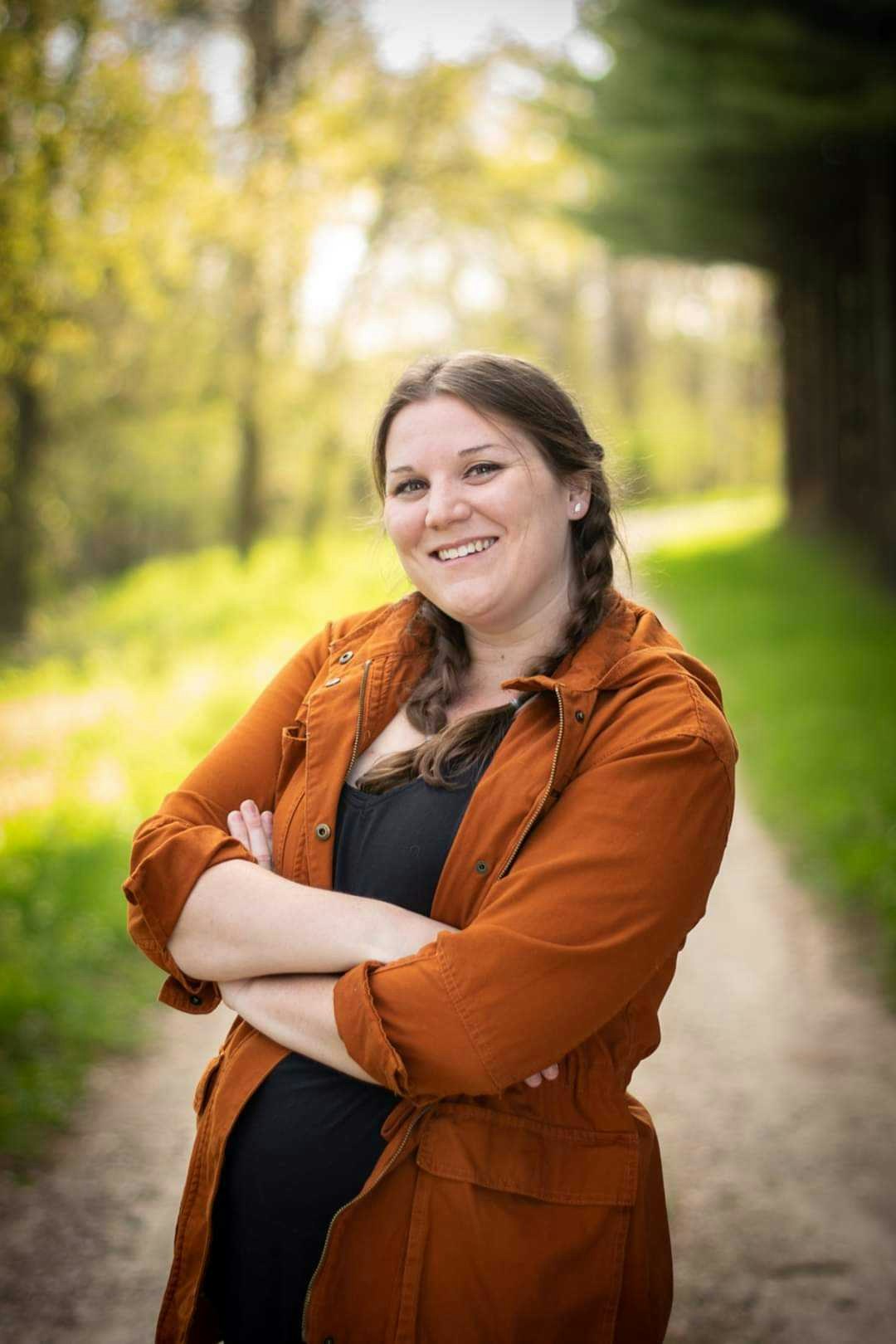 Monica is a writer, editor, weekend warrior, and professional concert goer.