I Spent Mother's Day Looking at Free Art: My Time on the Milwaukee Museum Mile
On Mother's Day, I decided to spend my time with a friend. My friend James is one of those people who always knows something exciting going on. He has an unmatched zest for life and when he proposed we go to the Milwaukee Museum Mile at noon that Sunday, I gladly said yes. He always has good intel on neat happenings in the city.  
The day was overcast, chilly, but with clear evidence spring is here. I parked near the North Point Lighthouse and walked along the path to wait for James. I remember thinking how the stretch of benches overlooking Lake Michigan from high up on the hill reminded me of scenes from my favorite British procedural dramas where a character meanders along a moody stretch of rocky coastline, deep in thought. I've always yearned to be in those places and I thought, maybe those places aren't that far from me.
When we live in a place for years on end, we get used to our routines. It's easy to return to our favorite restaurant and order our favorite dish. We don't even think about how we hang out in the same spots, we don't clearly demarcate what is comfortable, familiar. But those spots are not where life is lived. This is part of why I value my friendship with James: he inspires me to get out of my comfort zone and to find the spaces that wake me up.
As I waited for James by a bench, a dog with long, silky fur trotted up to me while I was deep in thought reading an Instagram post about mental health. Tail wagging and with a blue ball lodged firmly in her mouth, she leaned against my leg. "Stop looking at your phone. It's time to pet me." I can't say no to a dog so pet her I did. Her owner said her name was "Biscuit" and that she was making friends all morning. If only it were that easy, Biscuit.
James arrived and we walked into the lighthouse where we were greeted by a full house of volunteers and other people out exploring on a relatively decent May day. One of the volunteers approached James and I and eagerly gave us a history lesson about the lenses used in the original lighthouse, the various lighthouse keepers over the years, and the shipwrecks that happened off the "coast" of Milwaukee. We wanted to see if we could get to the top of the lighthouse to see the view, so up we went.
James went ahead all the way to the top while I enjoyed the views from halfway up. A middle aged women turned to me as she was coming down and told me the liability waiver we signed at the entrance wasn't for nothing. She sweatily explained that I would have to climb a rickety ladder to make it to the top and stressed how dangerous it was. I wondered if her children developed anxiety disorders.
It was somehow colder in the tower than it was outside and I was eager to get back out to the fresh air. Though there was a shuttle taking people from museum to museum, we chose to walk. James and I have an incandescent love of walking and if it's an option we will always take it.
The next museum was the Villa Terrace Decorative Arts Museum. It's that house you can see the back of from Lincoln Memorial Drive, with wrought iron gates and terraced gardens. It looks like it belongs in Italy or Southern California. It was beautiful inside with an antique star lamp on the patio, deep blue and white tiled shelving, and exquisitely painted rooms, one a shade of pistachio pudding. The courtyard had terra cotta colored herringbone tiling and a fountain not yet in service for the season. I could picture how wonderful it would be to enjoy a cappuccino in that courtyard, but food and beverages are not allowed in the museum. As much as I enjoyed viewing the preserved furniture and ornate decorations, I enjoyed even more imaging what it must have been like to actually live in this space, enjoy this space.
Down Prospect we were directed by a kind gentleman to head left into the Museum of Wisconsin Art at St. John's on the Lake. The halls filled with artwork in all different styles from Wisconsin artists with the featured exhibit of Robin Jebavy, entitled "Dazzling." I respect the work put into art like this and the noted kaleidoscope effect it has in front of you on the wall, however I was much more drawn to some of the pictures in the back hallways.
The painting of a lone tree in a field covered with a dusting of snow, evocative of mid-November in Wisconsin. I could feel my hands chill while looking at it, like I could almost see my breath. It felt like my childhood. As I look to try to see if I can find the artist on their website, I realize there was a whole section of the museum we didn't even see because we were so distracted with the artwork in the hallways. There is always more to explore.
Just across the street is a deep chestnut brown building I've driven by many times, but had no idea was a museum. The Charles Allis Art Museum is a study in contrasts. Walking up the stairs and into a large open room, there is artwork on display from students of Rufus King High School. The artwork will be gone in a few days time to make room for another exhibition, but the impression it left on me will last for much longer.
These teenagers have more artistic talent and depth of emotion in their pieces than I've seen in some professional pieces. The descriptions of their work are both heart-wrenching and show incredible self-awareness and insight into the difficulties they face in an unjust world. I hope we can see much more of their work and I'm grateful I was able to witness it even for an afternoon.
The rest of the house holds antiquities from times past including snuff jars from China and the greatest rug collection I've ever seen. One thousand pages of results on Wayfair don't hold a candle to the beautiful colors and patterns on the floors in this building.
There's a bedroom with a bear statue on the bedside table, watching over anybody who would sleep there. I wonder if anybody would challenge that bear statue or what dangers could befall somebody in such a nice house that would require such a sturdy and imposing guardian by the bedside.
There's a room that holds a large display case of unlabeled objects so you can tell your own stories about what they are and what they mean.
Isn't that what art is? The stories we tell ourselves about what we see?
I appreciated the challenge of perspective.
A few blocks down the street, past the burgeoning construction zones, is the Jewish Museum Milwaukee, which holds relics and stories of Jewish people and their cultural, intellectual, and political contributions to our society, our world. There is a Holocaust Memorial. There is a lengthy paragraph in the middle of the plexiglass walls of content, a clear reminder that if we are not cognizant of our history, we are doomed to repeat it.
There's a timeline of events where you can trace back our statehood. There's fashion. There's interactive components so you can immerse yourself in the content. There's regular events outside of this event that you can no longer go to, including lectures. Pictures of The Resistance: The Wartime Photographs of Faye Schulman is still available for another few days if you need to remind yourself that war is hell and humanity always finds a way to disparage itself, but there will always be witnesses to our actions.
With tired eyes and tired feet, James and I walked back to our cars, back up the length of Prospect, over to the road with the mansions you strain your eyes to see the breadth of, back to the pale green grass and blooming bushes in front of the lighthouse. Here we parted ways, thankful for an afternoon full of three of our favorite things: art, conversation, and walking.
MMM Day is over for this year and will not come again until 2020, but the museums are still there and they need your money and you need what they tell you about what it means to be human in a vibrant, chaotic, painful, beautiful, bittersweet world.
Featured Photo by Hannah Scott
More Articles by Caitlin Knudsen
Nov. 17, 2022
•
7 min read
Jun. 21, 2022
•
9 min read
May. 25, 2022
•
12 min read
About the author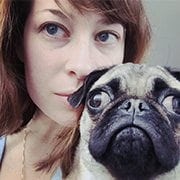 Propagator of succulents, hobbyist baker, healthcare by day, pug wrangler always.